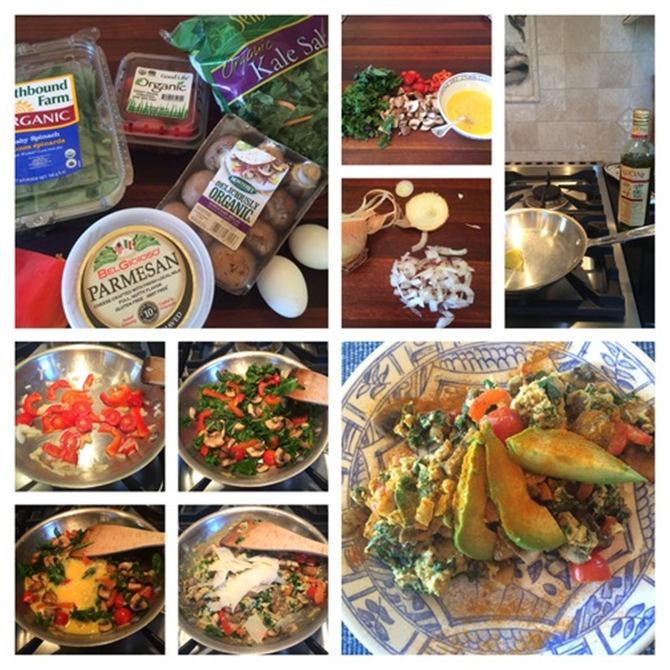 I am a firm believer in breakfast and the importance of jump starting the metabolism with a light healthy meal. For me, most mornings that means either oatmeal with honey and 1/4 cup of apple or berries OR a small single serving 0% fagegreek yogurt topped with a small handful of 8-grain kashi flakes or raw love grown oats and 1/4 cup fruit. But on the weekend I often crave a scramble. Especially if I want to fuel up before a round of golf or a long leisure day hike.
The beauty of the weekend scramble is that it has no fixed list of ingredients. Of course eggs are necessary, but apart from that, you need only open your eyes to whatever produce and cheese you have on hand and see what strikes your fancy. I always want some kind of greens in my scramble (though if I'm cooking for others who don't want greens cooked into their breakfast, I'm equally happy to leave them out of the scramble and instead tear them up and plate them raw as a bed for my scramble).
Some good traditional ingredients are onion, mushroom, red yellow or green bell pepper, spinach and diced tomatoes. Some less likely but equally delicious options include kale, chard, artichoke hearts, asparagus, pinto beans, broccoli, carrots, cauliflower, salsa, and avocado. As for cheese, anything goes! My favorites include parmesan, manchego, goat, feta and burrata (though not so much in eggs); but many people also enjoy cheddar, swiss (the many varieties), brie, gouda, jarlsberg and havarti.
Last weekend's scramble, pictured above, was made with onion, mushroom, tomato, kale, spinach and parmesan cheese, turmeric and fresh ground black pepper, topped with avocado. Truly delicious!
As a rule, use 2 eggs per person (unless you are cooking for a growing 20 year old boy who requires more like 5 eggs), your own desired amount of veggies (for me that's always more than less) and about 1/8 cup shredded or shaved cheese per person. Here I topped it off with a few slices of avocado and a dusting of tumeric. Yum!