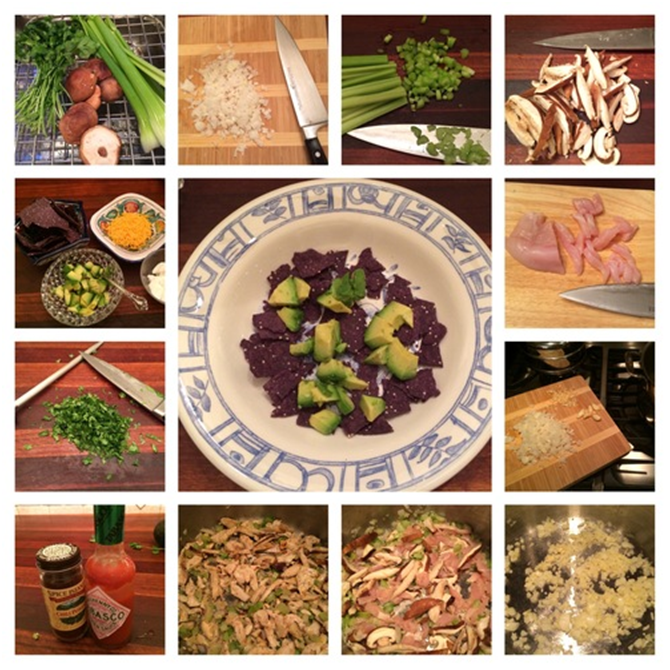 I call this "new style" to differentiate it from the Hearty Chicken Tortilla Soup recipe I posted earlier this year. That one is chock full of chicken and this version has less chicken, which in fact could be easily swapped out for drained and rinsed chickpeas (aka garbanzo beans) to make it vegetarian. The shiitake mushrooms are an unusual and flavorful addition, adding a certain complexity and meatiness to the overall feel of this soup, plus a boost for the immune system. Spicy and delicious, this soup will feed your body, heart and soul.
1T. Olive Oil
1 small onion, sliced
8-10 cloves garlic, minced and/or pressed
1 cup celery, diced (about 3-4 stalks)
6 shiitake mushrooms, sliced thin
2 boneless skinless chicken breast cutlets, sliced in 1/4" strips
1 tsp. each chili powder, coarse ground pepper and kosher sea salt
2-3 tsp. tabasco
1 jalapeno pepper, minced (optional)
2 medium roma tomatoes, peeled, seeded and diced (OR 1/2 can organic peeled roma tomatoes, diced with their juices)
6 cups organic chicken broth
1/3 cup fresh lime juice (about 2 small limes)
1/3 cup fresh cilantro, chopped
For the presentation and toppings:
1-2 cups Totopos, or your favorite tortilla chips
1 avocado, diced
1/2 cup shredded sharp cheddar cheese (or mexicancotija or queso fresco)
1/4 cup light sour cream
In a large skillet, heat olive oil over medium heat. Add onion, minced and pressed garlic; saute for 2-3 minutes until fragrant and translucent. Add celery, mushrooms, chicken, chili powder, pepper, salt and tabasco (as well as the minced jalapeno if you are using it); combine well. Stir frequently 2-3 minutes to cook evenly. Add the chopped tomatoes and their juices and the chicken stock. Bring to a boil and then cover, reduce heat and simmer for 30 minutes.
In the meantime, clean up and prep the toppings and last minute additions.Once soup has finished simmering, remove from heat and add the limes juice and fresh chopped cilantro. Cover and let sit 5 minutes.
To serve, place crumbled chips and diced avocado in the bottom of a soup bowl, add soup and top with cheese and a dollop of sour cream, if desired. Yum!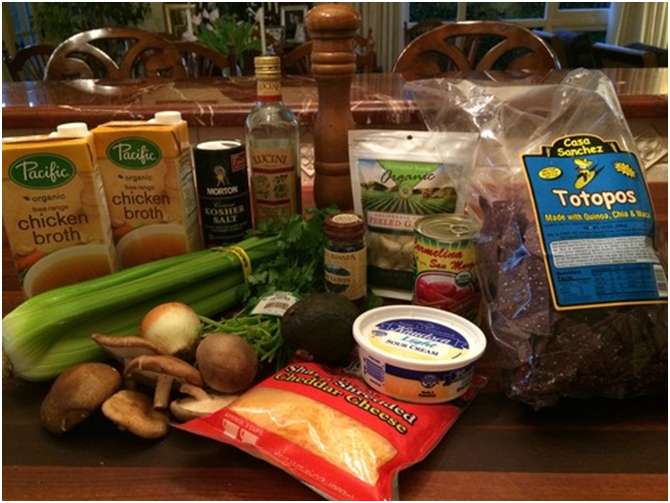 The Ingredients (not pictured: 2 small limes, chili powder and tabasco)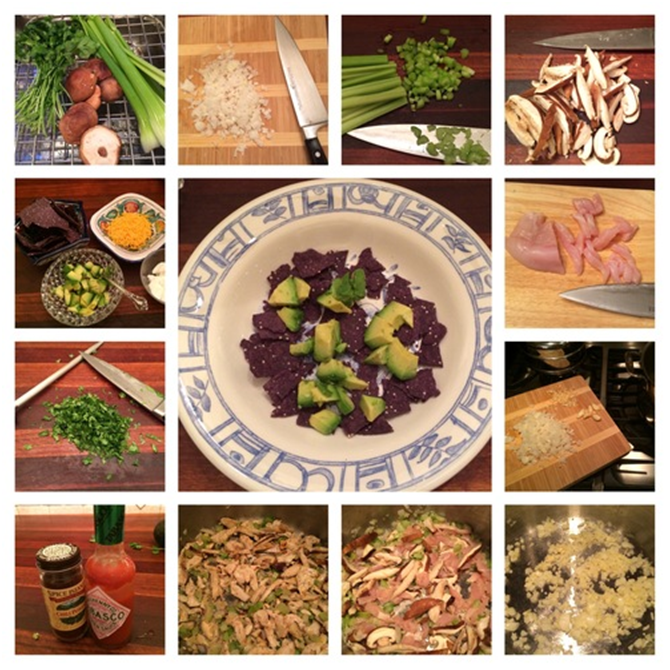 It would have been prettier if I had actually sliced the onion as the recipe states, rather than dicing it. Also, the shiitake mushrooms were an out of the ordinary add-in as I was wanting the little boost they would offer to my immune system. Even though they are not typically found in a tortilla soup, they add a nice compliment to the spicy flavor and a "meaty" texture. I say include them always!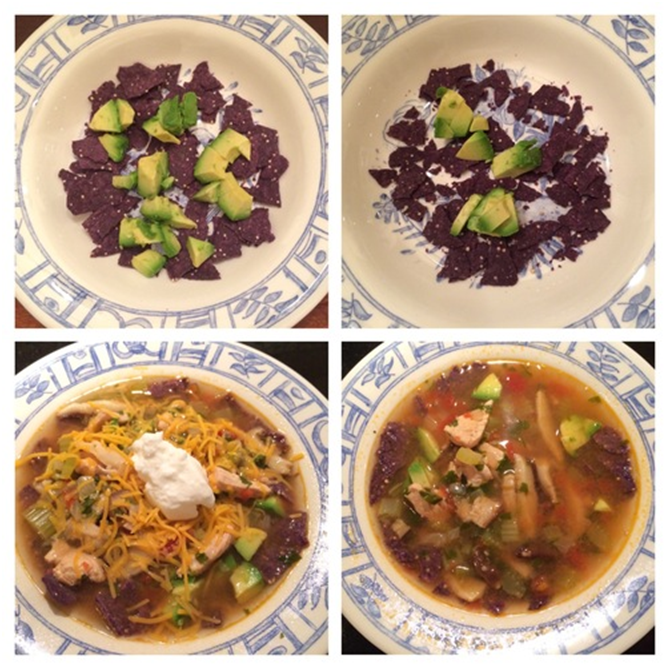 My serving is on the right—I love it without the cheese and sour cream.