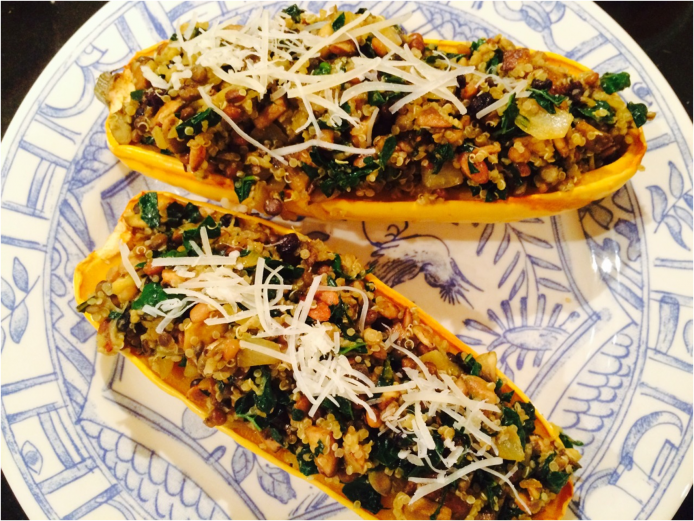 This is my newest vegetarian recipe…just in time for the Thanksgiving season and perfect for a Meatless Monday night dinner.  Great as an entree or a side, this dish combines the flavors and colors of autumn—orange delicata squash, pepitas, quinoa and kale plus additional gifts from nature's bounty—to create a feast for the eyes as well as a treat for the taste buds. Preparation will take a little over an hour from start to finish, and though it is a bit of work, it is worth every moment as the end result is delicious.
2 similar size delicata squash
1-2 tablespoons olive oil
2-3 cloves garlic, minced or pressed
1/2 cup shallots, diced
1 teaspoon cumin
1 teaspoon turmeric
1/2 teaspoon coarse ground pepper
1/2 cup uncooked quinoa
1 cup plus 2 tablespoons vegetable broth
2 cups kale, chopped
1/4 cup dandelion greens, chopped
2 cups mushrooms, diced
1 cup steamed lentils
1/4 – 1/3 cup pepitas (toasted)
1/4 – 1/3 cup currants
1/4 – 1/3 cup shredded parmesan
1. Preheat oven to 350. Cut squash in half lengthwise and remove seeds. Season with salt and pepper and place on a foil lined baking sheet. Cook cut side up, covered tightly with foil until fork tender, approximately 1 hour. Once cooked, let the squash sit covered until the filling is ready.
2. Prep shallots, mushroom, kale and dandelion greens.
3. To toast the pepitas, place them in a large dry skillet over a medium flame and stir constantly for about 5 minutes. The seeds are done when they start to pop and crackle, become fragrant and are slightly browned. Transfer to a sheet pan to cool in a single layer.
4. While pepitas cool, measure out lentils, currants and Parmesan.
5. About 20 minutes prior to when squash should be done, cook quinoa. In a small saucepan, bring 1 cup vegetable broth to a boil, add 1/2 cup uncooked quinoa; cover, reduce heat and simmer for 15 minutes. Then, remove from heat and let sit covered for 5 minutes.
6. Meanwhile, in a large skillet, heat olive oil over medium flame. Add garlic and shallots, stirring frequently 1-2 minutes until fragrant. Add turmeric, cumin and ground pepper, reduce heat to low and stir well to incorporate. Add mushrooms, kale, dandelion greens plus 2 tablespoons of vegetable broth; stir carefully to combine. Sauté over medium low heat for 10 minutes.
7. Add lentils, increase to medium flame and stir intermittently for 5 minutes to heat through. Add the cooked quinoa and stir well to combine. Right before filling the squash, remove from heat and add the pepitas, currants and shredded cheese and mix until well combined. Add salt and pepper to taste.
8. Spoon the filling into each of the 4 squash halves, creating a mound. Sprinkle top with shredded parmesan cheese. Yum!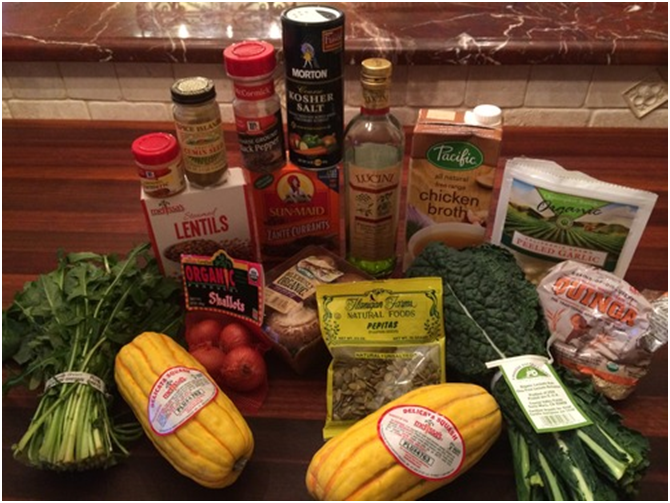 The Ingredients (not pictured: shredded parmesan cheese)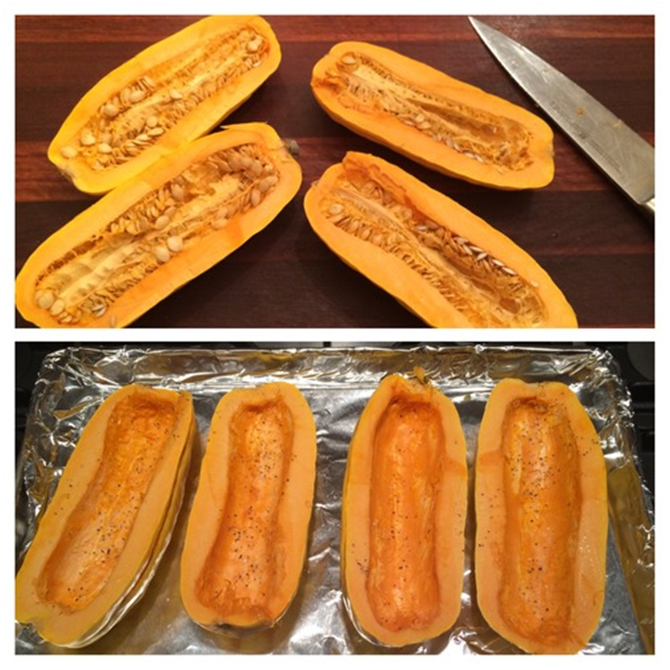 Tip: Cover with foil before roasting to keep the squash moist.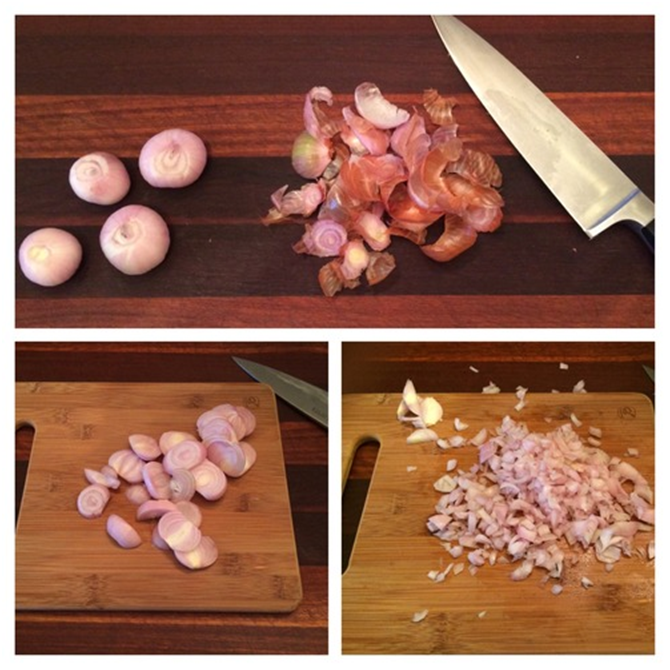 To facilitate an easy transfer to the skillet, I often choose to chop onions on a small cutting board. Tonight i chose shallots, but yellow, red or white onion could be substituted.
Always remove the tough stems from lacinto kale!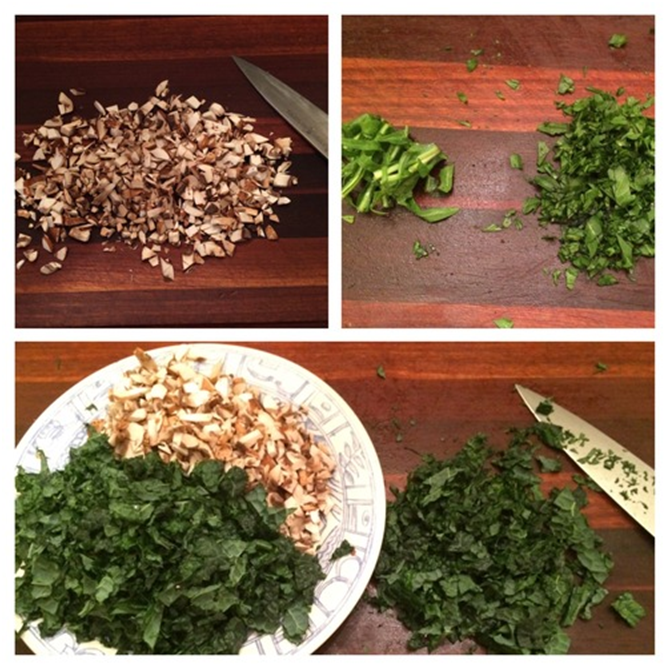 Place chopped mushrooms, kale and dandelion greens on a plate for easy transfer to skillet.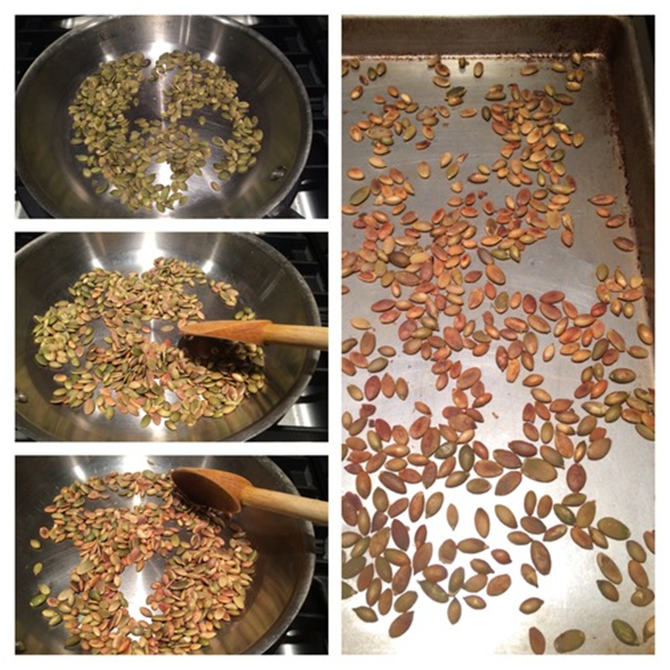 Pepita seeds can be toastd ahead of time and stored in an airtight container for several days.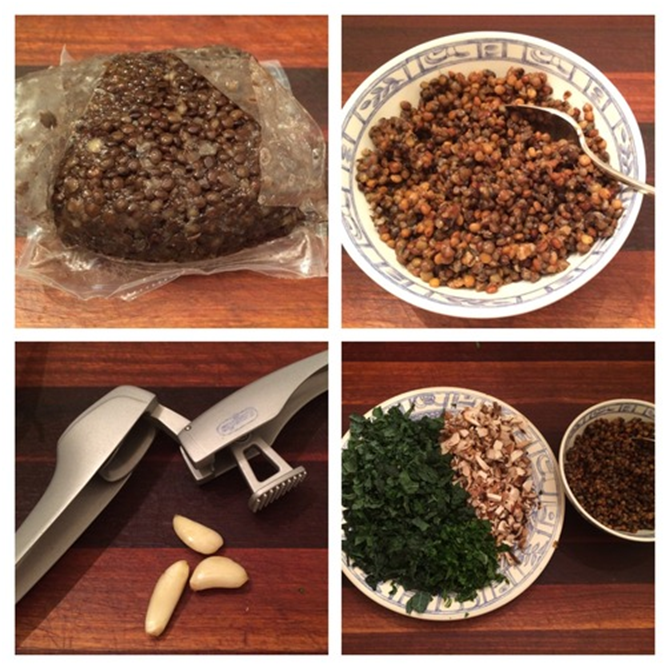 "Melissa's" (no relation to me!) brand steamed lentils are delicious! Have all the ingredients ready to go before you start cooking in the skillet.
After shallots, garlic, spices, mushrooms, kale and dandelion greens are cooked, add the steamed lentils, then the fresh cooked quinoa (if using leftover quinoa that has been refrigerated, allow more time to heat through).
Just before filling the squash, add the pepitas, currants and cheese. Stir to combine well. I used only about 1/8 cup of cheese and then only very little of the remaining 1/8 cup to sprinkle on top—it's all about your own preference!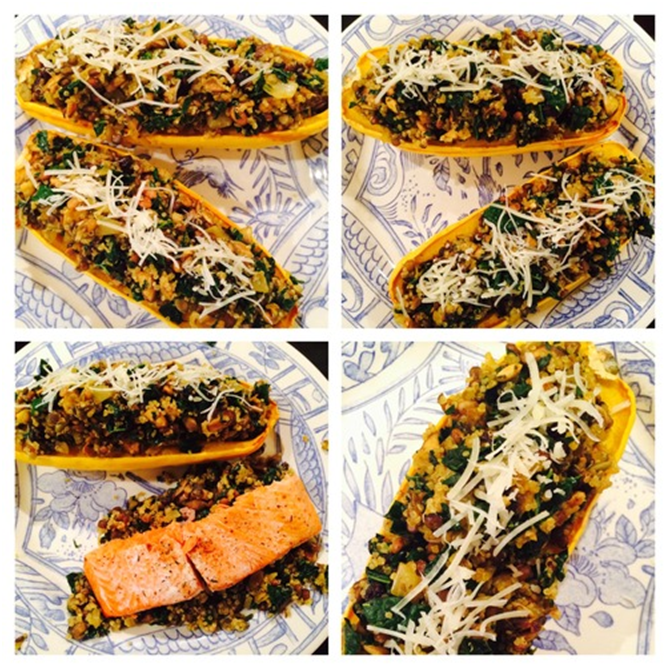 The final four, on top, and our dinner for two, underneath. I served Jeff some salmon along side, worried that he wouldn't be content with an all vegetarian dinner. One half, stuffed, was quite filling for me. With a dish like this I can happily forgo animal protein! Yum!!!