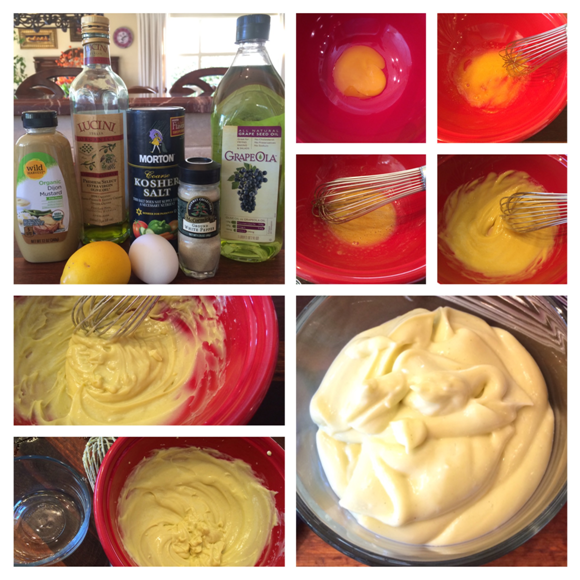 Okay, if you know me you'll see this recipe and think, whhhhat??? Well, you're right, I do not typically eat mayonnaise or aioli* (a close cousin to mayonnaise—just add garlic and voila). But for my crab quiche recipe, I needed a mayo that would be preservative-free so that my mother could eat it (she is allergic to preservatives). And heck, everyone should be able to eat preservative free! The hardest part about this recipe is simply timing the bringing of the egg yolk to room temperature. It took me two tries; I kept forgetting about it! Now that I see what is in this, all healthy ingredients, I may start to occasionally eat mayonnaise (and aioli), in moderation of course. This is one of those foods where a little goes a long way.
1 egg yolk, at room temperature
1/8 teaspoon salt
1/8 teaspoon ground pepper
1 teaspoondijon mustard
1 teaspoon lemon juice
1/4 cup olive oil
1/2 cupgrapeseed oil
Take an egg out of the fridge and allow 2-3 hours to bring it to room temperature. In a medium bowl, whisk together the egg yolk, salt and pepper. Add mustard and lemon juice and whisk until well combined.
Place the olive and grape seed oils in a spouted measuring cup. Add the combined oils little by little, whisking constantly until all of the oil mixture is incorporated and the sauce is thick and emulsified. This may take up to five minutes. Add 1 tablespoon water and whisk together well. Use immediately or transfer to an airtight container and store in the fridge for up to 5 days. Bring to room temperature before using.
*Note: to make this into a recipe for aioli, add 2 garlic cloves, pressed, at the same time as the mustard. Voila!