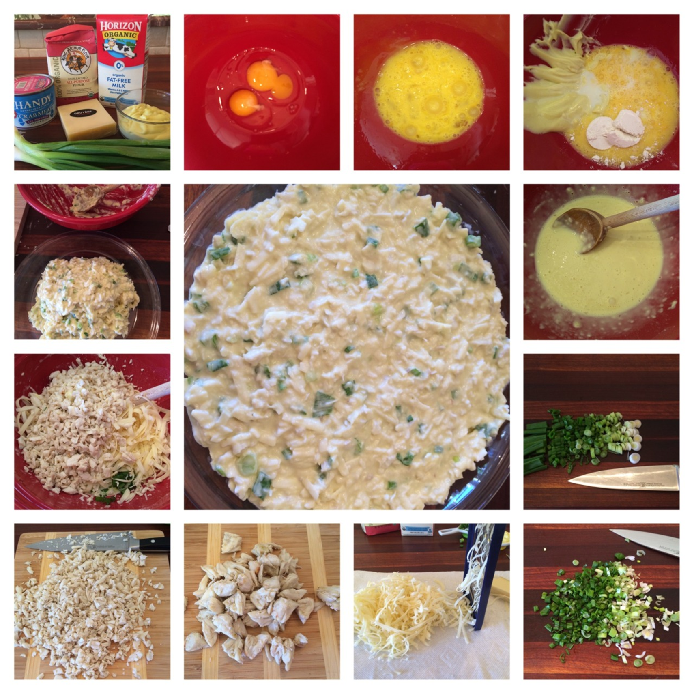 Here it is…oven ready! This is a family favorite. I usually only have a small bite or two to taste it—it's so full of dairy (all that swiss cheese and milk) and has mayo so it's not really my type of dish. One great thing about this recipe is you can make it the day before and then refrigerate it until ready to bake. You may use your favorite store bought light mayonnaise as i used to always do; or, try my new homemade mayo in the post below. Either way, this is a crowd pleaser and a great addition to any brunch or breakfast feast.
2 eggs, beaten
1/2 cup mayonnaise
2 tablespoons all-purpose flour
1/2 cup nonfat milk
1 1/2 cups fresh crabmeat, chopped (or 2 6 oz.cans, drained and chopped)
5 oz. swiss cheese, grated
1/2 cup green onion, chopped
Preheat oven to 350. Mix first four ingredients until blended. Stir in remaining three ingredients and pour into 9" pie plate or quiche pan. Bake at 350 for 45 minutes, until light golden brown on top. Let cool 5 minutes, slice into wedges and serve. Yum! (P.S. Opps…not pictured in the ingredients photo: the two eggs)
For the Homemade Mayonnaise:
1 egg yolk, at room temperature
1/8 teaspoon salt
1/8 teaspoon ground pepper
1 teaspoondijon mustard
1 teaspoon lemon juice
1/4 cup olive oil
1/2 cupgrapeseed oil
Take an egg out of the fridge and allow 2-3 hours to bring it to room temperature. In a medium bowl, whisk together the egg yolk, salt and pepper. Add mustard and lemon juice and whisk until well combined.
Place the olive and grape seed oils in a spouted measuring cup. Add the combined oils little by little, whisking constantly until all of the oil mixture is incorporated and the sauce is thick and emulsified. This may take up to five minutes. Add 1 tablespoon water and whisk together well. Use immediately or transfer to an airtight container and store in the fridge for up to 5 days. Bring to room temperature before using.
*Note: to make this into a recipe for aioli, add 2 garlic cloves, pressed, at the same time as the mustard. Voila!