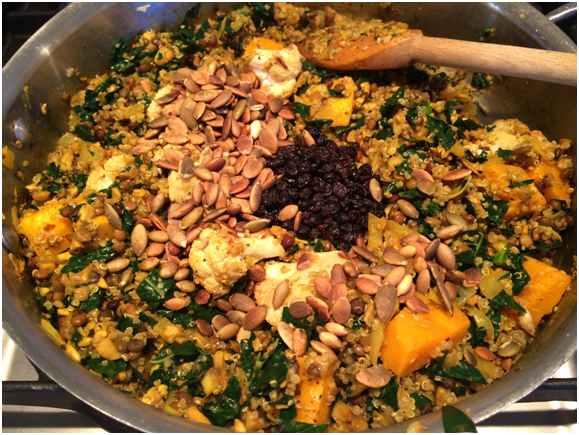 Ok, I know this is a hokey recipe name but it truly comes from the heart. This dish, used as the stuffing in my Stuffed Delicata Squash and as a bed for my Roasted Whole Cauliflower, is pure yumminess—vegetarian eating at it's best! Packed with nutrition and great flavor, it is the perfect accompaniment to any fall or winter meal. Warm and satisfying. Here I added some leftover roasted cauliflower and butternut squash as it was being served as a side dish, though actually it was my main course for Thanksgiving dinner. I didn't miss the turkey one bit!
1-2 tablespoons olive oil
3 cloves garlic, pressed
1 onion, diced
2 cups mushrooms, diced (I use an 8oz package)
1 teaspoon ground cumin seed
1 teaspoon ground turmeric
1/2 teaspoon coarse ground pepper
2 cups lacinato kale, de-stemmed & chopped (about a half a bunch)
2 tablespoons vegetable broth
1 – 2 cups steamed lentils*
1 – 2 cups cooked quinoa**
2 cups roasted cauliflower & butternut squash (optional)
1/4 cup pepitas, toasted***
1/4 cup currants
1/4 cup shredded parmesan cheese
* I buy Melissa's brand steamed lentils, available at Gelson's. They are pre-cooked and ready to go. Easy and delicious.
** To cook the quinoa: Start with 1 cup vegetable broth. Bring to a boil in a saucepan and add 1/2 cup uncooked quinoa. Return to a boil then cover, reduce heat, and simmer 15 minutes. Remove from heat and let sit covered for 5 minutes or until ready to use. Can be made up to 4 days ahead and stored in refrigerator until ready to use.
*** To toast the pepitas: Place raw pepitas in a large dry skillet over a medium flame and stir constantly for about 4-5 minutes. The seeds are done when they start to pop and crackle, become fragrant and are slightly browned. Transfer to a sheet pan to cool in a single layer. When completely cooled, place in an airtight container and store in cool dark place for up to one week until ready to use.
In a large skillet, heat olive oil over medium flame. Add onion and garlic, stirring frequently for 1-2 minutes until fragrant. Add turmeric, cumin and ground pepper, reduce heat to low and stir well to incorporate. Add mushrooms, kale and 2 tablespoons of vegetable broth; sauté over medium low heat for 10 minutes. Add lentils and cooked quinoa, stirring occasionally for 3-5 minutes to combine ingredients and heat through. Add pepitas and currants, stir to combine. Remove from heat and add parmesan cheese. Serve as a side dish, a stuffing or simply enjoy it as a main course. Yum!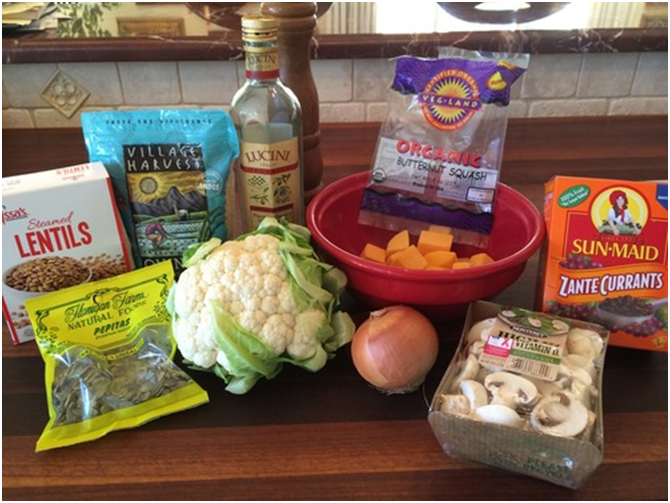 In addition to the recipe ingredients, you see pictured here two additional goodies: cauliflower and cubed butternut squash. I had a hankering for these and so I roasted some the day before, along with toasting the pepitas and cooking the quinoa—the next day was thanksgiving and I had a breakfast feast to make as well as two pies so whatever I could do ahead was great. (Just cut cauliflower into florets, toss with cubed butternut squash in a little olive oil, season with sea salt and coarse pepper. Roast in a 400 degree oven for 20-30 minutes. Set aside until ready to use or refrigerate for up to 4 days.)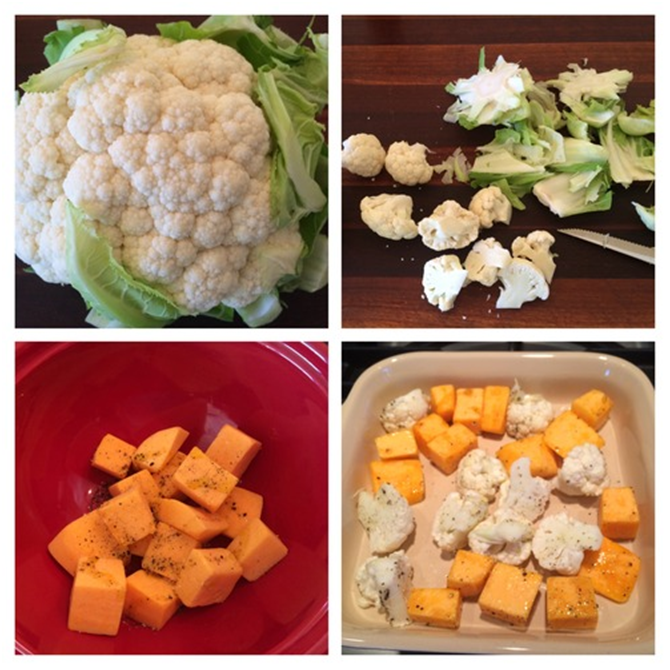 This is really a side dish in itself—roasted cauliflower and butternut squash.
To make the Vegetarian Delight, I like to prep all the ingredients first…
Often, I'll chop the onions on a small cutting board to facilitate clean and easy transfer to the skillet.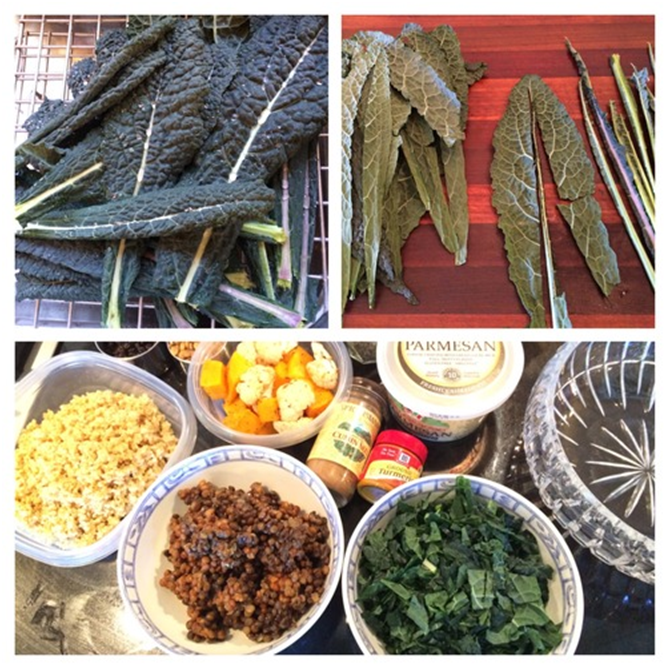 Having made the quinoa, toasted pepitas and roasted veggies the day before, as well as using Melissa's brand pre-cooked steamed lentils, the prep was pretty minimal. Note, I have the pepitas and currants measured out and ready to go.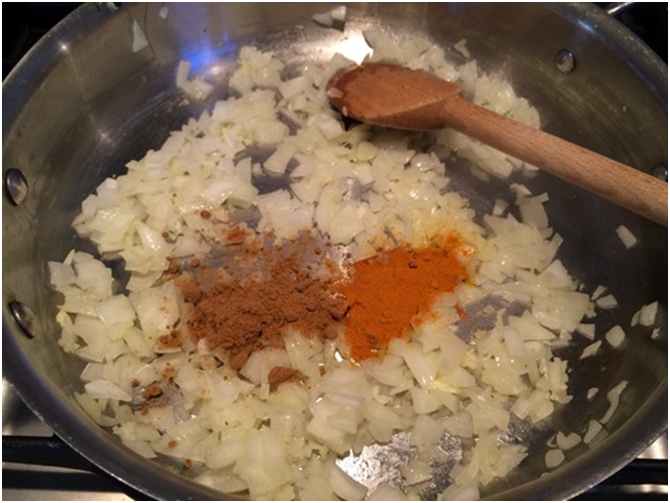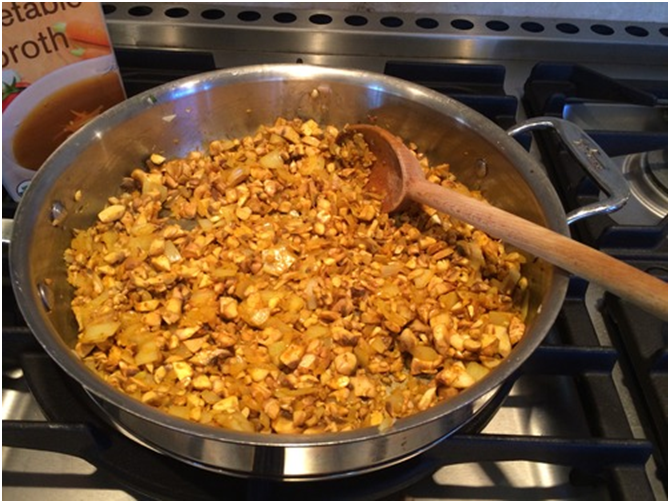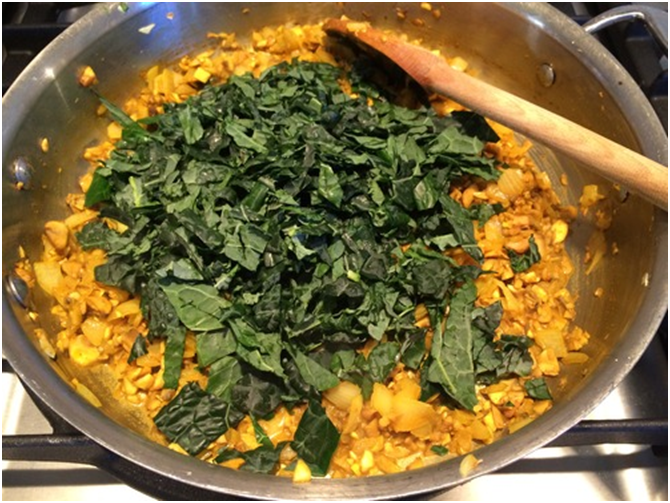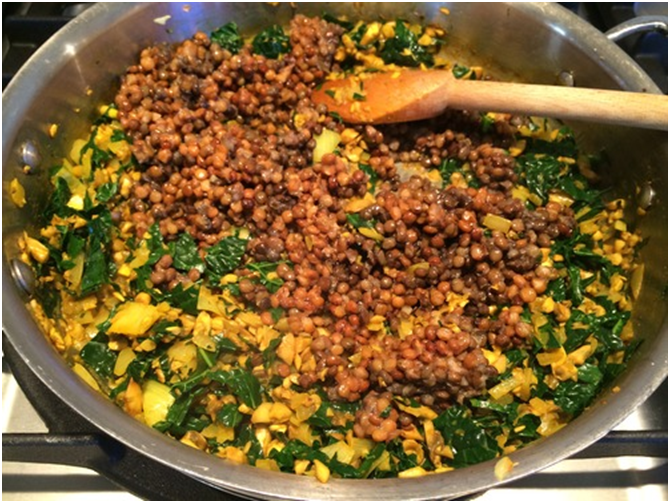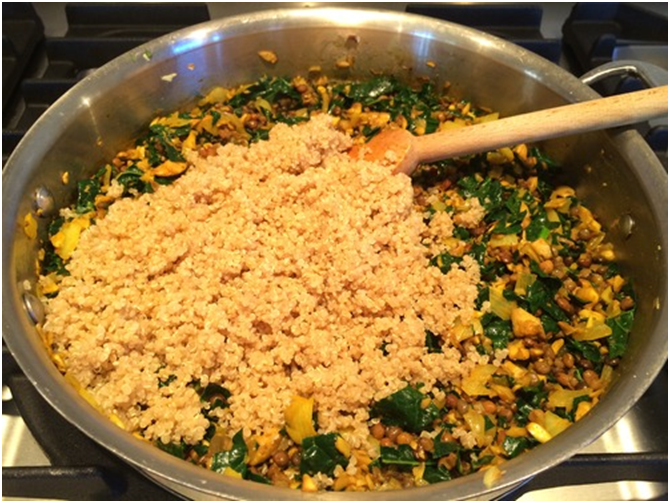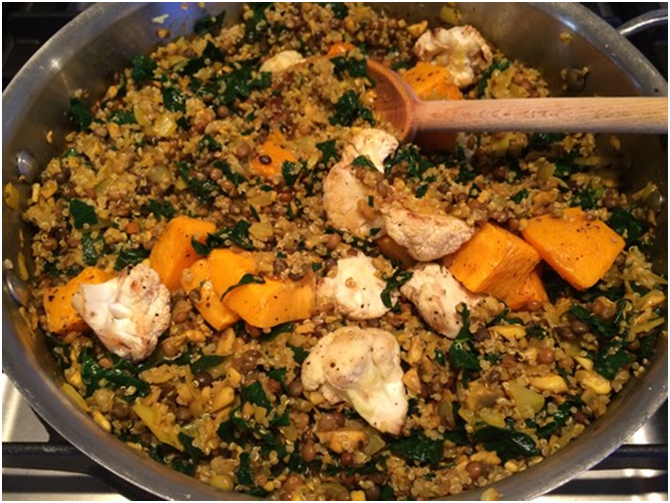 The next time I'm in the mood for cauliflower and squash in this I'll use the full head of cauliflower and 2 bags of butternut squash—these oven roasted veggies added a lot of flavor and meaty texture to this already heartily delicious dish.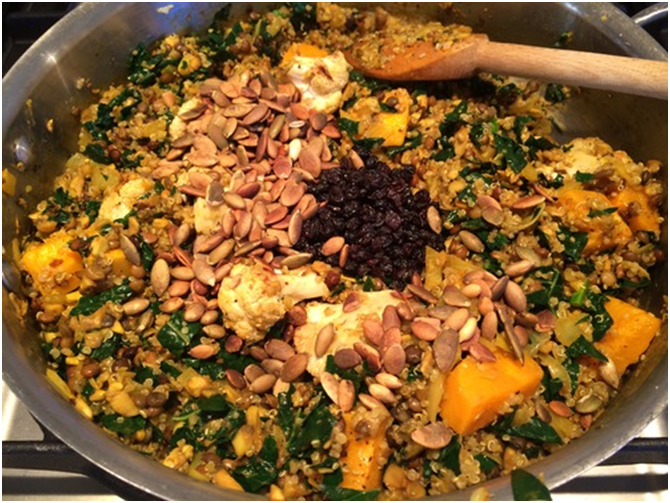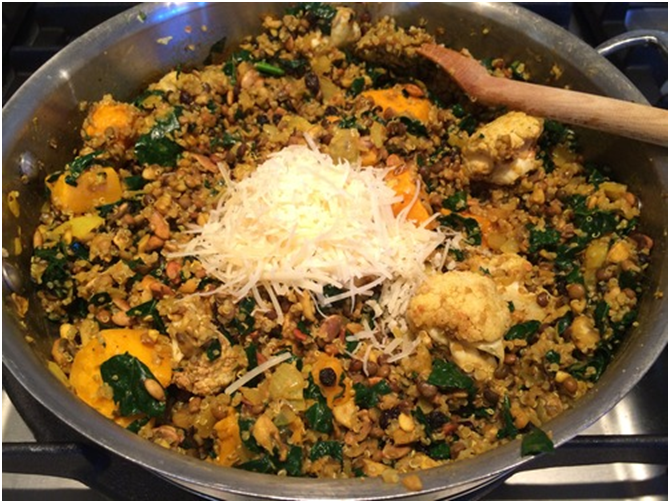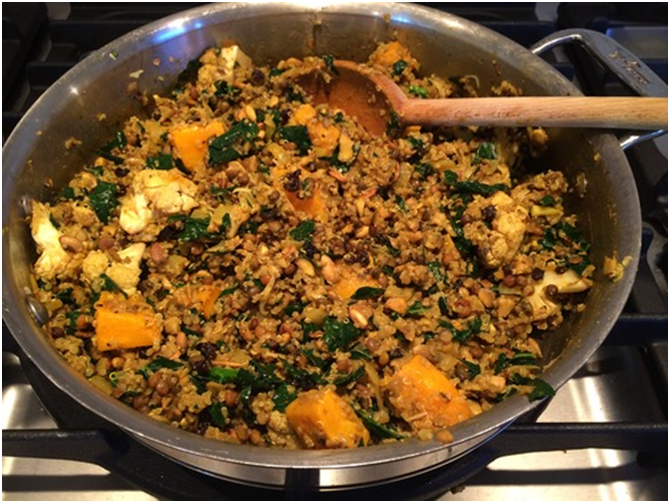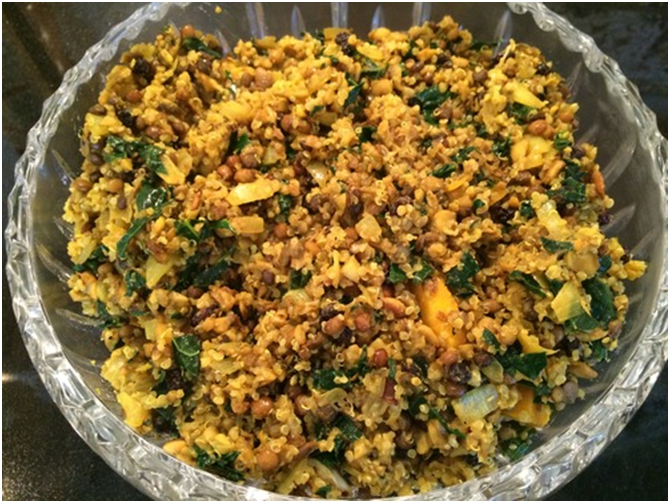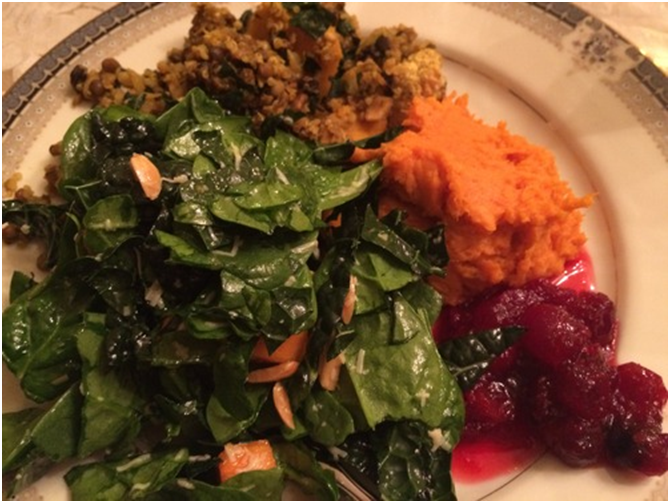 This was my plate at the Thanksgiving dinner—my first plant based Thanksgiving meal! Vegetarian Delight with roasted cauliflower and butternut squash, sweet potato, cranberry and spinach and kale persimmon salad. Yum!