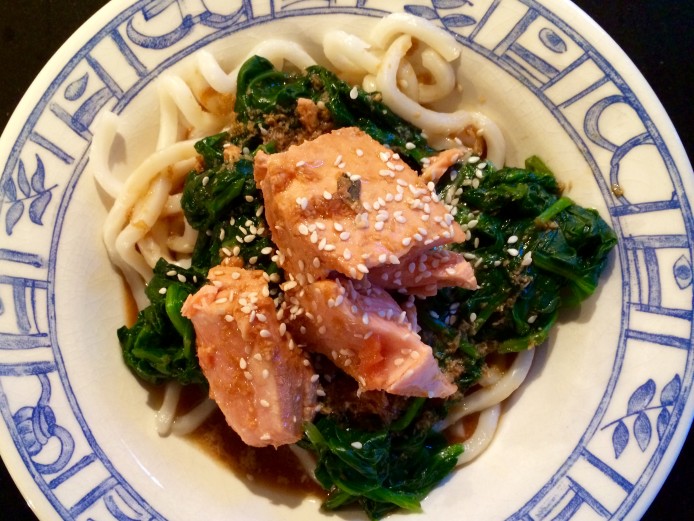 Soy Ginger Glazed Salmon with Spinach and Udon Noodles
This is a quick and delicious dinner, ready in 25 minutes or less. Simply marinate the salmon, and in the 8-10 minutes it takes to bake, you can steam the spinach and cook the noodles. Serve it all up in a bowl and voilà, dinner is ready. Enjoy!
1/4 cup tamari low sodium soy sauce
1/4 cup sake
3 Tbsp. fresh lime juice
2 Tbsp. fresh grated ginger*
1 tsp. maple syrup
2 4-6 ounce wild salmon filets
1 7.25 ounce pkg. udon noodles
5 oz. pre-washed organic spinach
2 tsp. sesame seeds
*To grate ginger which is fibrous by nature, a special ginger grating dish is preferable to a traditional grater. Purchase your ginger grating dish wherever fine kitchen gadgets are sold. See photos below.
Preheat oven to 450 degrees. In a large pyrex measuring cup, combine the first 5 ingredients, whisking together well. Place salmon filets in a ziploc bag or a shallow baking dish and cover with the marinade. Turn occasionally to coat until ready to place in oven.  Bake 5 minutes on each side then remove from oven and cover until ready to serve. (If using fish that has skin on it, start cooking it skin side down, then flip so skin side is up. Using a sharp knife, remove skin and brown part of fish before serving).
Place spinach in a medium size saucepan with 1/4 cup water over high heat; cover and steam until spinach is wilted, approximately 5 minutes. Let sit covered until ready to serve.
Bring a medium pot of water to boil, add a splash of olive oil and cook the udon nooodles according to directions on the package (do not use the spice packet), usually about 2-3 minutes.
To serve: In a rimmed soup bowl, first add about 1/2-1 cup of udon noodles as a base, then add the steamed spinach, dividing it equally (I use tongs to pull the spinach from the saucepan, letting the excess water drip off before placing in the serving bowls). Place the salmon on top of the spinach, spoon some of the cooking juices from the baking dish over the salmon to create a broth for the noodles; sprinkle with sesame seeds. Serves 2.
Below is the ginger grater dish in action: Simply cut the skin off the ginger root, then run the ginger piece back and forth over the toothy surface, allowing the ginger juices and pulp to gather around the edges of the dish. Rotate the ginger as each side becomes nothing but fiber. When done, remove the hairy fiber stuck in the toothy surface before spooning out the ginger pulp and juices for use.