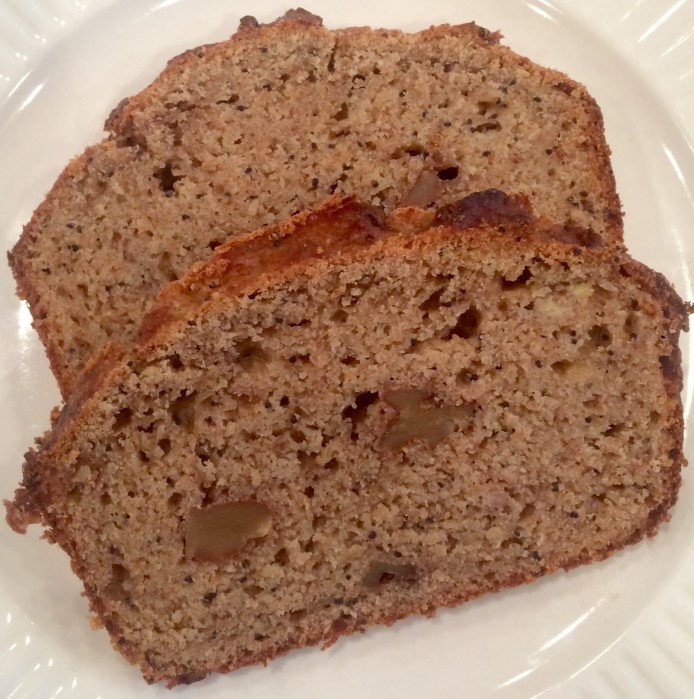 This is a recipe that I've made so many times I know it by heart. I adapted it from one of my first cookbooks as a young adult–Laurel's Kitchen. The book is so used at the page of this recipe, and marked up with my notes, that it is literally now broken into two pieces; so I thought it's time to add this recipe to my blog. My recipe differs from the Laurel's Kitchen version, incorporating more wheat germ and the addition of poppy seeds; it also uses walnuts only (no dried fruits or other nuts). Hearty and yummy, a slice of this is great with tea or coffee as a breakfast treat or with a mug of warm milk as a midnight snack. With extra wheat germ and the addition of poppy seeds, my version adds a little nutritional boost and a heartier texture.
3 ripe bananas
1 lemon, juiced
1/3 cup grapeseed oil
1/2 cup brown sugar
1 1/2 cups whole wheat flour
1/2 tsp. baking powder
1/2 tsp. baking soda
1/2 tsp. sea salt
1/2 + 1/8 cup toasted wheat germ
3 Tbsp. Poppy seeds
1 cup raw or roasted walnuts, hand broken into chunky pieces
Preheat oven to 375.
Place broken pieces of bananas in a small bowl and mash, using a fork or potato masher. Add lemon juice and stir well to combine.  In a large bowl, stir together the oil and sugar. Then add the banana lemon mixture, stir well and set aside.
Place a sifter in the center of a medium bowl. Add the whole wheat flour, baking powder, baking soda and salt; sift these dry ingredients into the bowl, using your fingers to press through and residual powder that remains above the screen. Add wheat germ and poppy seeds and stir well.
Add the dry mixture to the large bowl with the wet mixture. Stir with a large wooden spoon. Batter will take on a wet dough like consistency. Mix in the walnuts, combining until they are well distributed.
Grease a 4 x 8 inch loaf pan with butter and pour in the doughy batter. Bake 45-55 minutes, until nicely browned and a knife comes out clean.
Can also be made as mini loaves (reduce cooking time to 20-25 minutes) or as muffins (cook for 15-20 minutes)