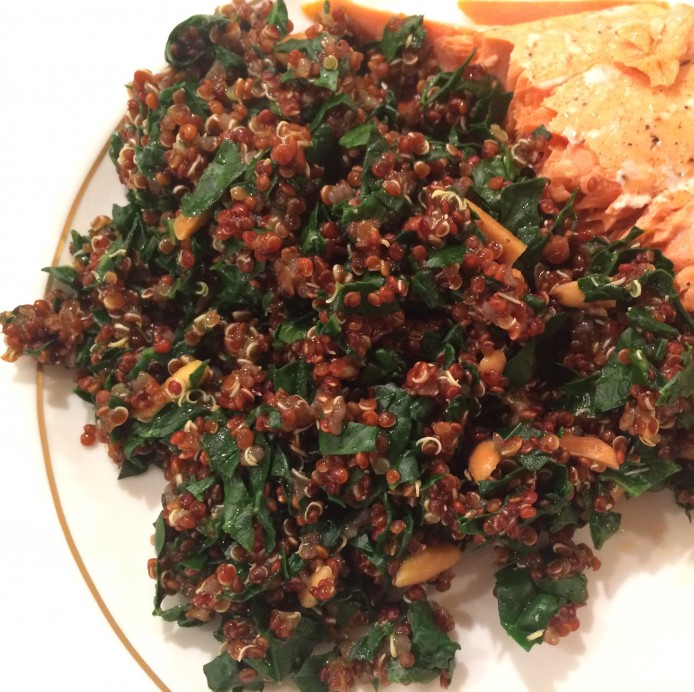 Red quinoa has a satisfying nutty flavor and offers a nice alternative to the original "blond" variety. I like to cook it in vegetable broth for added nutrients and flavor. Here I pair it with raw kale and roasted slivered almonds–throwing the chopped raw kale in right when the quinoa is done cooking eliminates the need to cook the kale in a separate pan. Simply toss it in, stir well and let sit for a couple minutes and the kale wilts to perfection. Stir in the slivered almonds and then serve with grilled chicken or fish, such as my Salmon Baked in Vegetable Broth and Spices, for a quick and delicious healthy dinner.
2 cups vegetable broth (or water)
1 cup uncooked red quinoa
1 bunch lacinato kale, stemmed and chopped
1/4 cup roasted slivered almonds*
1/2 tsp. coarse ground pepper
1/4 tsp. sea salt
*To roast almonds: Preheat oven to 350. Place almonds in a single layer on a baking sheet. I usually roast the whole pack while I'm at it; you'll only use 1/4 cup but it's nice to have the leftovers on hand to throw in a slad or snack on. They'll keep for a week or more in an airtight container.
Place 2 cups vegetable broth and 1 cup red quinoa in a medium saucepan; bring to a boil, cover and reduce heat to low. Let cook 15 minutes. In the meantime, de-stem and chop the kale. When the quinoa has cooked 15 minutes and the liquid is pretty much all absorbed, add in the chopped kale. Stir for a minute or two until kale starts to turn darker green and wilt, then add the roasted almonds, mix and serve. Yum!