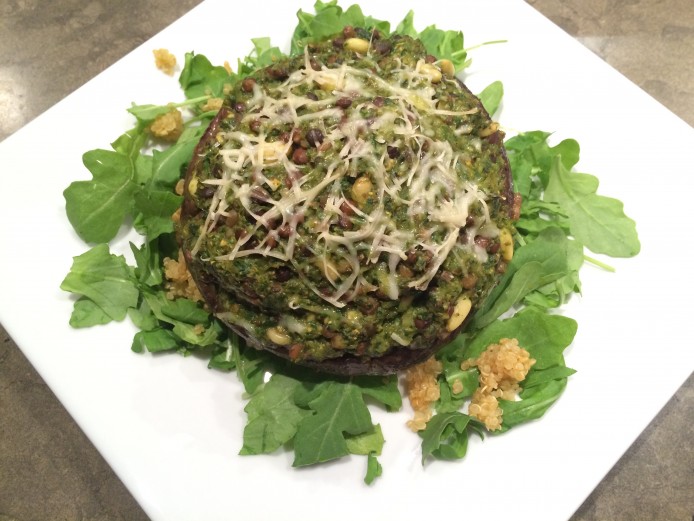 Stuffed Portobello Mushrooms
Portobello mushrooms have a great meaty texture and this dish is oh so satisfying, especially on a chilly evening. As you can see from the photos below, I used a cuisinart food processor to make the prep work quick and easy, but if you don't have one of these, you can hand chop the onion, garlic, mushrooms and spinach in just a few minutes using a 10″ or 12″ chef's knife. Either way, it'll be delicious. For the marinade:
1/2 cup extra virgin olive oil
1/4 cup aged balsamic vinegar
2 garlic cloves, pressed
1 tsp. coarse ground pepper
1/4 tsp. sea salt
4-5 sprigs fresh oregano or thyme, leaves stripped from stems (or 1 Tbsp. dried)
4 portobello mushrooms, stems removed and set aside
For the filling:
1 small onion, sliced
2 garlic cloves, peeled
4 portobello mushroom stems
8 oz. crimini mushrooms
1-2 Tbsp. extra virgin olive oil
5 oz. fresh spinach
9 oz. steamed lentils (I use Melissa's brand–see details under Favorite Ingredients)
1/4 cup pine nuts
1 tsp. coarse ground pepper
1/4 tsp. sea salt
1/2-1 tsp. turmeric
1/2 cup plus 1/4 cup shredded parmesan cheese (optional)
For the plate:
Cooked quinoa (2 cups vegetable broth, 1 cup quinoa–this will be plenty for the plates and provide for leftover as well.)
4 cups baby arugula (same–enough to have leftovers!)
 In a small high walled bowl, whisk together the first six marinade ingredients. Place the portobello mushrooms in a large ziploc baggie and pour marinade over the mushrooms. Marinate until ready to use, from 15 minutes to up to four hours, turning occasionally to coat well. Preheat oven to 350 degrees.
If you do not have cooked quinoa on hand, make it now: Bring 2 cups vegetable broth to boil in a medium saucepan: add 1 cup quinoa, return to simmer, reduce heat and cover. Cook 15 minutes or until all liquid is absorbed. Let sit covered until ready to use.
In food processor*, place onion, garlic, portobello mushroom stems and crimini mushrooms. Pulse until coarsely chopped (do not over process into a puree!). Heat a large skillet over medium flame; add olive oil and heat through. Add onion, garlic and mushroom mixture to skillet; saute over medium low heat, stirring occasionally until onion is transparent and mushroom appears cooked. Reduce heat to low and add pepper, salt and turmeric to the onion garlic mushroom mixture, stirring well to combine.
Once oven is preheated and the mushrooms have had a least a few minutes to marinate, place the marinated portobellos gill side down in a baking dish, pour excess marinade over the mushrooms. Bake at 350 degrees for 15 minutes, until mushroom begin to soften. Remove from oven, turn the mushrooms over gill side up, readying them for the filling.
In the meantime, while the spices meld with the onion mushroom mixture, add spinach to the food processor and pulse until coarsely chopped. Add the spinach to the skillet and stir frequently until spinach is well incorporated and turns bright green, one to two minutes. Once spinach is cooked to your liking, turn off the flame under skillet. Add the cooked lentils, pinenuts and, if you choose to use it,  1/2 cup shredded parmesan cheese and stir well. Now the filling is ready! (It can be made 2 hours ahead; cover and let sit at room temperature if you like).
Generously spoon the filling into each portobello mushroom cap. If using cheese, top with remaining shredded parmesan and bake again at 350 degrees for 15 minutes or until cheese begins to brown.
Prep your dinner plates with a bed of arugula topped with quinoa.  Place cooked mushroom in the center of the plate and enjoy! Serves 4.
*To chop or not to chop (by hand), that is the question. For some reason, for this recipe I like to use the processor. Often shopping, opps I mean chopping, (wow that's a fruedian slip!) is good for the soul. Chopping requires some exertion, and, let's admit it, agression. Energy out. Whereas using a kitchen gadget such as the cuisinart, you slice a little and then push a button and watch the magic happen. This technique is great after a long day and adds a leisurely effect to the dinner prep. In this recipe, you do this twice–first with the onion, garlic, mushroom, then with the spinach–and you don't even have to wash it out in between. I love that. Here is the recipe the first time I made it in pictures, below…As you can see, in my updated version above I have eliminated the goat and pecorino cheeses and decided to remove the quinoa from the stuffing and I added lentils to make it a more hearty entrée. The result is a dense spinach lentil mushroom filling with a rich earthy flavor. It is equally delicious cold, again on a bed pf arugula and quinoa–this is one of my go to carry-on meals for airline travel.
The photos below are from my first efforts with this recipes–I have since changed it to include pinenuts in stead of almond slivers and I like it better without the goat cheese. But do as you like…there are no rules!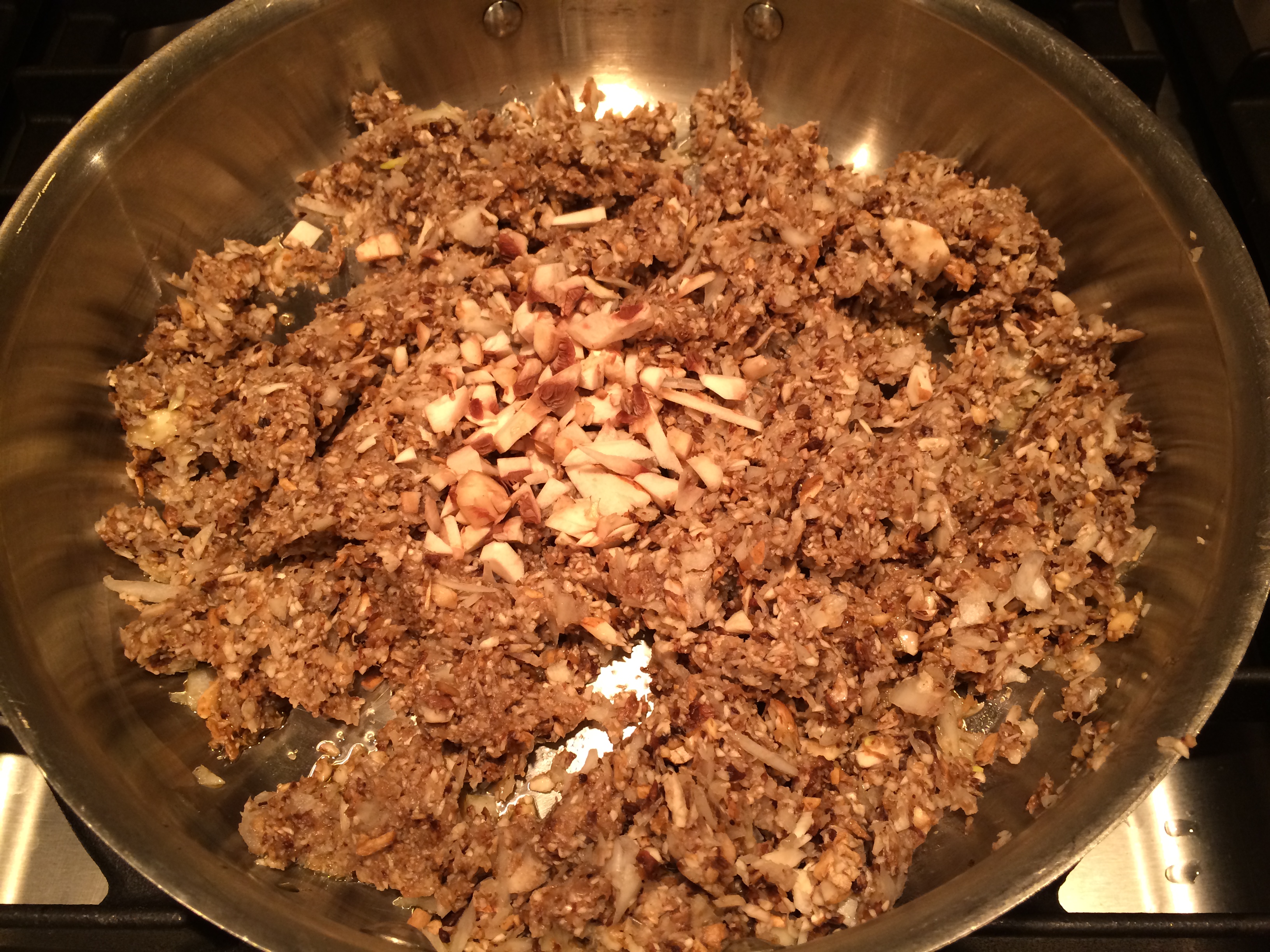 While sautéing the onion mushroom mixture, prep the spinach…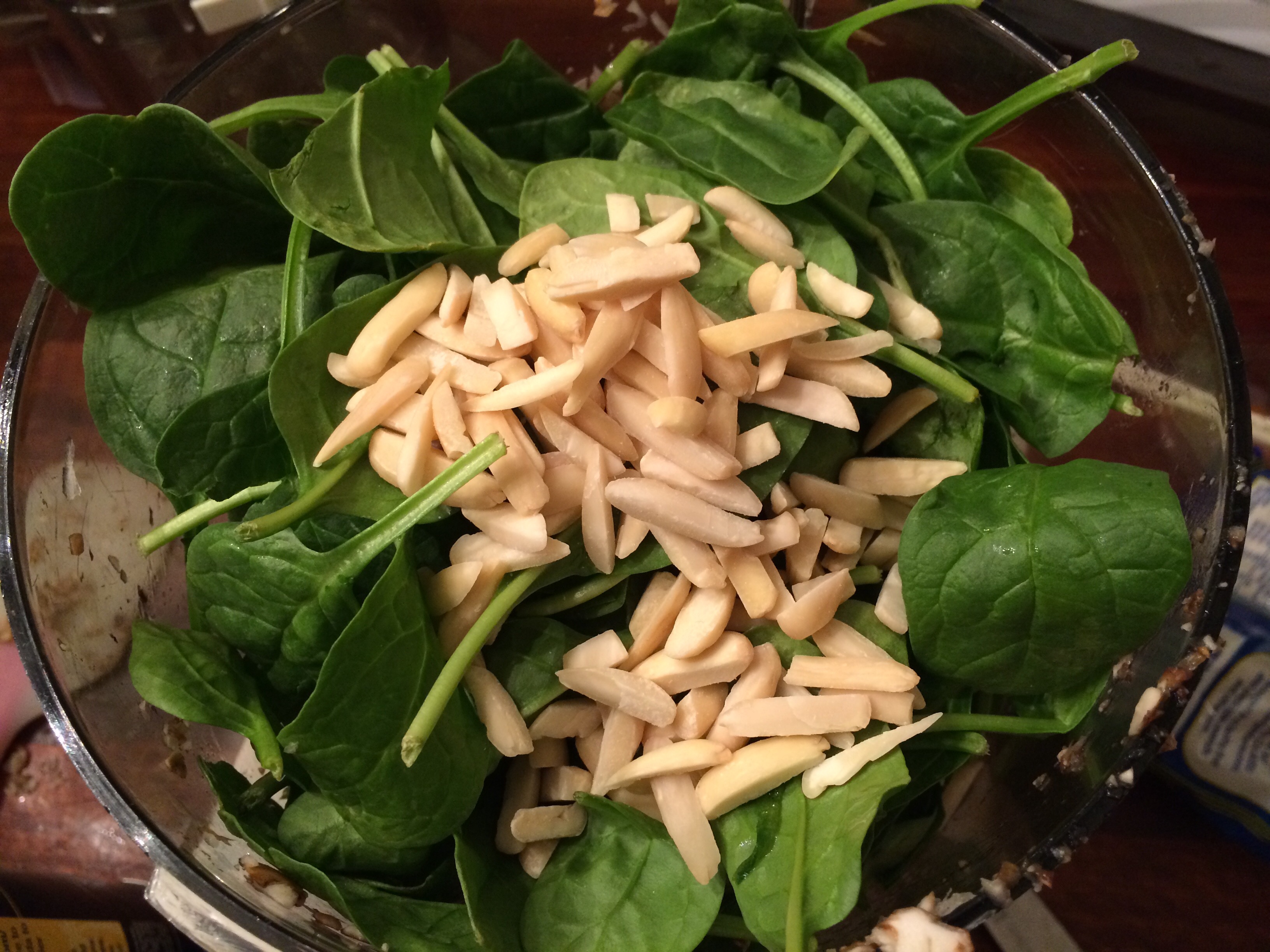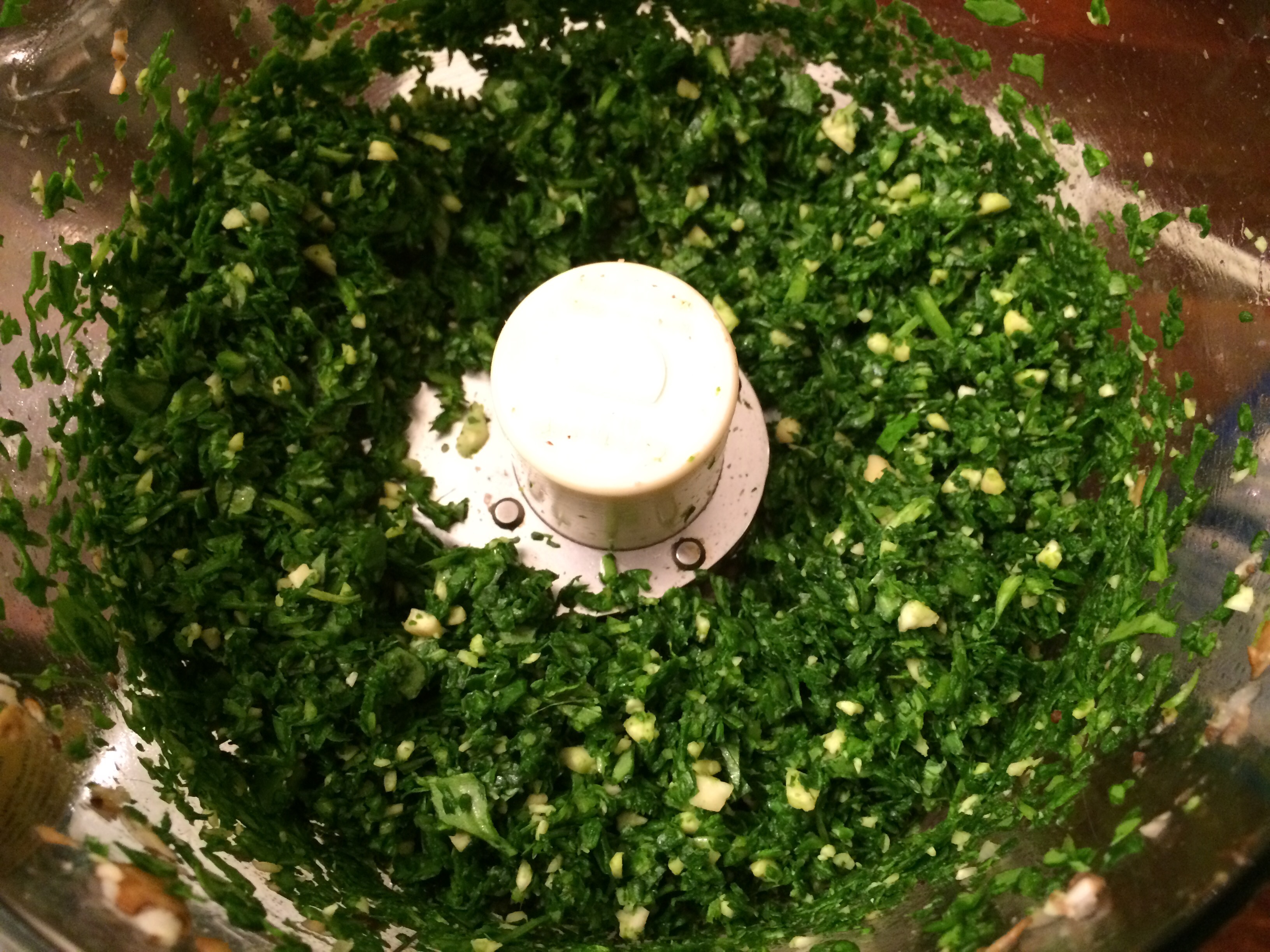 Once the onion mushroom mixture is looking cooked add the salt, pepper and turmeric and stir well.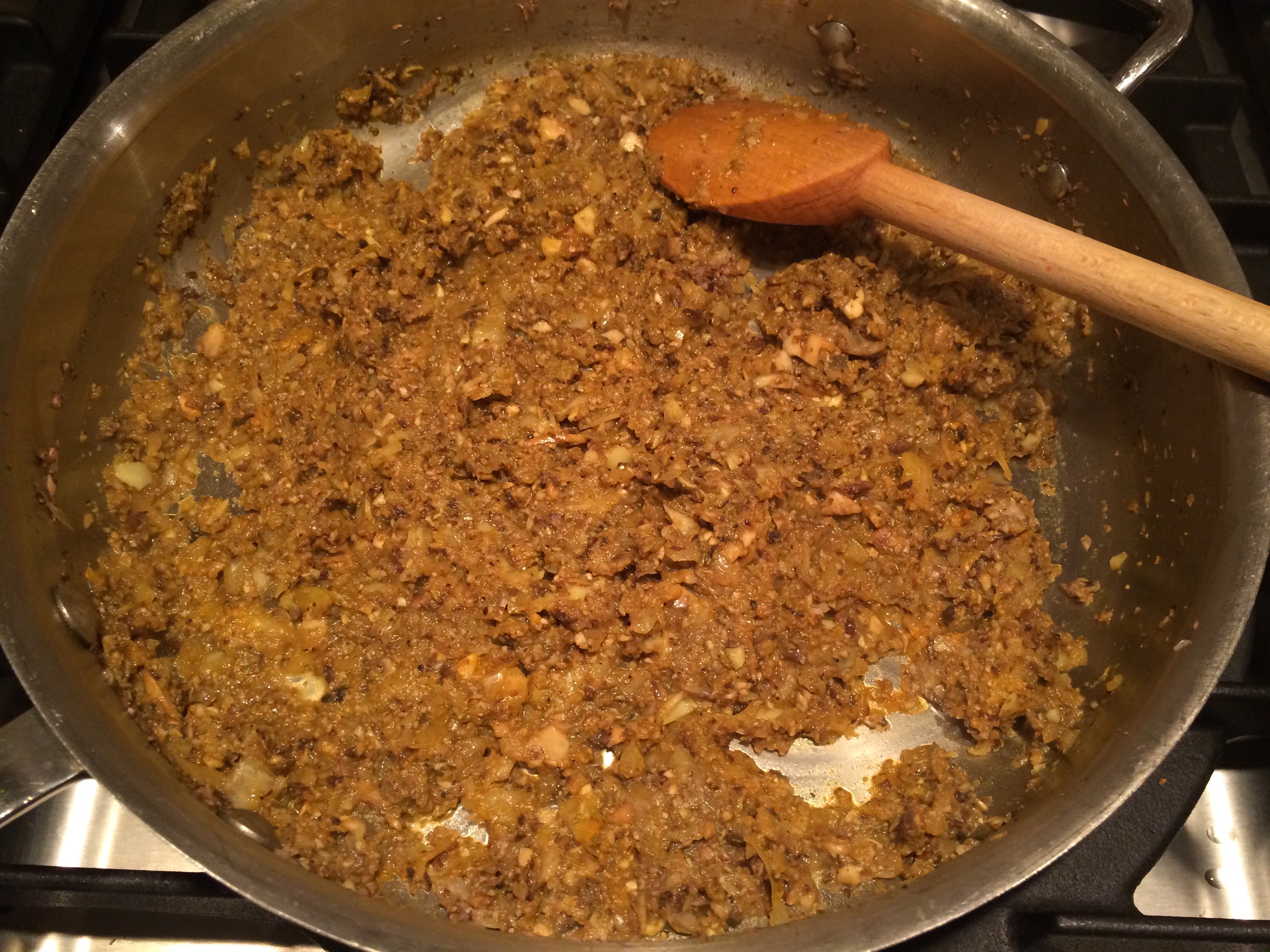 Now it's  ready for the spinach nut mixture to be added…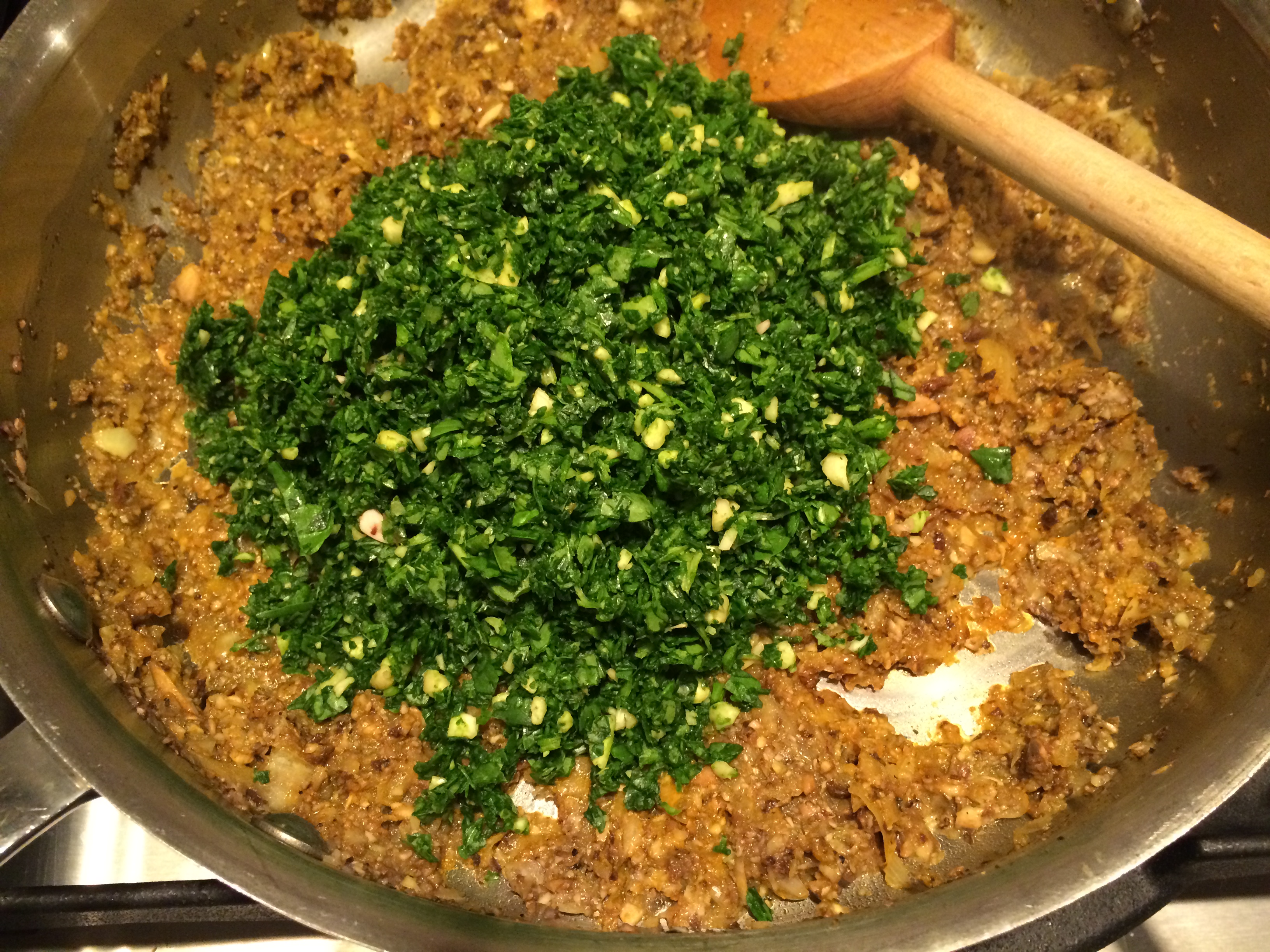 Stir well to combine and, after a few minutes, when the spinach start to turn bright green, remove this mixture from the heat and prep the mushrooms for the first round of baking, gill side down.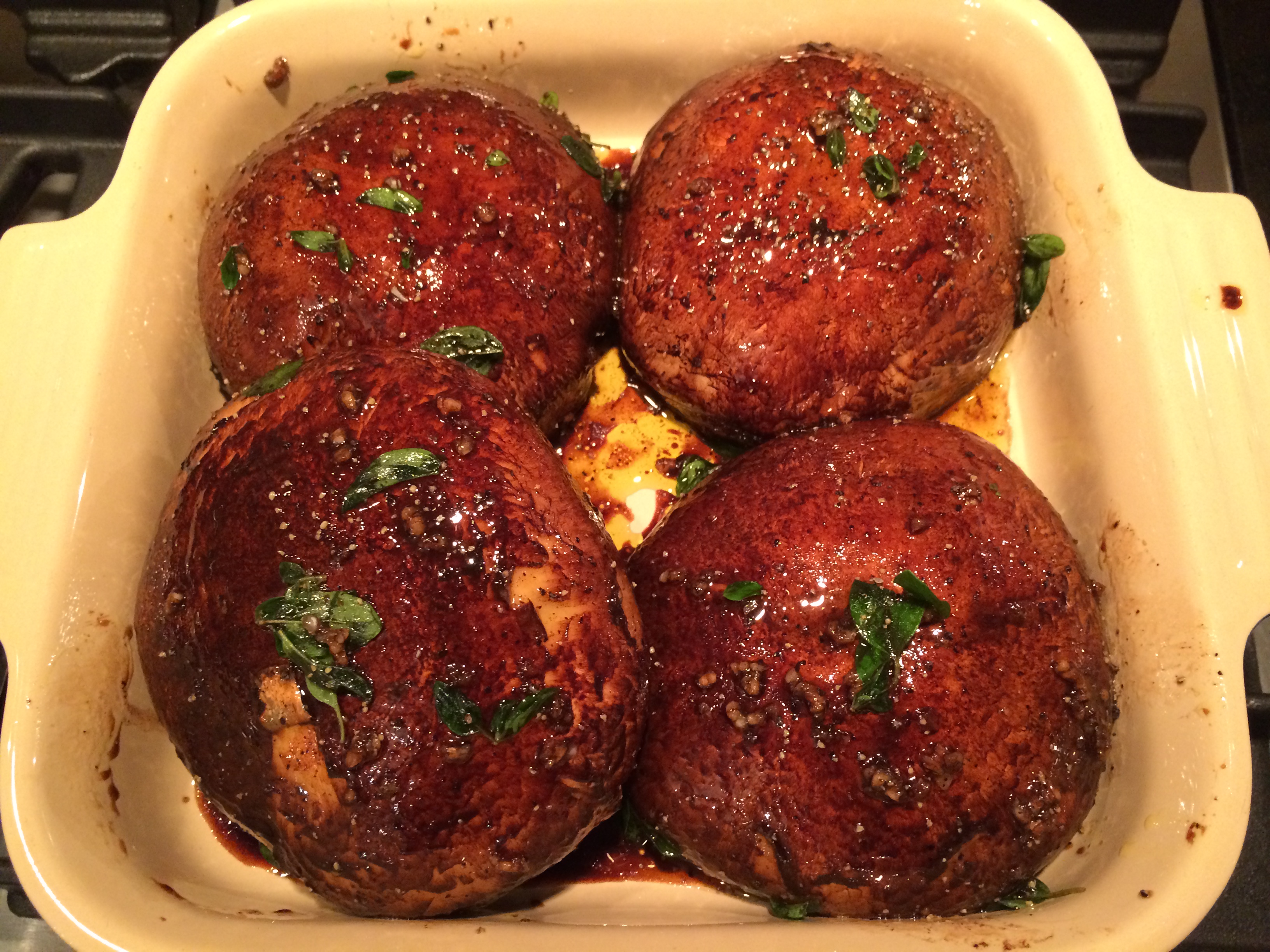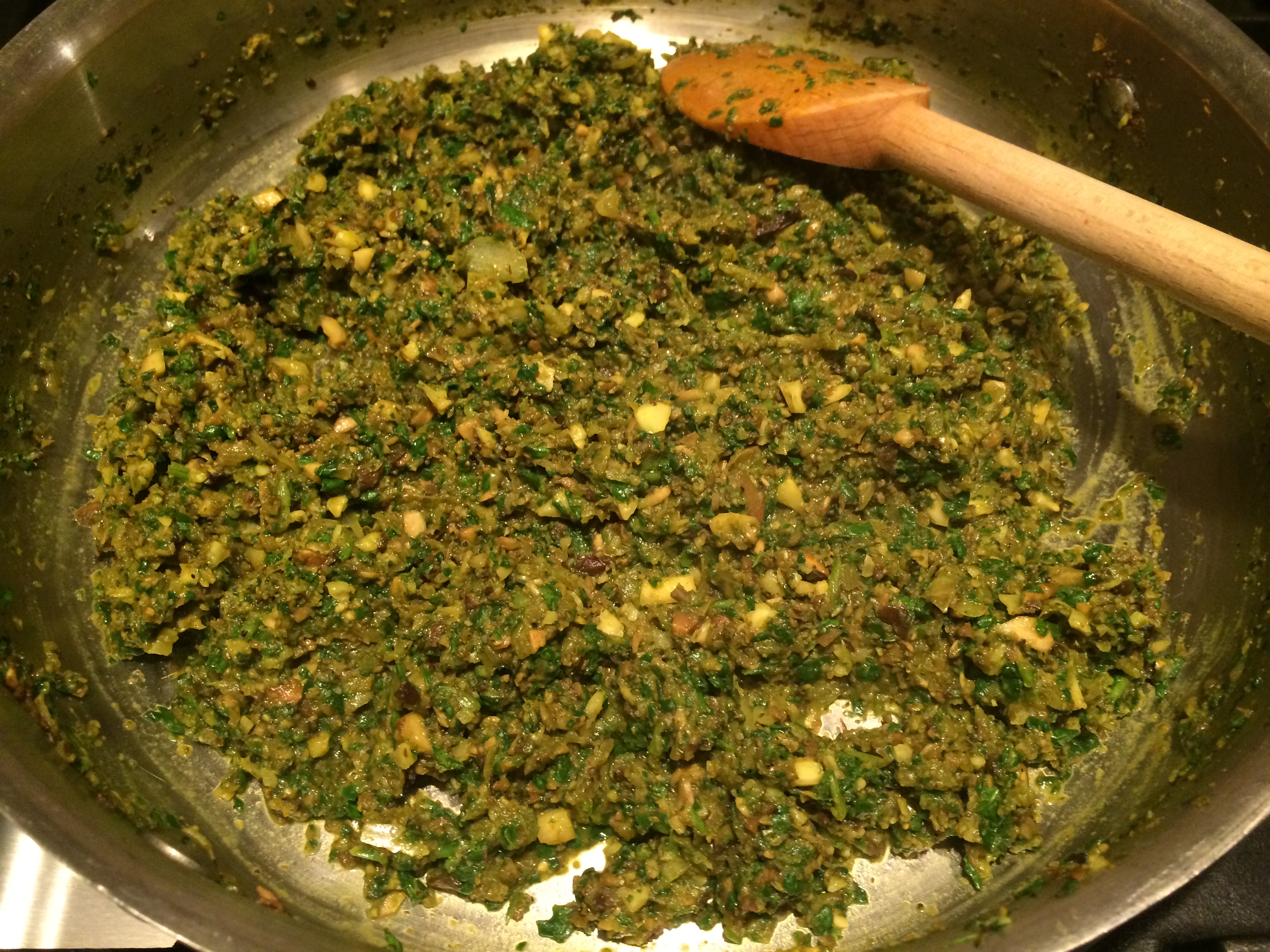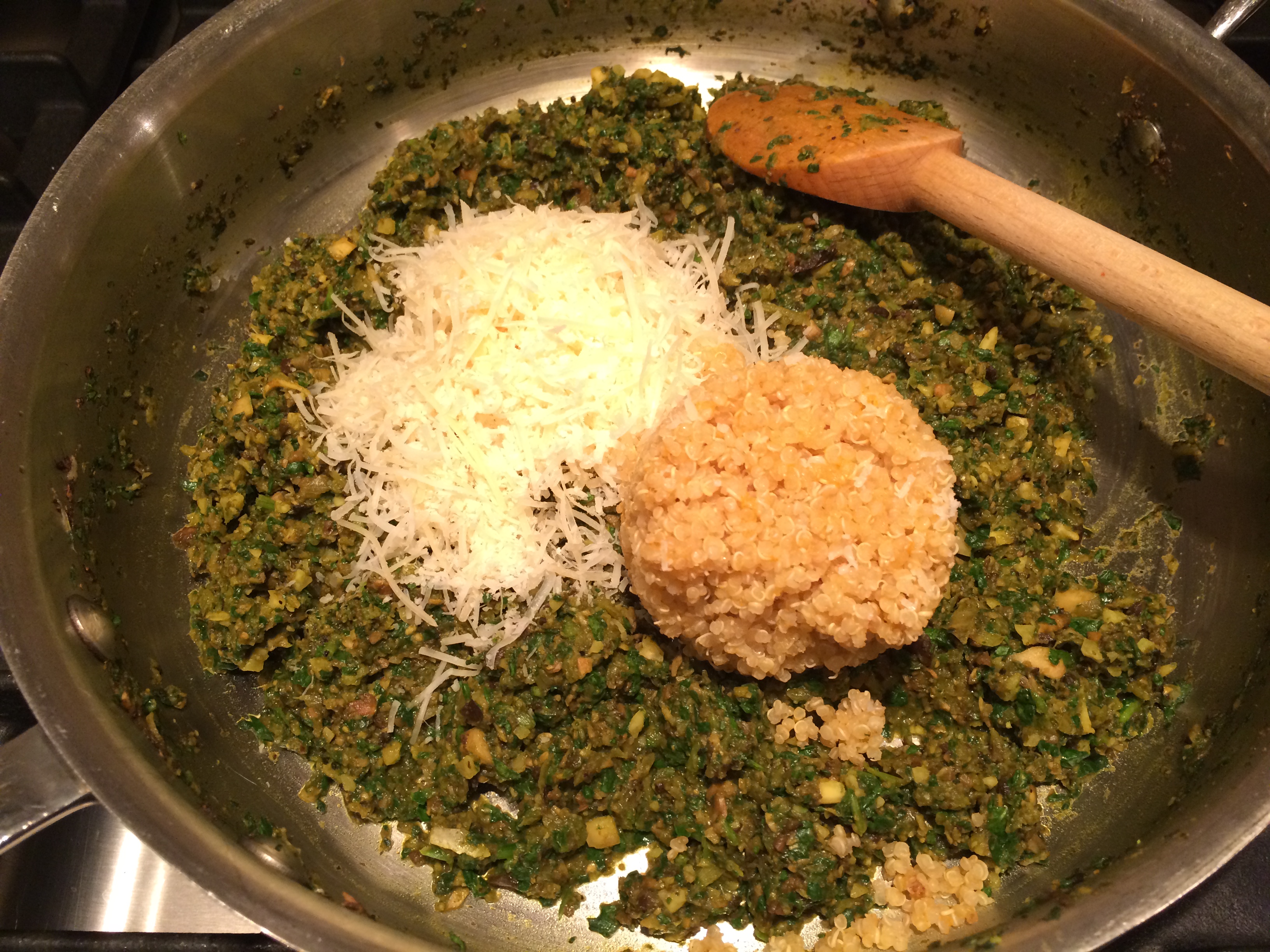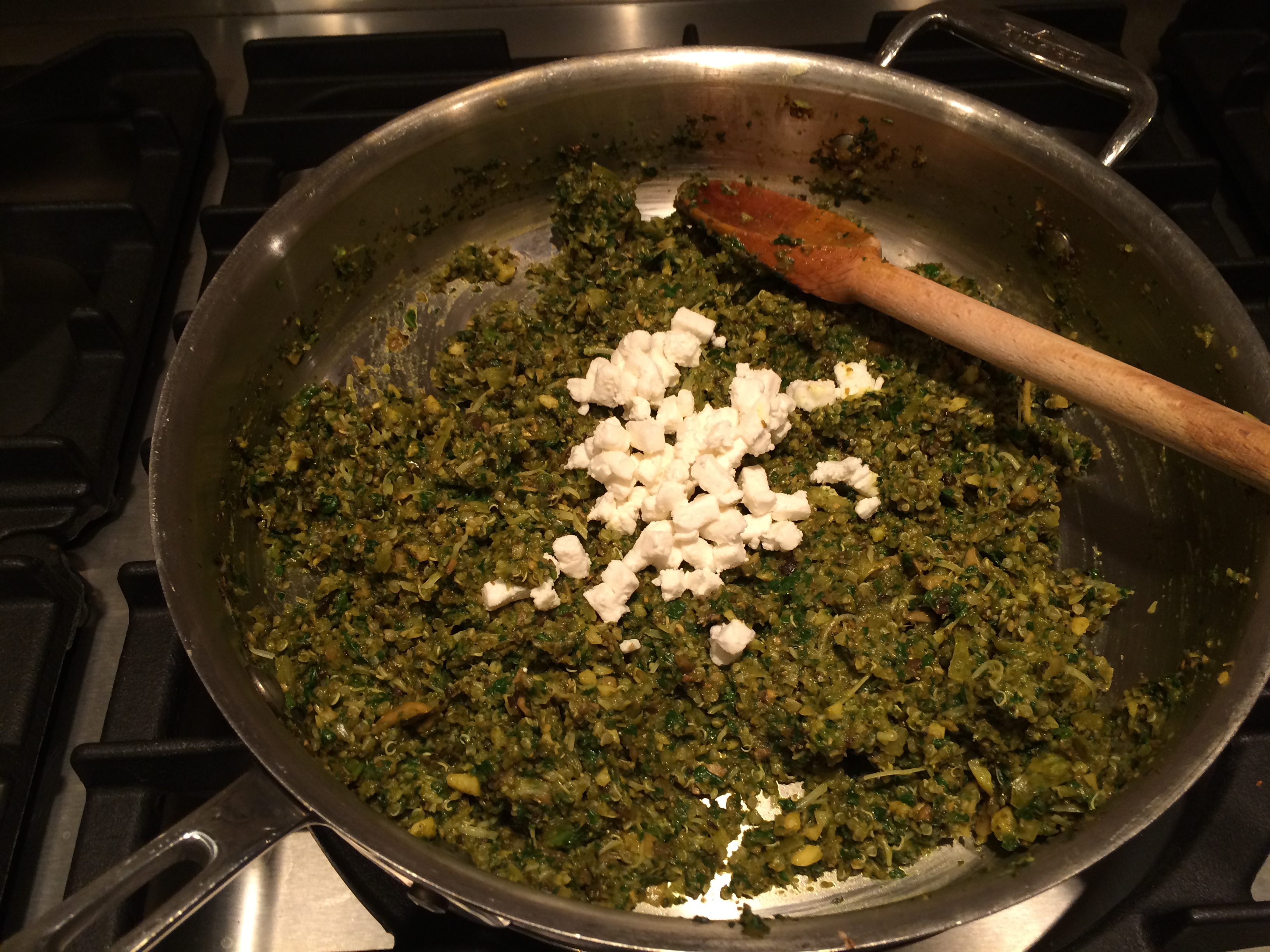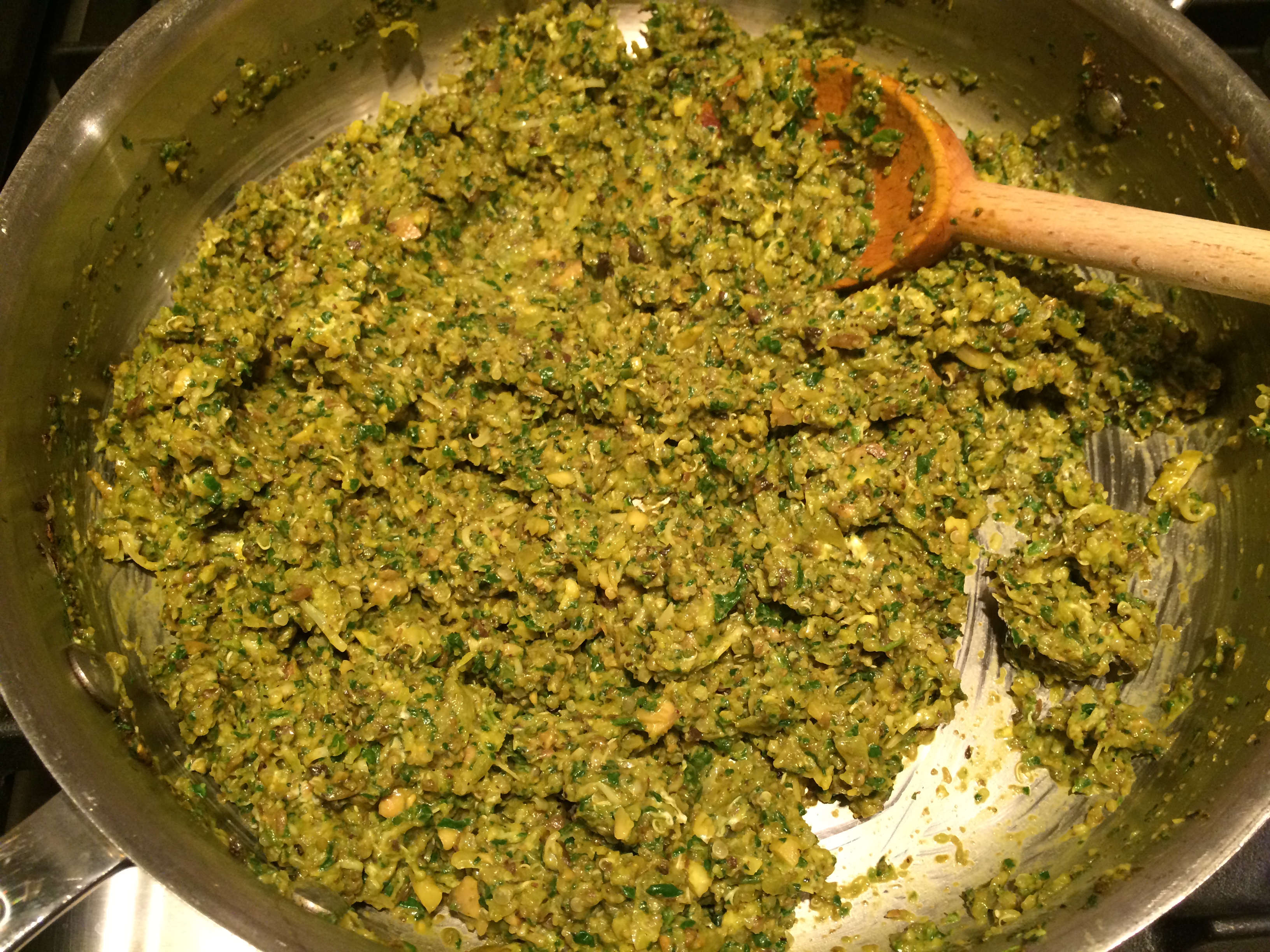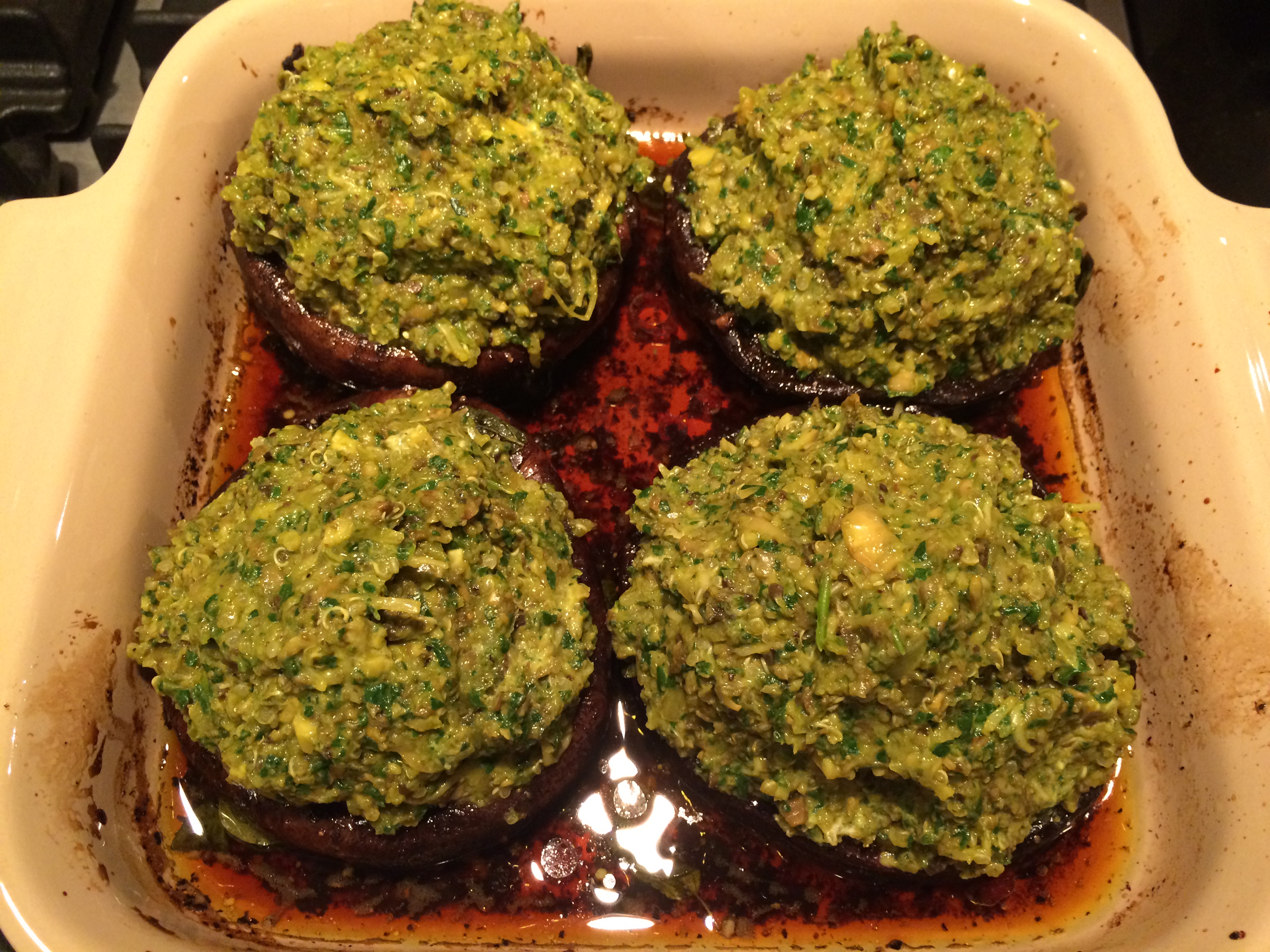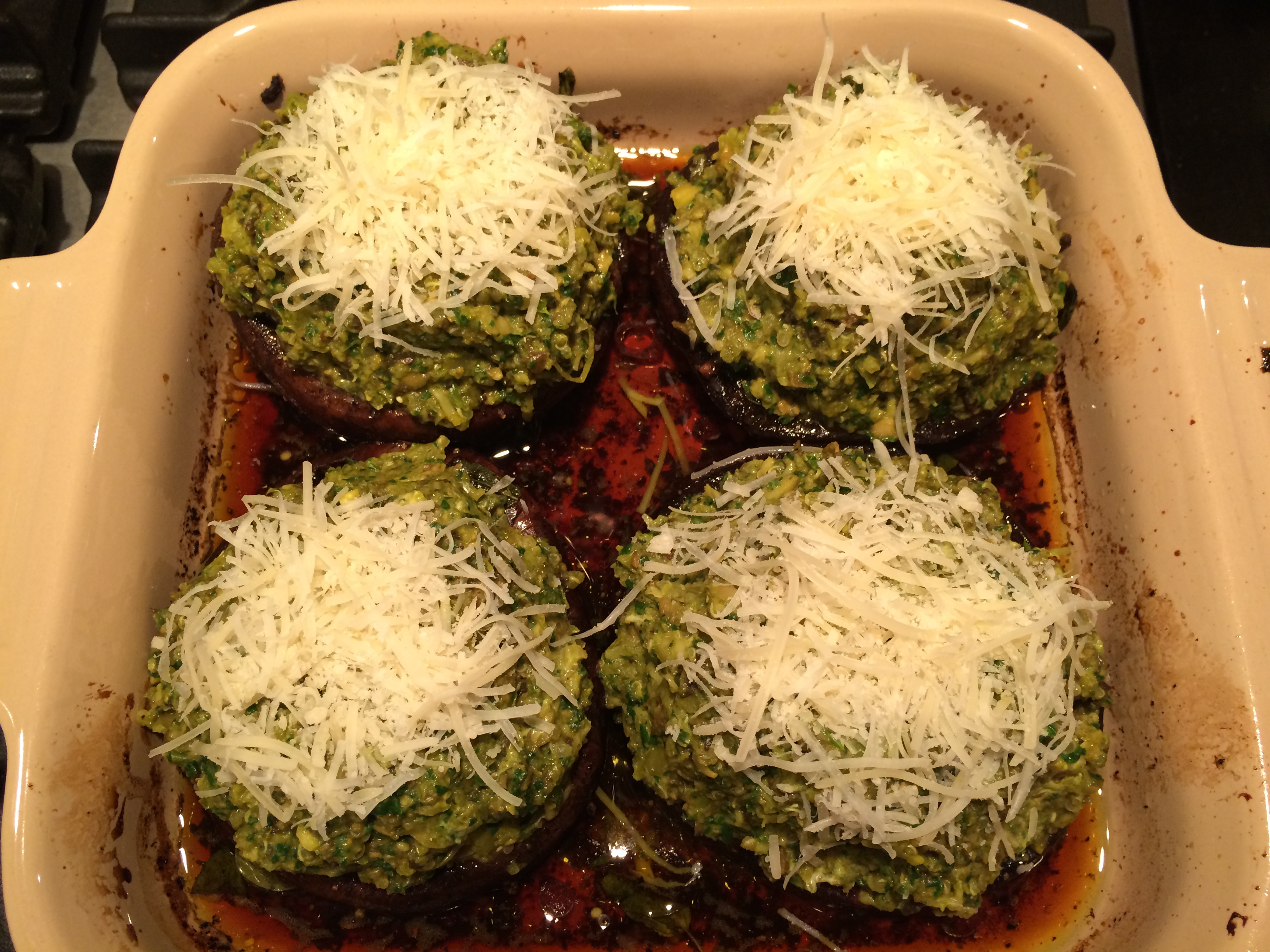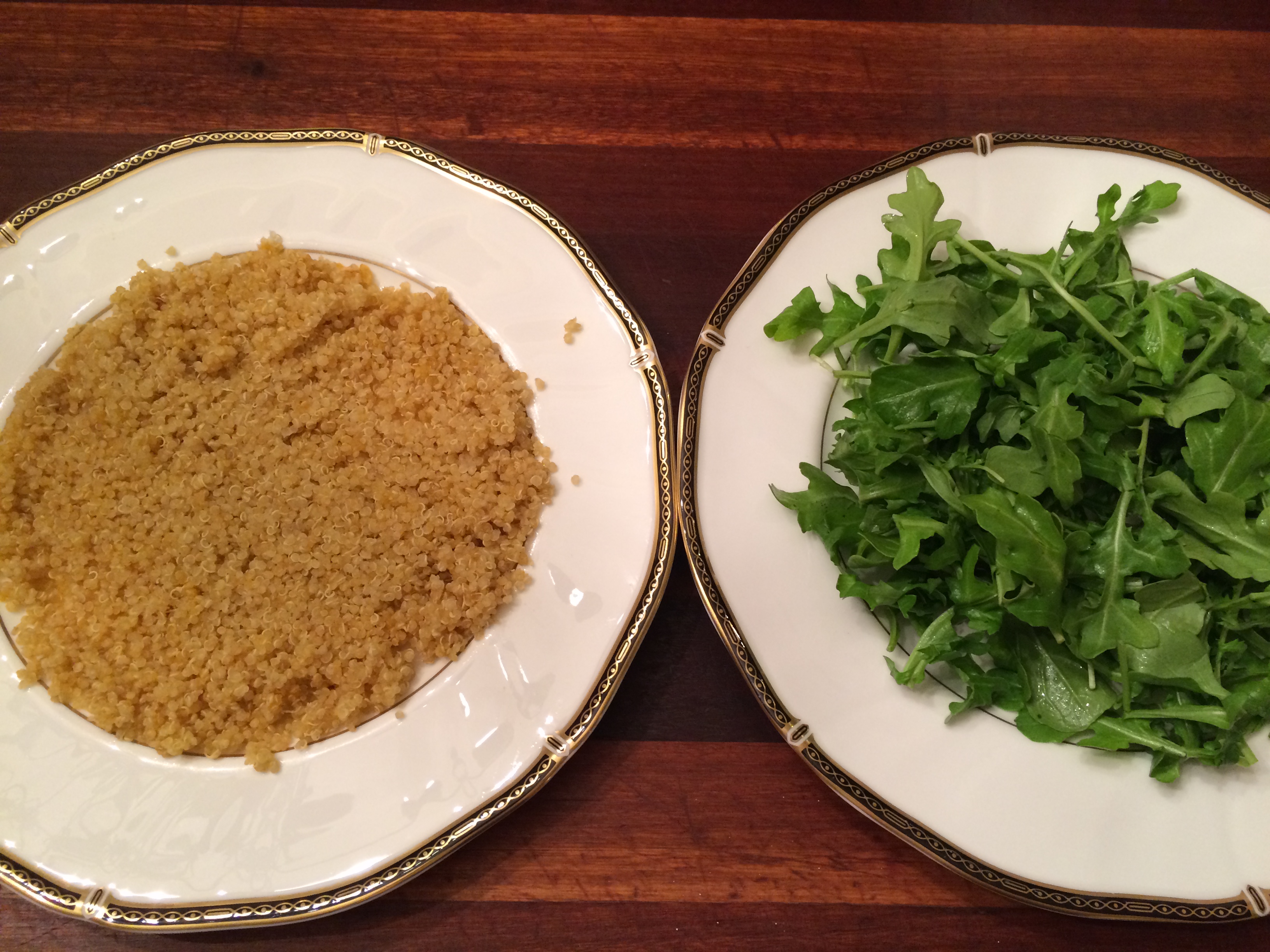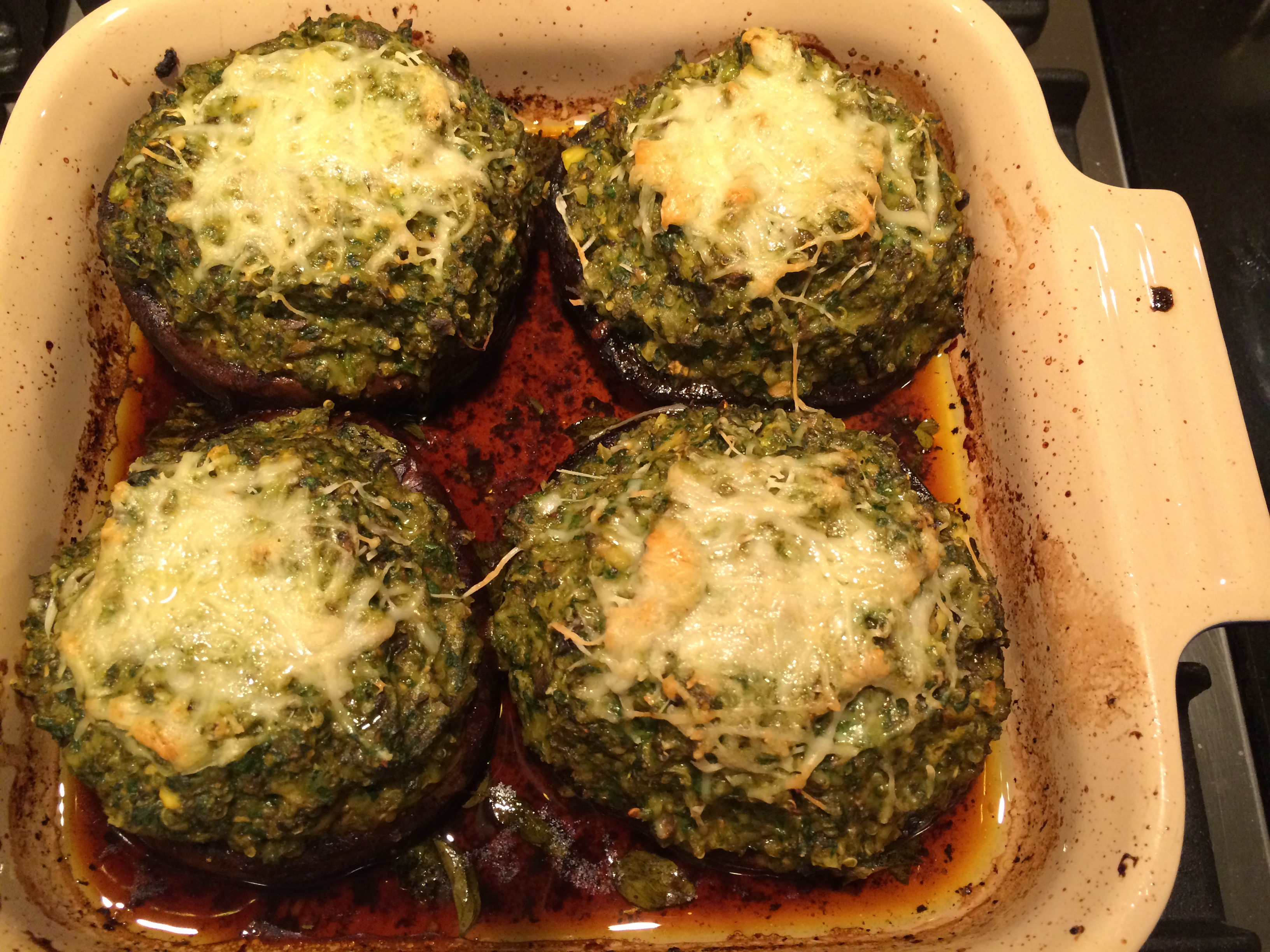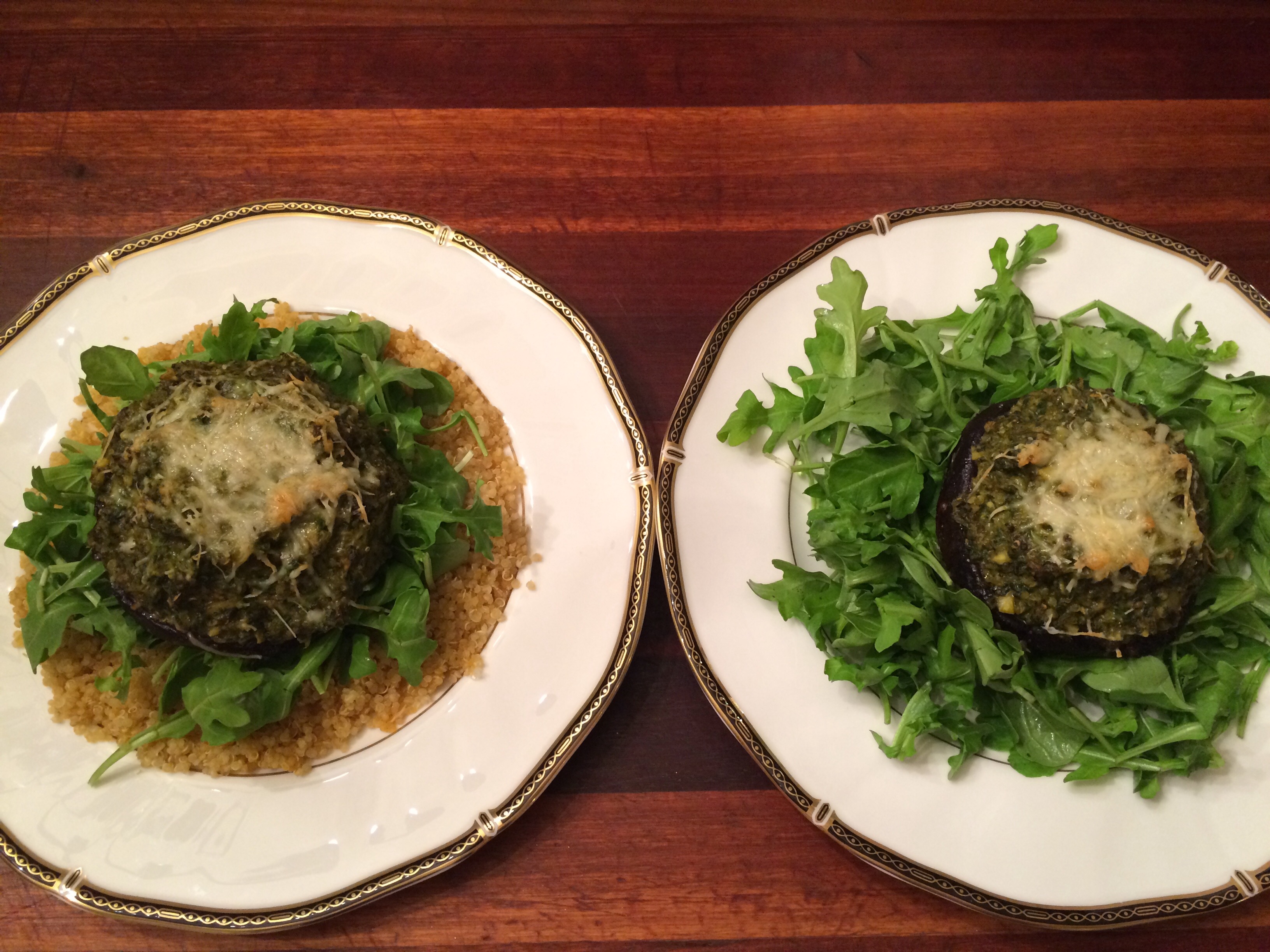 This is also delicious chilled, as a salad. So if you are cooking for just one or two, keep the leftovers in the fridge to enjoy cold or hot for lunch or dinner over the next four or five days. Yum!