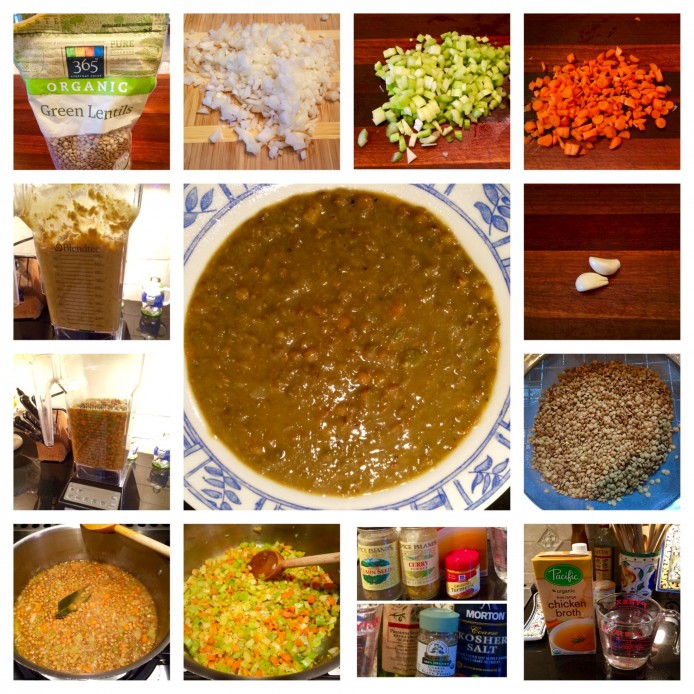 This is another great soup to warm the soul on a cold winter day. The preparation method is very similar to my Split Pea Soup. If you buy pre-shredded carrot at the grocery store, all you'll have to do is dice the onion and the celery; so it's only about 5  minutes prep and 10 minutes hands-on cooking to get this soup on the stove, and then 45 minutes later you are enjoying it!
2 T. olive oil
1 onion, diced
2 cloves garlic, minced or pressed
5 stalks celery, diced (about 2 cups)
2 large carrots, diced or shredded (about 1 cup)
1 t. turmeric
1 t. ground cumin seed
1/2 t. curry powder
1/2 t. each ground black pepper and kosher salt
4 cups organic chicken (or vegetable) broth
4 cups filtered water
16 oz. dried lentils, rinsed and drained
Heat olive oil in a large soup pot. Add onion, garlic, celery and carrots and sauté over medium-low heat for 5 minutes.
Add turmeric, cumin, curry powder, salt and pepper and stir well to combine, allowing a minute or two for the spices to be absorbed by the vegetables.
Add chicken broth, water and lentils; bring to a boil. Cover, reduce heat and simmer 30-45 minutes.
If desired, place half of the soup in a blender; puree and combine back into to the soup pot to achieve a creamy consistency. Yum!