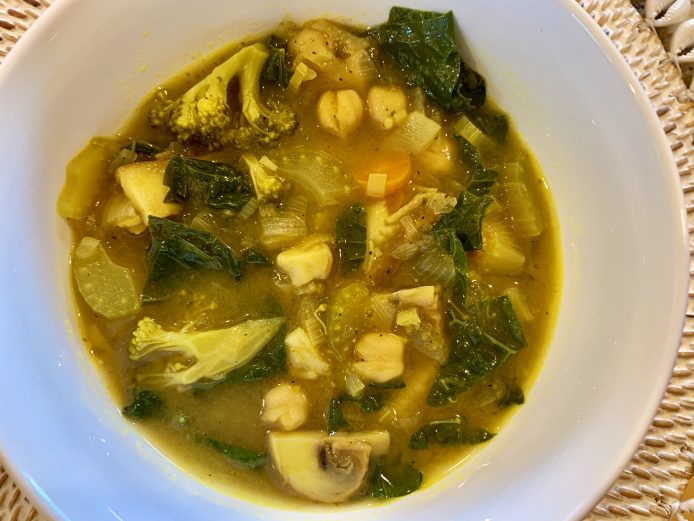 Soup is great in the summer and great in the winter. It warms the belly and feeds the soul with good wholesome healthy yumminess. This particular soup, my current favorite, could also be called Today's Soup, a soup you decide to make today and eat today, as a reminder to live in the moment and to savour each moment, whether you are sick or well, happy or sad, energized or feeling sluggish. Today's Soup will awaken you to the wonders of your senses and the simple pleasure arising from living in the present moment, working with mother nature's bountiful vegetables and legumes. As you witness the alchemy that occurs when you take the time to make this soup, and indeed it does take time, allow yourself to feel gratitude toward Mother Earth and also to yourself, for taking the time to cook in your kitchen and fill your home with delicious aromas.
So go enjoy at trip to your local produce source to procure the items you'll need and then get out your soup pot and a lid. The only things you need to chop before starting are the onion and leek. I like to use a garlic press for my garlic, simply because it is quicker and easier than finely chopping the garlic by hand, even though the latter is probably better, using the whole clove. Have the other vegetables washed and ready, and you can trim and chop as you go while stirring the pot intermittently. This added time is the secret to success that allows the spices to meld with the vegetables. The longer the chopping takes, the more the flavors will develop and deepen. Take care to keep the flame low so that the veggies soften and do not brown. Savour this time, treat yourself to living in the present moment and enjoy every step making this Soup of the Day. (Total prep time: 30-45 m minutes. Total cook time: 30-45 minutes.)
Ingredients:
2-3 Tablespoons Extra Virgin Olive Oil
1 yellow onion, diced
2 garlic cloves, pressed or chopped
2 leeks, white part only, diced
1 teaspoon coarse ground black pepper
1 teaspoon ground cumin
1/2 teaspoon ground turmeric
1/2 teaspoon fine ground Celtic sea salt
5-6 ribs celery, diced
6-8 baby carrots, diced
1 1/2 cups broccoli, cut into small florets
6-8 white button mushrooms, halved and sliced
6-8 shiitake mushrooms, halved and sliced
1 can organic chick peas, drained and rinsed
6 cups organic vegetable broth (or more depending on how much broth you want)
6-8 leaves lacinato kale, de-stemmed and chopped
Method:
Heat soup pot over a medium-low flame. Add 2-3 tablespoons extra virgin olive oil and heat through. Add diced onion, garlic and leeks and sauté, stirring frequently with a large wooden spoon.
Start to trim and chop the celery.
Once the mixture is translucent, reduce flame to low and add the ground pepper, cumin, turmeric and sea salt, stirring well to incorporate the spices evenly.
Finish chopping celery, stirring the pot occasionally. Once all chopped, add them to the pot. Once again, take care to stir well.
Repeat with the carrots: chop, stir the pot occasionally, once all carrots are chopped, add and stir well.
Cut the broccoli into small bit-size florets and add to the soup pot, stirring well.
Remove end of stem on the white button mushrooms and remove the entire stem on the shitaake mushrooms. Stir the pot occasionally and slice the two types of mushrooms. Add the mushrooms and mix well.
Drain and rinse the chickpeas and add them to the pot, Mix well.
Before you add the broth, be sure that all the veggies are partially cooked and evenly coated with the onion and spice mixture.
Add the vegetable broth. Use 6 cups of broth if you like your soup fairly stew-like. Add up to 2 additional cups if you prefer a soup with more broth. (Sometimes I add cauliflower florets along with the broccoli and in that instance additional broth is a good idea.) Stir well, and increase the flame to medium and bring soup to a simmer. Keep an eye on the soup as you start to de-stem the kale leaves. Stir occasionally and, when broth starts to simmer, cover with lid and reduce flame to low or medium-low.
After 5 minutes, lift lid and check on the soup; if at full boil, reduce to lowest flame and keep covered. In the meantime, de-stem and chop or tear the kale into bite size pieces. Set aside to add later.
Once soup is at full simmer on lowest flame, keep covered and set timer for 30 minutes. After 30 minutes add the chopped kale. Stir well and cover, return to simmer for 5 more minutes. Turn off flame, stir and let sit covered for 5 minutes, then serve. Yum!
Serving option: Add cooked blond quinoa to soup as a whole (use 1-2 cups) or to individual servings (use 1/4-1/2 cup) for added protein and heartiness. This is especially a good idea if you added the extra 2 cups of broth.
Let cool and refridgerate or freeze leftover amounts. Good in fridge up to 4 or 5 days, Good in freezer up to 3 months. Enjoy!