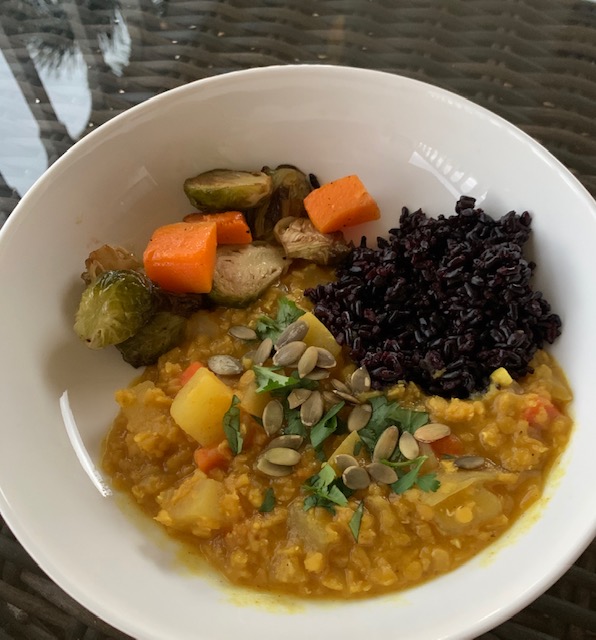 Whether the days are shorter and the air cool and moist, or they're long and full of sunshine and warmth, a dose of Dal always serves to nourish the soul from the inside out. Made from the rare red lentil and steeped in ginger, garlic, curry powder, turmeric and chili powder, its flavor nourishes like no other creating a heat in the belly and in the heart.
This recipes evolved from Daily Dal in the Green Kitchen cookbook, a real gem of vegan eating.
Ingredients:
2 Tbsp. Coconut oil
1 cup onion, diced
3-4 cloves garlic, finely chopped
1 1/2 Tbsp. finely shredded ginger (about a 3″ piece, peeled)
1 1/2 Tbsp. curry powder
1 tsp, ground turmeric 
1/2 tsp. chili powder
1 cup 3/4" cubed white skin potato
1 cup shredded or chopped carrot 
1 1/4 cup red lentils, rinsed
4 cups organic vegetable broth 
1 teaspoon sea salt
1/4 cup pepitas, raw or toasted

1/3 cup cilantro, chopped
2 tablespoons lemon juice (about 1 lemon)
1 cup forbidden black rice
2 cups water
Heat stock pot, add coconut oil and heat through. Add the onion, garlic, ginger and spices and sauté for about 8-10 min over medium low heat.
Add potatoes and carrots and stir to combine, continue to stir occasionally over low flame for 5 minutes.
Add the red lentils, the vegetable broth and ½ teaspoon salt. Bring to boil, reduce heat, cover and simmer for about 30 minutes, stirring occasionally.
Cook the forbidden black rice as instructed on the packaging.
After 30 minutes, add lemon juice, stir, remove from heat.  Cover and let sit for 5 minutes.
Garnish with toasted pepitas and serve with forbidden black rice and a simple kale salad and/or roasted veggies.
Suggested accompaniments:
Simple kale salad: chopped or hand torn kale, purple cabbage, shredded carrot with apple cider vinaigrette.
Roasted Veggies: Cauliflower, Broccoli, Brussel Sprouts, whatever strikes your fancy.  Brussel sprouts and butternut squash pictured above. Simple toss with olive oil, sea salt and coarse ground pepper and bake at 400 degrees for 40-45 minutes.
For those who crave animal protein, add a side of grilled, pan-sauteed or baked chicken or fish. Use my easy Lemon Herb Marinade.