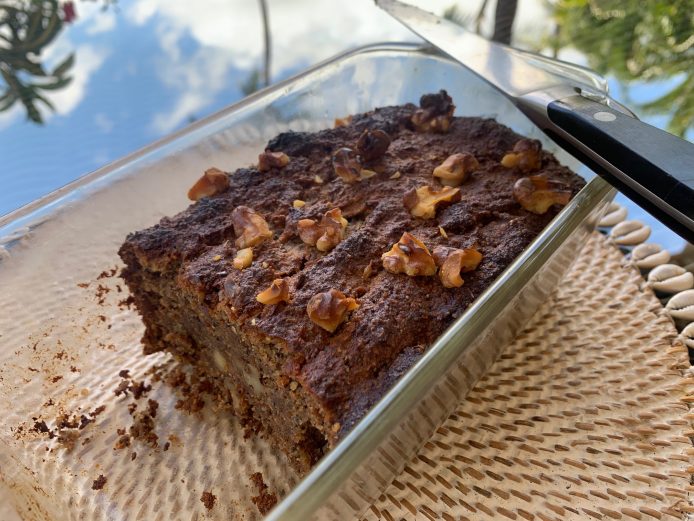 Gluten-Free Banana Nut Bread
For years and years I've been making my old fashioned banana bread which is naturally vegan but not gluten free. Recently, with whole wheat flour unavailable and just a bag of almond flour in my pantry, I remade the recipe to include nutrient-rich chia seed and flaxseed meal in place of wheat germ and almond and oat flours in place of whole wheat. You just need 3 ripe bananas and 3 bowls for mixing, a loaf pan, a lemon juicer. Don't make my mistake of trying to use only almond flour as the center won't set; as is it, it is still mighty moist on the inside so best to serve it right from the pan and leave it there until it's gone. Once fully cooled, cover with foil and store on the counter as a reminder that it is there, to be enjoyed for up to one week, if it'll last that long! This one is still a work in progress…
3 ripe bananas
1 lemon, juiced
⅓ cup grapeseed oil
½ cup brown sugar
½ cup almond flour
1 cup oat flour
½ teaspoon baking powder
½ teaspoon baking soda
½ teaspoon finely ground sea salt
½ cup ground flax seed
2 tablespoons organic chia seeds
2 tablespoons poppy seeds
1 teaspoon cinnamon
1 cup plus ¼ cup raw or roasted walnuts, broken into chunky pieces
Preheat the oven to 375°F.
Place the broken pieces of bananas in a small bowl and mash, using a fork or potato masher. Add lemon juice and stir well to combine.
In a large bowl, stir together the oil and sugar. Then add the banana lemon mixture, stir well and set aside.
In a medium bowl, bowl, mix the remaining dry ingredients: almond flour, oat flour, ground flax seed, baking powder, baking soda, sea salt, chia seeds, poppy seeds and stir well to combine.
Add the dry mixture to the large bowl with the wet mixture. Stir with a large wooden spoon. Batter will take on a wet dough like consistency. Mix in the walnuts, combining until they are well distributed.
Grease a 4 x 8 inch loaf pan with Earth's Balance, or your favorite buttery spread, and pour in the doughy batter. Place the remaining ¼ cup walnut pieces in a scattered fashion on the top of the loaf. Bake for 50 minute or until nicely browned and a knife comes out clean.
Can also be made as mini loaves (reduce cooking time to 20-25 minutes) or as muffins (cook for 15-20 minutes).