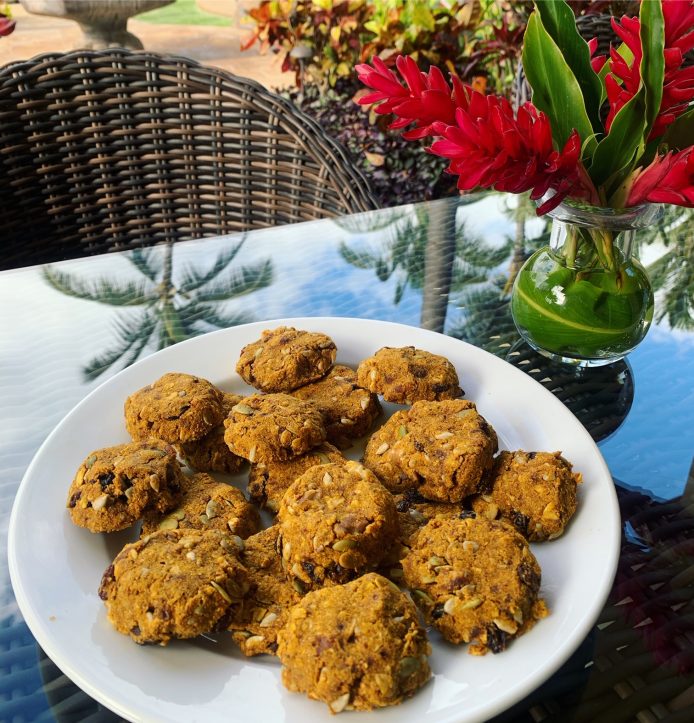 Pumpkin Superfood Cookie
Cookies for breakfast? Well, not exactly what I would normally recommend, but this is one dense, nutrient-packed vegan cookie! Rich in protein, healthy fats, vitamin c, potassium, iron and anti-oxidants, it will prime you for your workout and quite possibly keep you happy until lunch.
8 dates, seed removed
½ + ½ cups rolled oats
⅛ + ⅛ cup raw pepitas
1 cup cooked pumpkin
2 tablespoons coconut oil
¼ cup coconut flour
¼ cup almond flour
¼ cup ground flaxseed meal
1 tablespoon chia seed
2 teaspoons ground cinnamon
¼ cup raisins
¼ cup dried cherries, chopped
¼ cup walnuts, chopped
⅛ cup sunflower seeds
Preheat oven to 350 degrees.
In a food processor, combine 8 dates (pit removed), ½ cup rolled oats, 2 Tablespoons raw pepitas. Pulse continuously until well combined. Add 2 tablespoons coconut oil and 1 cup cooked pumpkin and combine well.
In a separate bowl, add the remaining ½ cup rolled oats, coconut flour, almond flour, flaxseed meal, chia seed and cinnamon. Stir well to thoroughly combine. Add the wet pumpkin mixture and mix well. Dough will be firm.
Add the raisins, dried cherries, walnuts, sunflower seeds and remaining ⅛ cup pepitas. Stir carefully to achieve even distribution of the add-ins.
Using a large soup spoon, scoop heaping spoonfuls and flatten to about ½ thick on the cookie sheet. Makes one dozen.
Bake 15 minutes. Remove from oven and cool individually on a wire rack.
Once completely cooled, store in an airtight container, refrigerated, for about a week. Option: heat before serving.