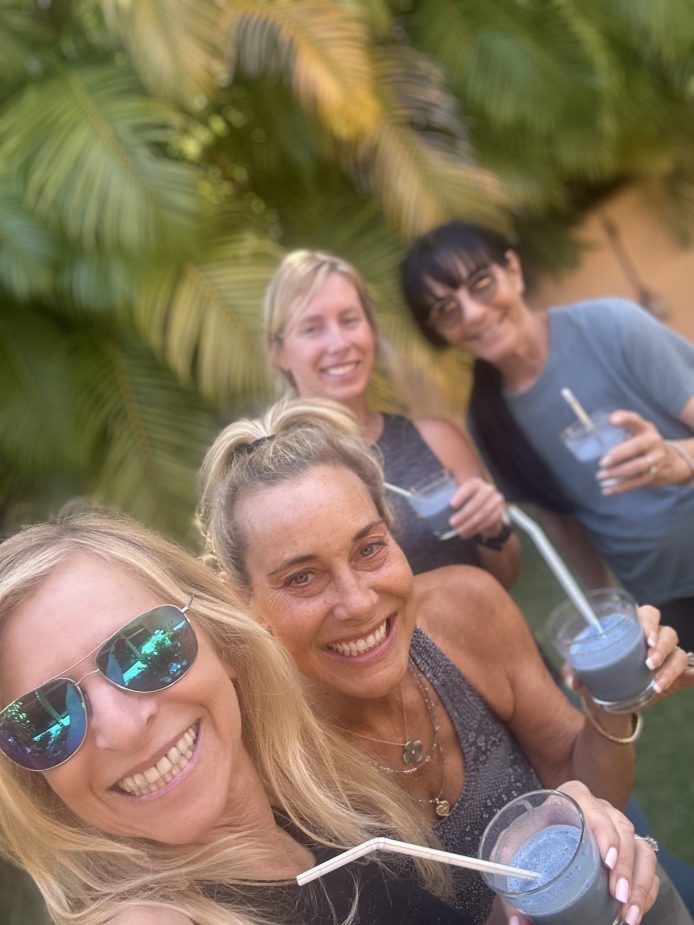 When people start serving me one of my favorite all time creations, it is a sign that it's time to share the recipe with the world! Today after yoga practice in my cousins' backyard, Adrian treated us with this surprise…my Blue Moon Smoothie! This beautiful light blue yumminess is a nice variation from the more typical fruit-based smoothies. It combines plant-based milk and protein from nuts and nut butter with anti-oxidants and nutrients found in cinnamon and blue spirulina to produce one delicious and nutritious post-yoga snack or even a breakfast meal, depending on the serving size. I used to love to get a Blue Moon smoothie at Project Juice in Laguna Beach, but then the shop folded a few years ago, and so I had to create my own recipe to make it myself. Necessity is the mother of invention. Enjoy!
1 cup almond milk* (or your favorite plant-based milk)
4-5 whole medjool dates, pits removed
¼ cup raw or roasted cashews
1 heaping tablespoon almond butter
¼ cup shredded coconut (optional)
1 .04 oz single serving BlueMajik**, powdered blue spirulina
1 teaspoon vanilla extract
1 tablespoon ground cinnamon
1 cup ice cubes
Place all ingredients in a blender. Blend well. Serve immediately with a thick reusable straw.
Variations:
Black and Blue Smoothie (add 1 cup dark roast coffee, add 2 more dates)
Buck Moon Smoothie (no blue spirulina, add 1 cup dark roast coffee, add 2 more dates)
*For the almond milk, I like best to make my own, as that way I avoid the added gums and stray mystery ingredients. It is really very simple. See below. Lately, however, I've been trying to be more eco-friendly in every way I can in order to help earth's environment, and so I am avoiding excess use of almonds which require a lot of water to produce. Instead, I now use the SO Delicious brand of organic coconut milk in unsweetened vanilla flavor. Try it, you'll like it!
**Buy BlueMajik (.04 ounce or 1.0 gram serving size) in box of 30 single serve packets at your favorite health food store or online
Homemade Almond Milk
2/3 cup almonds, soaked 4-24 hours in water, drained and rinsed very well
4 cups water
1/2 t. vanilla extract
2 medjool dates, pits removed
1 tablespoon cinnamon (and/or cardamom optional)
Place all ingredients in a blender and blend well. Strain through a nutmilk bag or fine sieve into a bowl with a spout or wide mouth pitcher. Pour into a glass storage jar and refrigerate. Use for up to 5-6 days. Separation will occur naturally; shake well before serving.