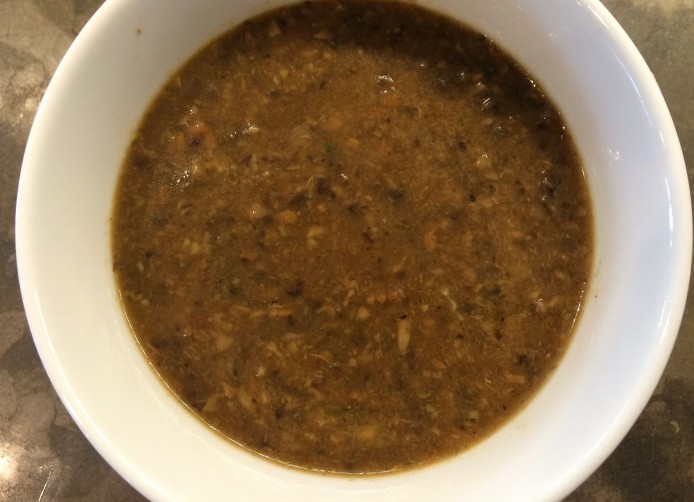 There is a certain rich earthiness to mushrooms that is undeniably delicious and from time to time I get a deep craving for mushroom soup. Often it is when I an feeling a little under the weather and I think it is my body's way of telling me that I need to a boost to my immune system. Mushrooms, together with onions and garlic provide great immune system support.
3 Tbsp. extra virgin olive oil
1 onion, diced
3 garlic cloves, pressed or minced
1 ounce dried porcini mushrooms, soaked in water 30 minutes, rinsed and chopped
2 portobello (or 2 cups other variety) mushrooms, chopped
1 Tbsp. butter (optional)
1 tsp. coarse sea salt
3 tsp. coarse ground pepper
3 Tbsp. sherry cooking wine
3 Tbsp. tamari soy sauce
4 sprigs fresh oregano, leaves only
4 cups vegetable and/or chicken broth
 Heat a large stock pot over a medium low flame. Add olive oil and heat for a minute or two. Add onion and garlic and sauté for 3-4 minutes until translucent. add all mushrooms (feel free to use additional varieties such as hen of the woods or shiitake–the more the better!) and the butter (or a few tablespoons vegetable broth) and sauté stirring frequently to cook evenly. Once mushrooms appear to be at least half cooked and slightly shrunken, add the salt, pepper, sherry wine, tamari and oregano. Stir for a few minutes to combine all the flavors, then add the vegetable broth. Bring to a simmer, cover, reduce heat and simmer for 30- 45 minutes. Place half of the soup in a blender; puree and combine back into to the soup pot to achieve a creamy consistency. Top with apinch of chopped oregano if desired. Yum!