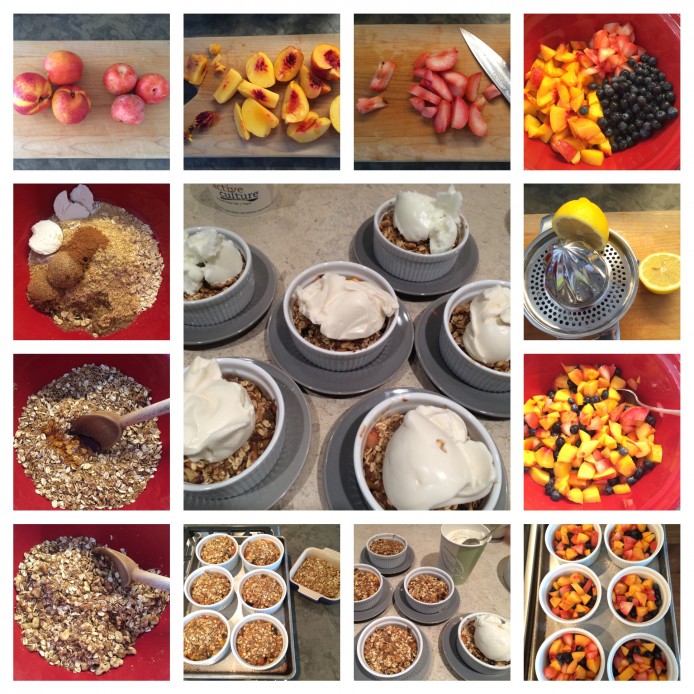 Nectarine, Plum and Blueberry Oat Crumble
I'm not much of a dessert person but I do always love a fruit crumble. Here I used the last of the late summer fruits–luscious nectarines and pluot plums along with my all time favorite, blueberries. The topping has just a hint of sweetness and a hearty oat and walnut flavor. Save room for this dessert as it is hard to have just one bite!
3 nectarines, diced
2 pluot plums, diced
6 oz.  (a little more than a heaping cup) fresh blueberries
1 small lemon, juiced (about 2 Tbsp.)
1 1/2 cups rolled oats
1/2 cup toasted wheat germ
2 Tbsp. brown sugar
2 Tbsp. oat or almond flour
1 1/2 tsp. ground cinnamon
1/4 tsp. allspice
1/4 tsp. nutmeg
3 Tbsp. grapeseed (or canola) oil
2 Tbsp. honey
3/4 cups coarsely chopped walnuts
 Preheat oven to 375 degrees.
Place the nectarines, plums and blueberries in a large mixing bowl. Add lemon juice and toss gently to evenly coat the fruit. In a medium size bowl, combine the dry ingredients–rolled oats, wheat germ, almond flour, cinnamon, allspice and nutmeg. Add the oil and honey and mix well. Stir in the walnuts, and your topping is ready.
Spoon the fruit into the individual ramekins* (if you have leftover fruit, save it in the fridge for breakfast or a snack the next day). Spoon a healthy amount of the oat walnut mixture on top of each portion. Place any remaining topping mixture in a separate small casserole dish (this makes a great topping for the leftover fruit, yogurt or even oatmeal, and it can be stored in the fridge in an airtight container for future use), and bake in the oven alongside the ramekins. I like to place the ramekins on a cookie sheet to make it easy to transport them in and out of the oven. May be prepared ahead, covered and refrigerated until ready for use. Let sit at room temperature 30 minutes prior to cooking.
Bake 20 – 25 minutes until fruit bubbles and oat walnut topping starts to brown. Serve alone or with your favorite vanilla ice cream, frozen yogurt or whipped coconut cream. Yum!
Serves 8-10.
*I like to use small ramekin dishes for individual servings; however, you can easily make this in a medium size casserole dish instead.