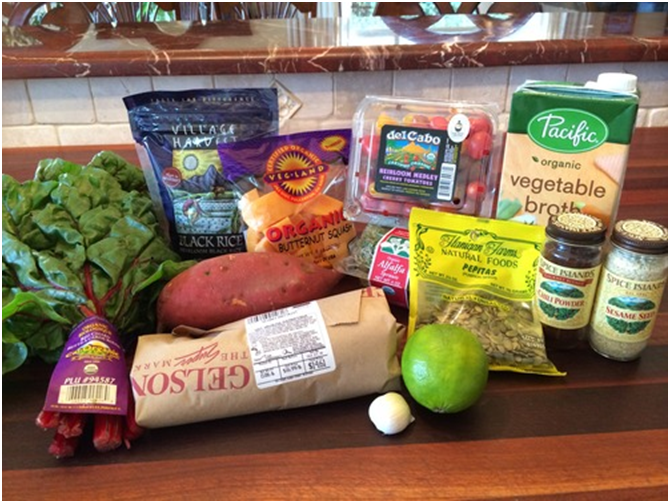 Red Snapper with Black Rice, Chard, Butternut Squash and Pepitas
This dish is chock full of yumminess. When the waiter at Maui's Ka'anaKitchen  described the night's special—fresh Onaga paired with black rice, black quinoa, chard, butternut squash, pepitas AND a sweet potato purée garnished with sprouts and sautéed heirloom cherry tomatoes—it sounded like too many flavors on one plate, but I knew I had to try it! I got the sweet potato on the side to be safe. However, when I made it at home, I let the sweet potato take the floor of the plate. Onaga, Hawaiian for Long-tail Red Snapper, is in season in Hawaii from October through March. If you cannot find it at your favorite seafood counter, substitute any other flaky white fish. Don't miss out on this delicious fall preparation!
3/4 lb. red snapper (2 6 oz. filets)
8 oz. butternut squash, peeled, de-seeded and cubed
1 cup uncooked black rice
 1 3/4 cups organic vegetable broth
1/3 cup raw unsalted pepitas (pumpkin seeds)
1 bunch swiss chard, chopped
1 Tbsp. plus 1 Tbsp. fresh squeezed lime juice
1 T. olive oil
1 clove garlic, pressed
1/4 tsp. chili powder
1 cup heirloom cheery tomatoes, halved
1 Tbsp. sesame seeds
1-2 sweet potatoes (dark skin)
Paul Prudhomme's Seafood Magic
Sea salt and fresh ground pepper to taste,
Preheat oven to 500. Wash and dry the sweet potatoes, prick them in several places with a fork and wrap in tin foil. Place on a foil lined sheet pan and bake in fully heated oven for 1 hour or until soft.
To toast the pepitas, place them in a large dry skillet over a medium flame and stir constantly for about 5 minutes. The seeds are done when they start to pop and crackle, become fragrant and are slightly browned. Transfer to a sheet pan to cool in a single layer.
Cook black rice in a medium saucepan according to package instructions. Place cubed butternut squash in a steamer basket over water in a medium saucepan, cover. Allow 25 minutes to cook over medium high flame. Note: do not overcook the squash, it should still be firm when done.
Place fish in an oven proof dish and add a small amount of vegetable broth to just cover the bottom of the pan between the filets. Sprinkle with salt, pepper and seafood magic. Set aside until ready to cook at 350 for 10-15 minutes, depending on thickness. (Another option: grill the fish, seasoned with lemon juice, salt and pepper).
In a smaill skillet, heat 1/2 T. olive oil. Add halved cherry tomatoes and stir occasionally. Add sesame seeds and continue to cook over low flame, stirring occasionally for about 10 minutes.
In a large skillet, heat 1 T. olive oil over medium low heat. Add pressed garlic and stir 1-2 minutes, until fragrant. Add chopped chard, 1 Tbps. lime juice, chili powder and fresh ground pepper to taste. Stir often to cook evenly.
When sweet potatoes are done, butternut squash is cooked and rice is ready, put the fish in the oven at 350, if you have not yet done so.
Add cooked chard to the rice pan and mix well. Add toasted pepitas and cooked butternut squash and stir to combine. Cover until ready to serve.
Open the foil wrapped sweet potatoes and scoop out the flesh, leaving the skin to discard. Add 1 Tbps. lime juice to sweet potatoes and stir well. Cover until ready to serve.
To plate: place a generous smear of the sweet potato mixture across the plate. Add 1-2 cups of the black rice, chard, squash and pepita mixture. Top with 1-2 fish filets. Garnish with sesame cherry tomatoes. Yum!
I used pre-peeled, de-seeded and cubed butternut squash—so much easier that doing it myself!!! Also, I was unable to find snapper so I bought petrale sole instead. This was probably not the best choice as the sole is very delicate and rather bland. Mahimahi would have been a better choice for this dish. Learn from my mistake.