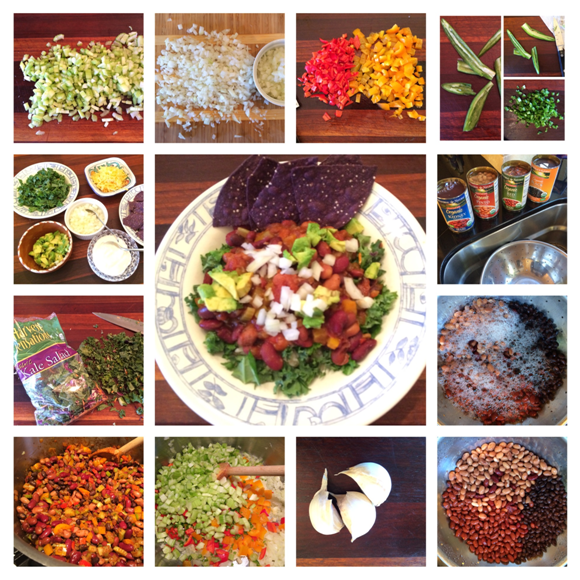 The Best Vegetarian Chili
2 T. olive oil
1 onion, diced
3 large garlic cloves, minced
1/2 t. paprika
1+ T, chili powder
1 T. cumin
1/2 t. kosher salt
1/2 t. ground black pepper
1-2 cups red and yellow bell peppers, diced (i used 12 baby peppers)
1-2 cups celery, diced (I used 5 stalks)
1 serrano chili pepper, seeded and minced (optional)
2 14 1/2 oz. can diced tomatoes (or 2 cups fresh tomatoes, diced)
4 14 1/2 oz. cans chili beans (or one each of pinto, black, red and kidney)
2 cups organic vegetable broth
1/2-3 t. Tabasco sauce (optional)
Toppings: sliced green onion, chopped white onion, shredded sharp cheddar cheese, diced avocado, "Totopos" quinoa/chia/maca chips, light sour cream Serve over brown rice and/or chopped fresh kale.
Start cooking brown rice according to package directions.
Heat olive oil in a large pot over medium-low heat. Stir in onions and garlic; saute until the onions are translucent, about 3-4 minutes. Add paprika, chili powder, cumin, salt, pepper and stir to combine well.
Add red and yellow peppers, celery, serrano chili pepper, stir to saute for 5 minutes. Place all the beans in a large colander and rinse them well; drain excess water. Add the tomatoes with their juices and the fully rinsed and drained beans and stir well to combine. Add the vegetable broth and, if you like it spicy, add 1/2-3 t. tabasco sauce, stir well.
Increase heat to medium high and bring to a simmer; cover and reduce heat. Simmer 45 minutes to one hour, stirring every 5-10 minutes. Serve over brown rice and/or kale with your favorite toppings listed above. Yum!