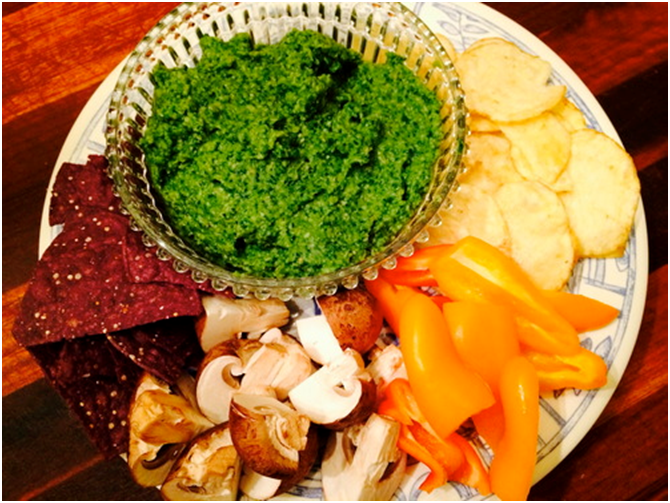 Spinach Artichoke White Bean Dip
This Spinach Artichoke White Bean Dip below is the "clean" version of my Creamy Spinach Dip. I think it is just as bit as yummy!
5 oz organic pre-washed spinach
1 jar non-gmo cocktail artichokes* packed in water, drained
1/2 – 1 can white beans (cannellini or great northern white)**
1 clove garlic
2 t. extra virgin olive oil
1/4 cup shredded parmesan cheese (optional)
fresh ground pepper to taste
Combine all ingredients in food processor and blend until smooth. Serve with "Totopos" (Casa Sanchez's Quinoa, Chia and Maca chips***), raw veggies or whatever you like. Keeps in fridge for several days.
*I used Reese's in the glass jar from Gelson's
**I used Westbrae Natural (organic with non-BPAlining in can) from Whole Foods
***Get Casa Sanchez Totopos& Kettle Brand Bakes at Gelson's Monarch Bay Plaza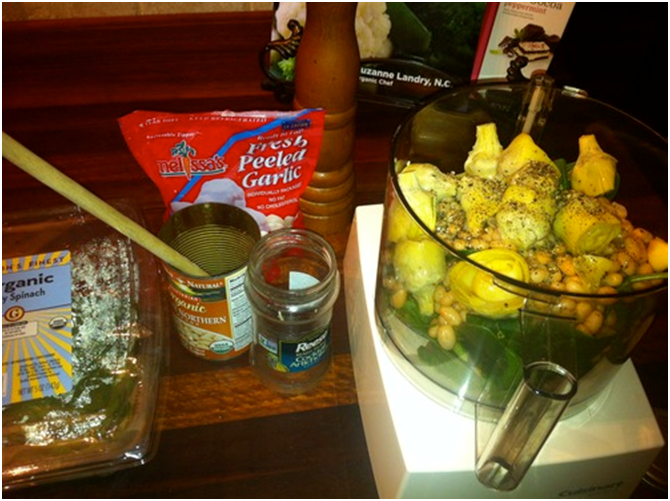 Usually, I just use whatever amount of spinach, artichoke & cannellini beans I have on hand. The exact amounts are not critical.
Here I serve it with some Kettle brand "Bakes" baked potato chips with sea salt, in addition to Maca Chia chips, organic mushrooms and Melissa's baby peppers (all from Gelson's). Yum!!