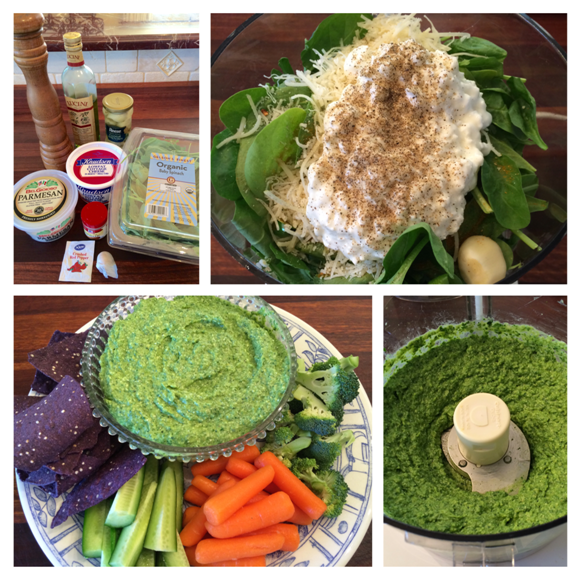 Eating raw is part of today's health craze and this dip includes raw spinach. I adapted it from a recipe that started with sauteed spinach and included Neufchatel cheese. My version provides more nutrients from the raw spinach and is light and delicious!
2 tsp. Extra Virgin Olive Oil
1 clove garlic
2-4 large handfuls raw organic spinach
1/4 – 1/2 tsp. crushed red pepper
1 tsp. turmeric
1/2 cup low-fat cottage cheese*
1/2 cup shredded Parmesan cheese**
1 cup artichoke quarters, drained (optional)
fresh ground pepper to taste
Put all ingredients in Cuisinart or other food processor and blend until smooth. Scrape down the sides and blend again to insure that the dip is fully mixed together. Refrigerate until ready to use, serve with veggies (carrots, broccoli, snap peas, mushrooms, red/orange/yellow peppers—whatever you have on hand!), quinoa chia maca chips (see my notes in Spinach Artichoke White Bean Dip recipe below) and/or Stacy's Parmesan and Garlic Pita Chips (available at Gelson's, these are a favorite of those who do eat gluten).
*If you eat dairy-free, substitute ripe avocado. This will add a delicious creaminess to the dip. In fact, you may just want to add some avocado regardless!
**For the shredded Parmesan, freshly shredded is always nice for topping pasta sauces on the table; however, for the dip, I usually use store bought "freshly shredded" to save time. My favorites are BelGioioso from Gelson's and Culinary Circle from Albertson's.