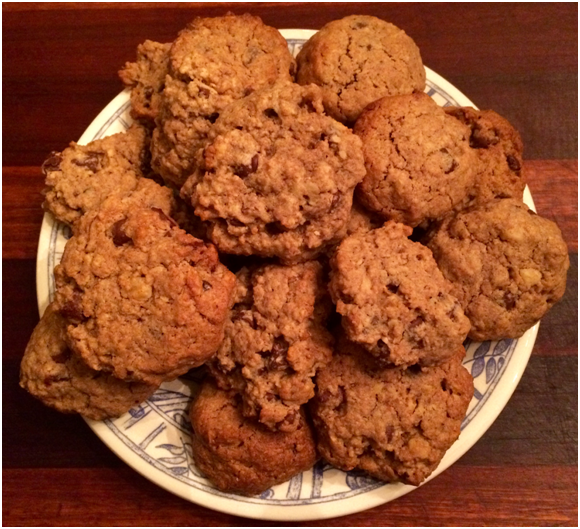 Megan and Riley's Oatmeal Cookies
When my daughter brought her college boyfriend home for a visit, she wanted to send him back to his home with a batch of his very favorite—oatmeal cookies. I gave them an old favorite recipe of mine and they tweaked it a bit, Riley making the call on add-ins, and came up with this delicious utterly satisfying version. You can swap out the walnuts and chocolate chips for sunflower seeds and raisins or add all four of these in—yum!! Remember though, these cookies are a treat, enjoy in moderation.
1 cup (1/2 lb. or 2 sticks) butter
1 1/2 cups brown sugar
2 eggs
3 teaspoons vanilla extract
1/2 teaspoon salt
2 cups whole wheat flour
1 1/2 teaspoons baking powder
1 cup toasted wheat germ
1 1/2 cups rolled oats
1 3/4 cups chopped walnuts
1 1/2 cups semi-sweet chocolate chips
1 cup sunflower seeds and/or raisins (optional)
Preheat oven to 375 degrees. In a large bowl or KitchenAid mixer (using the paddle attachment), cream together the butter and sugar until fluffy. Add eggs, vanilla extract and salt; beat well to combine.
In another large bowl, place whole wheat flour, wheat germ and oats and stir well with a fork. Add the dry ingredients to the butter cream egg mixture and blend well. Add in the final tasty ingredients—chocolate chips, chopped walnuts and/or sunflower seeds and raisins; stir well to combine.
Prepare two greased cookie sheets. Using a large tablespoon, place mounds of batter onto the cookie sheets and flatten slightly. Bake for 12-15 minutes or until slightly brown around the edges. Transfer cookies to wire rack to cool after baking. Use the remaining batter to form cookies and place them onto the hot baking sheets until all batter is used up and bake as directed.
Makes 24-36 cookies, depending on the size. Store in an airtight container up to 4 days. Unless you are making these for a crowd, I suggest halving the recipes to reduce temptation and the possibility of over indulgence!