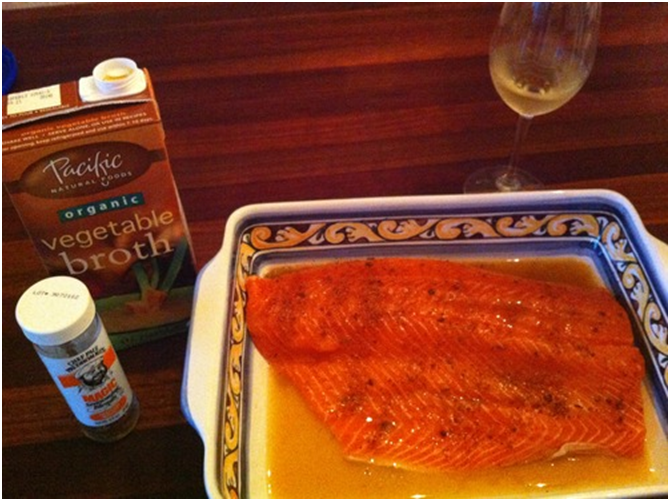 Salmon Baked in Vegetable Broth & Spices
Anyone who knows me well knows that I love Salmon. Salmon is known to be a mood elevator and rich in omega-three fatty acids; plus I simply love the taste of it. I prefer wild caught and I love the Alaskan Coho Salmon (available seasonally at Costco). The Alaskan Sockeye Salmon is also great, but it has a denser texture and a stronger flavor so many prefer a more mild variety such as King Salmon. Usually, I go to Gelson's or Bristol Farms and see what they have that looks good and fresh. All ingredients below are available at Gelson's.
1 1/2 lbs Wild-caught Salmon
1 cup Pacific Organic Vegetable Broth
Chef Paul Prudhomme's Seafood Magic Seasoning blend
Preheat oven to bake at 350 degrees. Rinse and pat dry the Salmon filet; place it in a ceramic casserole or pyrex dish. Cover approximately half way with vegetable broth (I never measure out a cup of broth; I simply eye ball it). Sprinkle with the Seafood Magic seasoning. Place in preheated oven and bake for 15-20 minutes. Use fork to test for doneness in the center of the filet. I prefer my Salmon medium rare. Cooking time will depend on the thickness of the filet. This serves 2-4 with leftovers—I love to make a salmon salad for lunch so I usually try to get a piece that will provide some leftovers.
SERVING SUGGESTION: Serve with brown rice (you'll need to start cooking this first as it usually takes 45 minutes to 1 hour to cook), and sauteed rainbow chard (heat pan, add about 1 T. olive oil and heat; add chard, stir; squeeze in juice of one lemon wedge and add fresh ground pepper; stir until wilted; add salt and more pepper to taste) and/or steamed broccolini (place in steamer basket and cover to steam, drizzle with olive oil and toss with a little shredded Parmesan cheese, add fresh ground pepper to taste). Simple, quick and delicious–this is one of my "go to" meals during the week. Yum!
Three simple ingredients made it quick and easy!