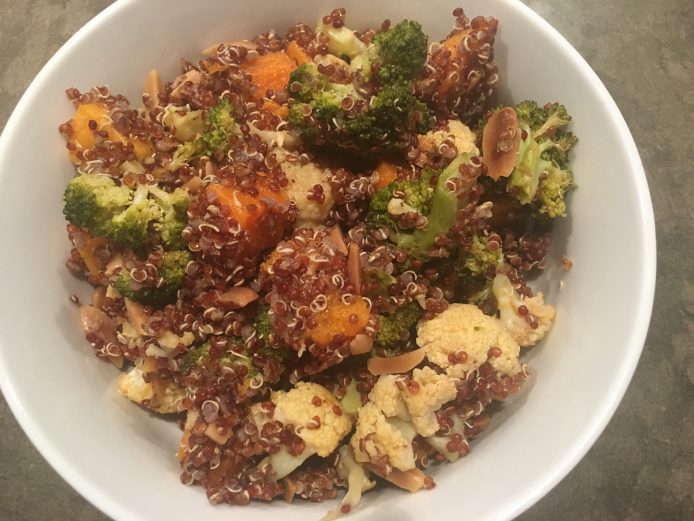 During late fall and winter as the air becomes cooler and the sun is lower in the sky, roasted vegetables offer a savory and wholesome yumminess that soothes my soul. Recently I was bringing a side dish to a casual dinner party where I knew red meat was to be the entrée, and I am trying to eat practically no red meat these days, so I concocted this red quinoa and roasted vegetable dish which is so hearty it's practically a main on its own. It combines the vegetables* I love with flavorful nutty red quinoa and toasted almonds for an added protein boost.
1 small pkg. slivered almonds (about 1/4 cup)
1 head cauliflower, stems discarded and cut into bite size florets
2 medium stalks broccoli, stems discarded and cut into bite size florets
1 pkg. pre-cut butternut squash**
3-4 Tablespoons extra virgin olive oil
2 teaspoons coarse ground pepper
1 teaspoon finely ground sea salt
2 cups vegetable broth
1 cup red quiona
1/2 cup crumbled feta (optional)
*Here I used butternut squash, cauliflower and broccoli, but brussels spouts could be a nice substitute or addition as well.
**You can find this pre-packaged or store-packaged in most fine grocery stores (or, if you must, buy the whole butternut squash, cleaver it in two, remove the seeds, cut away the thick skin, and cut into bite size cubes)
While this is not a complicated recipes to make, it will take a bit of time…start to finish approximately one hour.
Start by toasting the almonds: Preheat the oven to 375 degrees. Arrange the almond slivers in a single layer on a jell roll pan or cookie sheet. Bake on the top shelf in oven for 8-10 minutes until fragrant and medium brown. Set aside to cool for 20-30 minutes. Can be stored in an airtight container for several days up to one week for future use.
While almonds are toasting, begin to cut the veggies into bite size pieces, taking care to make the butternut squash pieces slightly smaller than the cauliflower and broccoli as it is more dense and will take longer to cook. Place all the cut veggies in a large bowl and drizzle on the olive oil, add salt and pepper as recommended, or to taste, and toss to coat well. The vegetables should have a nice little sheen to them; if necessary add a bit more olive oil and toss again. Place all veggies in a single layer on one large or two small jelly roll pans (if you do not have a jelly roll pan, you can use a roasting dish such as a pyrex 9 x 13, but you won't have your veggies in a single layer so be sure to stir every 10 minutes or so to ensure even cooking). Place the veggie pan(s) in the top third of the oven and bake at 375 degrees for 40 minutes, or until butternut squash is soft when pierced with fork. If the broccoli and cauliflower look like they are starting to brown near the end, flip them over a bit.
About 15 minutes after you put the veggies in the oven, start on the quinoa. In a medium saucepan, combine 2 cups vegetable broth with 1 cup red quinoa. Bring to a boil and cover, reduce flame to low and simmer covered for 15 minutes. After 15 minutes, check to see that all the liquid is absorbed (if not, continue cooking at low flame covered a few more minutes) if liquid is absorbed, cover and let sit covered until vegetables are done.
In a medium serving dish, combine the roasted vegetables, red quinoa and toasted almonds. Stir well to combine. Serve with crumbled feta cheese on the side or sprinkled over the top. Yum!