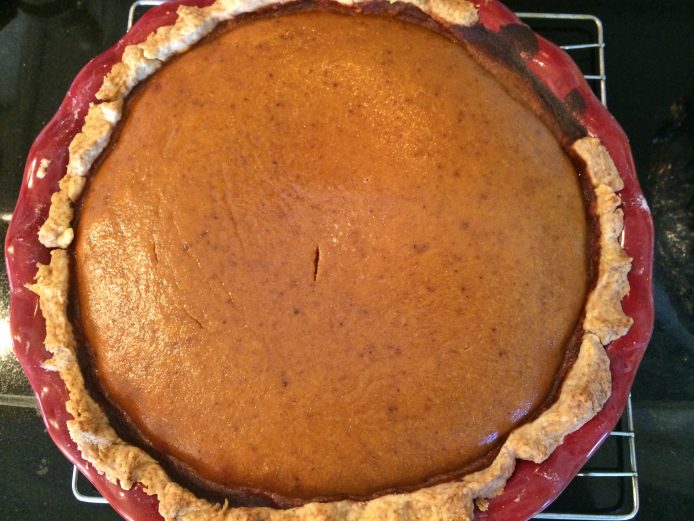 What is Thanksgiving without pumpkin pie? First make the pie dough and partially bake the crust (see my Pie Dough recipe), then whip up the pie filling and voilà, simple and even nutritious, deliciously spiced heaven on a plate. Pumpkin gives you the added perk of knowing that you are doing your body good…pumpkin is loaded with fiber which aids with digestion, and vitamins A, E, C, K, iron and magnesium which help boost immunity and more. Enjoy!
Ingredients:
1 15 oz. can Pumpkin Pureé*
1 tsp. ground cinnamon
½ tsp. ground nutmeg
½ tsp. ground ginger
½ tsp. ground cloves
¼ tsp. fine sea salt
2 large eggs, slightly beaten
1 14 oz. can sweetened condensed milk
1 pie crust (see separate recipe for partially baked pie shell or use store bought)
For the whipped cream topping:
1 pint heavy whipping cream
1 Tbsp, sugar (plus slightly more, to taste)
1 tsp.  vanilla extract
*If you're feeling ambitious or have pumpkins and/or butternut squash on hand, use  2 cups fresh cooked pumpkin; or 1½ cup pumpkin and ½ cup butternut squash.
Directions
Partially baked pie shell: Preheat oven to 375 degrees and partially bake the pie shell if you have made your pie dough from scratch (see Pie Dough recipe for partial baking instructions).
Pie filling:
Preheat oven to 425 degrees.
In a large mixing bowl, combine the pumpkin with the cinnamon, nutmeg, ginger, allspice and salt, mixing well.
Add the slightly beaten eggs and the sweetened condensed milk, stirring slowly until just thoroughly mixed together.
Pour into pie shell and place on middle rack in 425 degrees oven; bake for 15 minutes.
Reduce oven temp to 350 degrees and bake for 35-40 minutes longer, until knife inserted in center comes out clean.
Cool on wire rack for 2 hours. Serve slightly warm or at room temperature. Refrigerate any leftovers.
Serve with fresh whipped cream:   Place heavy whipping cream in a high walled bowl and using a hand held mixer beat on a high speed until thick. Add 1 Tablespoon granulated sugar and 1 teaspoon vanilla extract, stirring them in with a spoon. If desired, add additional sugar by the teaspoon; but do this sparingly as too sweet is not too good, and you can always add but you cannot take away. Enjoy!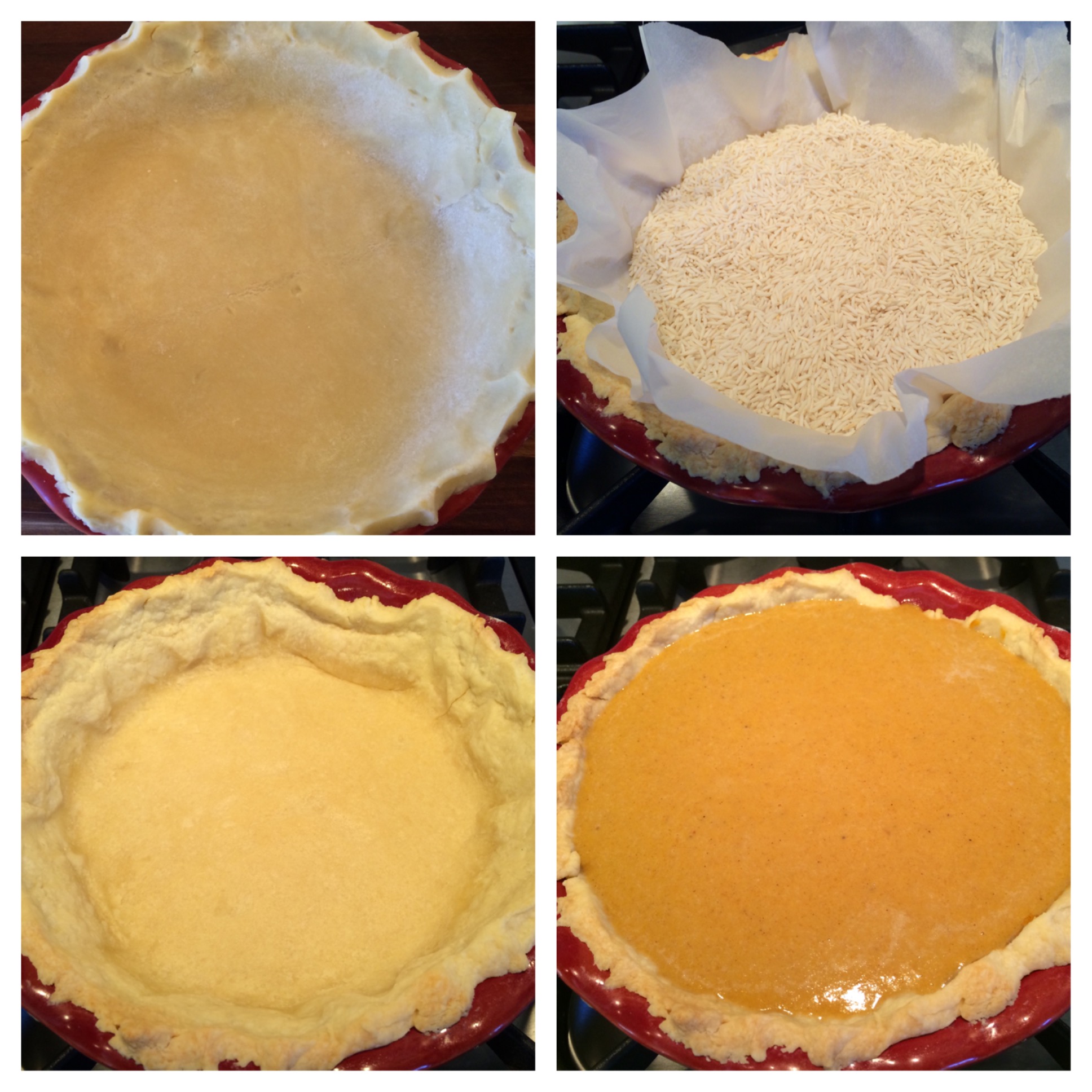 If you are doubling the pie dough recipe why not make an apple pie too? See my Apple Pie with Crumble Top recipe and your kitchen can look like this too.