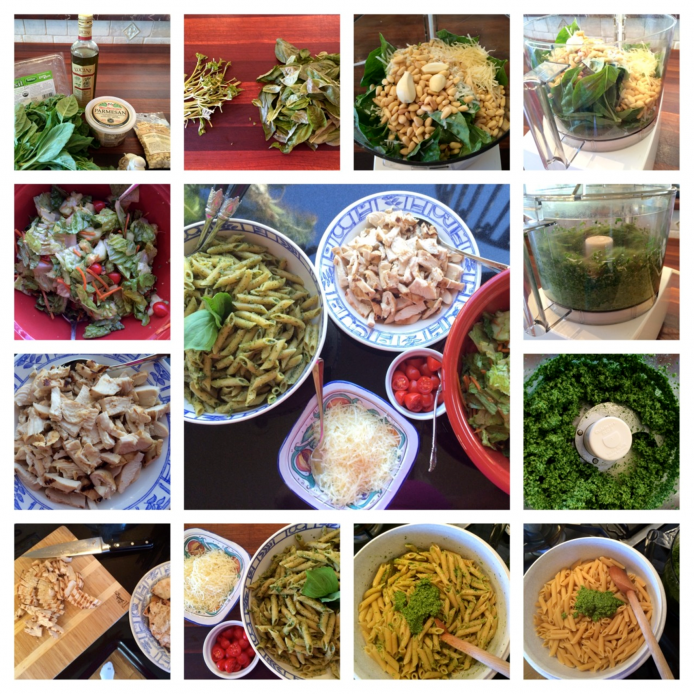 Pesto Penne with Grilled Chicken
This is a great entree when feeding a big group of people—throughout my kids high school years I whipped it up for many a cheer pre-game dinner. Here I made it for my daughter's last ever study group (on the eve of her last final exam of her high school career). The recipe below serves 6-8 with pesto left over for future use (on a sandwich, in a soup, etc.). To make this for a larger group, double the pasta, double the chicken and use all of the pesto. It is a real crowd-pleaser. Yum!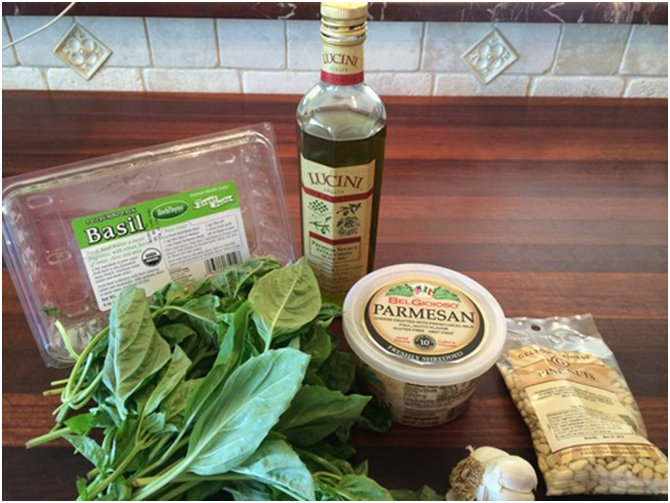 For the pesto:
1 large bunch fresh basil, stems removed
1 c. shredded parmesan cheese, plus more as a topping
2/3 c. pinenuts
2-3 garlic cloves, peeled
1/3 c. olive oil
For the chicken and pasta:
4-6 chicken cutlets
Girard's Light Champagne dressing
1 box your favorite pasta (I like to use Barilla Plus multi-grain pasta in Penne, Rotelle or Farfalle)
Preheat grill on high. In a large stock pot, start boiling water for pasta. Remove leaves from the basil stems. Place basil leaves, shredded parmesan, pinenuts and garlic in a cuisinart or food processor. Process until blended. Scrape down walls of processor and blend again. Scrape down the walls again, replace lid and add olive oil in a slow stream while running the processor to gradually blend in the olive oil until it has reached desired consistency. I prefer my pesto with more cheese and less oil than most recipes, you may adjust according to your own taste. Also if you are low on basil, you may add spinach or kale and if you are low on pine nuts, you may substitute walnuts or even almonds. Set aside pesto until the pasta is cooked.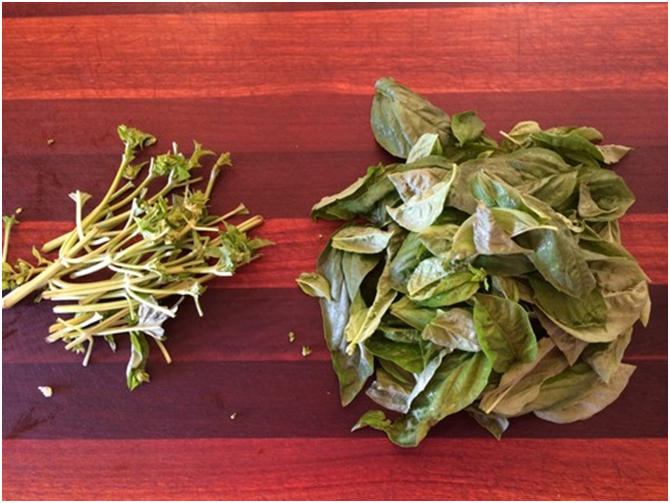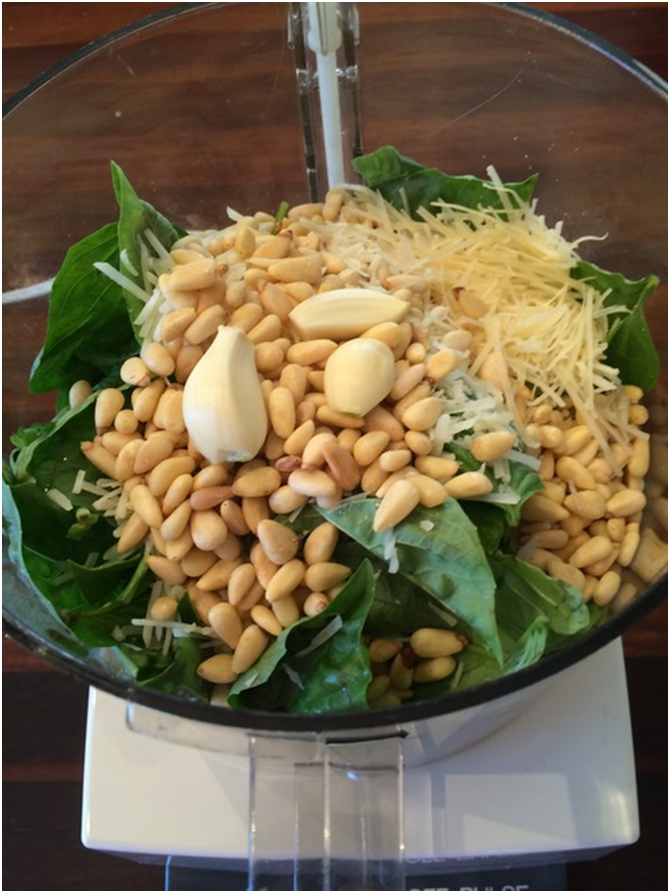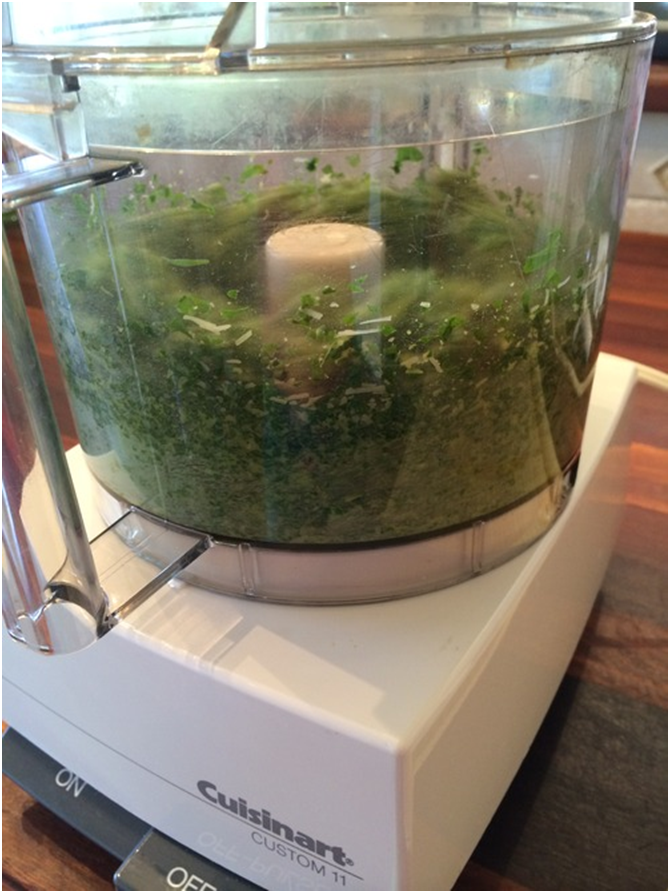 (problem loading photos—will add more when available)
Place chicken cutlets in a large ziploc baggie, add Girard's Light Champagne salad dressing as a flavorful marinade. Toss to coat and let sit until grill is heated. Once grill is at 400 degrees, clean surface with grill brush and add chicken. Reduce heat to medium and cover. Cook 3-4 minutes each side. Place chicken on a plate; cover immediately with tin foil to seal in the juices. Keep covered at least 5 minutes before slicing.
Meanwhile, cook the pasta for a few minutes less than the suggested time on the package. Pasta should be slightly al dente when you drain it as it will continue to cook for several minutes out of the water. Place drained pasta in a large bowl and add the pesto; mix well. I choose to keep the chicken separate when I am serving a group that includes vegetarians, otherwise, I slice the chicken cutlets into bite size pieces and add the chicken to the pasta, stirring well to coat with the pesto sauce. Serve buffet style with halved cherry tomatoes and parmesan cheese. Note: for Vegetarians, add a side of rinsed and drained canellini beans (or mix these in with pesto pasta in place of the chicken).
Serve with your favorite salad (or Megan's Simple Salad) and garlic bread, if you must. Leftover pesto pasta will keep in the fridge up to 5 days. Yum!