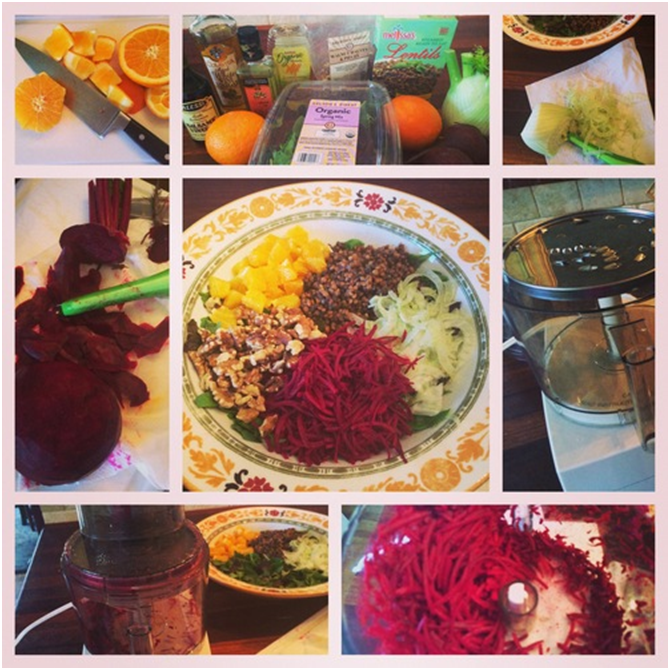 Melissa's Heaven's Blend Salad
At Active Culture in Laguna Beach they have a salad on the menu called the Heaven's Blend. When I order it I always take out the red onions, dried cranberries, and goat cheese, and I add in lentils, orange slices and quinoa. Here is my perfect personalized Heavens Blend salad, minus the quinoa (because I didn't have time to make it), and minus their dressing because I do not know what exactly they put in it (oil, garlic, balsamic vinegar, spike and who knows what else…it will be a long road to discover exactly). The dressing I suggest below is my own start, very light and probably somewhat unsatisfying to most palates, so I suggest you use your favorirte balsamic vinaigrette, or just half walnut (or olive) oil and half balsamic vinegar, emulsified together. Hope you enjoy this salad as much as I do!
For the salad:
Mixed baby spring greens
1 1/2 navel oranges, sliced in bite size pieces
1/2 – 1 raw beet, peeled and shredded
1 c. walnut pieces
1 c. fennel, shaved
1 – 1 1/2 c. lentils
1 cup quinoa, cooked and cooled (not pictured here)
For my imperfect dressing*:
2 1/2 T. fresh orange juice
1 t. honey
2 t. balsamic vinegar
1 t. white wine vinegar
2 T. walnut oil
salt and pepper to taste
*You may substitute your favorite balsamic vinaigrette, my apple cider vinaigrette or my balsamic vinaigrette–whatever sounds best to you!
Place greens in a large bowl. Mound the ingredients in separate areas as toppings on the greens. Emulsify the dressing ingredients, right before serving, pour 1/2 dressing over salad and toss well. Add more dressing as needed. Yum!
Serves 8.