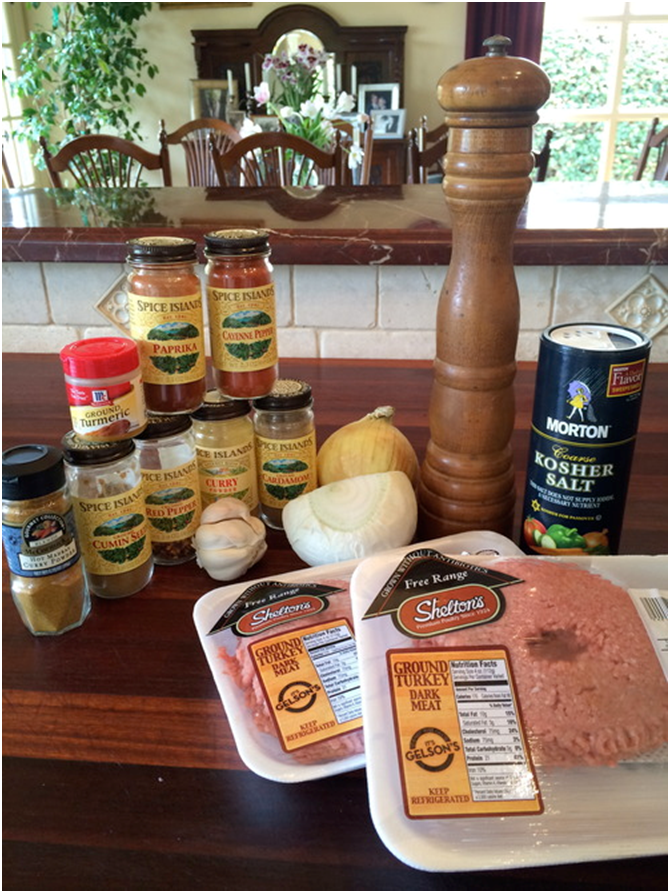 This is a fantastically flavorful (and spicy!) curry recipe that was created by Adrian, who wandered into my life when he married my dear cousin over 20 years ago. An amazing chef, he is constantly tantalizing our palates whenever we come to visit them on Maui. Adrian's love for spicy foods comes from growing up watching his mother make it; dining out at Indian restaurants in London, he never found it spicy enough. To reduce the amount of heat, use less crushed red chili peppers and less cayenne pepper.
This a can be used as a filling for empanandas, as a salad topping and or served over brown rice or quinoa. Ground beef, chicken or pork may be substituted for the ground turkey. Adrian calls this a dry curry as it is has no liquid sauce to it. To see some of Adrian's culinary adventures, visit mymauiview.blogspot.com.
1 1/2 T pus 2 T. olive oil
1 1/2 onions, diced
3 cloves garlic, minced
1 T. hot madras curry powder
1 T. curry powder
1 t. cayenne pepper
1 t. cumin
1/2 t. cardamom
1 heaping t. paprika
1/2 t. crushed chili pepper
1 t. tumeric
1/2 t. salt and pepper
Over a medium low heat, heat large skillet. Add 1 1/2 T. olive oil and heat. Add diced onion; saute until translucent, about 5 minutes. Add garlic and stir; cover and let cook 1-2 minutes. Onions will be slightly browned on the bottom. Add another 1-2 T olive oil and add all spices. Using the edge of the spoon, cut the spices into the onion and garlic mixture; continue in this manner 1-2 minutes until all the oil and spices are absorbed into the onion garlic mixture. Add ground turkey 1/3 at a time, using the side of the wooden spoon to break the meat into chunks. Add salt and pepper. Continue to cut the meat constantly, breaking it down into ever smaller pieces as it cooks. Once fully cooked, cover and remove from heat. Let stand at least 15 minutes to let the flavors meld together.