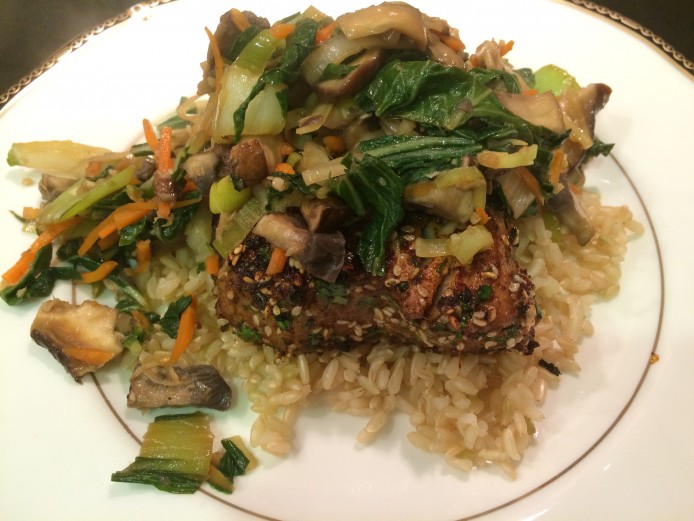 I've been making this delicious recipe since I first had a similar dish at the now defunct Mark's Restaurant in Laguna Beach circa 1998. It's a little bit of work to make but worth every second as the flavors are fabulous! WHY is it so hard to eliminate animal protein from my diet? I know why…I love seafood and shellfish! I suppose I could eat this without the ahi, but once I'm making it for everyone else, I've got to have a least a little bite! Yum!
 4 – 4-6 oz, Sushi Grade Ahi Steaks (I often use two larger 8-10 oz. pieces & split each one for two servings)
whole grain brown rice & water (for 3-4 cups cooked brown rice)
For the marinade:
1/4 c. tamari organic gluten free low sodium soy sauce
1/4 c. toasted sesame oil
2 T. ginger root, grated
2 T. garlic, minced or pressed
1 T. chili powder
3 T. sesame seeds
1/4 c. cilantro, chopped
 For the veggies:
1-2 T. toasted sesame oil
2 T. ginger root, grated
2 T. garlic, minced or pressed
1 leek, thinly sliced
4 heads baby bok choy, sliced
1 c. shredded carrot
3 portobello mushrooms, sliced
1/4 cup tamari organic gluten free low sodium soy sauce
3 splashes seasoned rice vinegar
Start cooking the brown rice according to package directions. In a large pyrex measuring cup. combine the marinade ingredients and mix well. Place ahi steaks in a large ziploc baggie, pour in marinade and seal. Turn occasionally until cooking time.
Heat a large skillet over a medium low flame, add sesame oil and heat through. Add ginger and garlic, stir 20-30 seconds until fragrant. Add leeks, mushrooms and bok choy, stirring constantly. Add 1/4 c. soy sauce and three splashes of seasoned rice vinegar, stirring to combine while cooking. Add shredded carrot and stir until vegetables are cooked as desired (I prefer mine al dente). Set aside cooked veggies in a large bowl and cover with foil to keep warm. Over high heat, place ahi steaks in the same skillet (no need to clean it!) and cover with all the marinade from the bag. Cook ahi for 2 minutes per side for a nicely seared rare finish; cook 4-6 minutes if you prefer your fish more medium-rare or medium.
To serve, place a mound of rice in the center of each plate, put ahi steak on rice and top with the vegetables. Serves 4.
This time when I made it I used both regular and baby bok choy and I subbed in some shitakke mushrooms for one of the portobello mushrooms. If you don't have toasted sesame oil, regular sesame oil is a fine substitute. See tonight's ingredients in the photo below: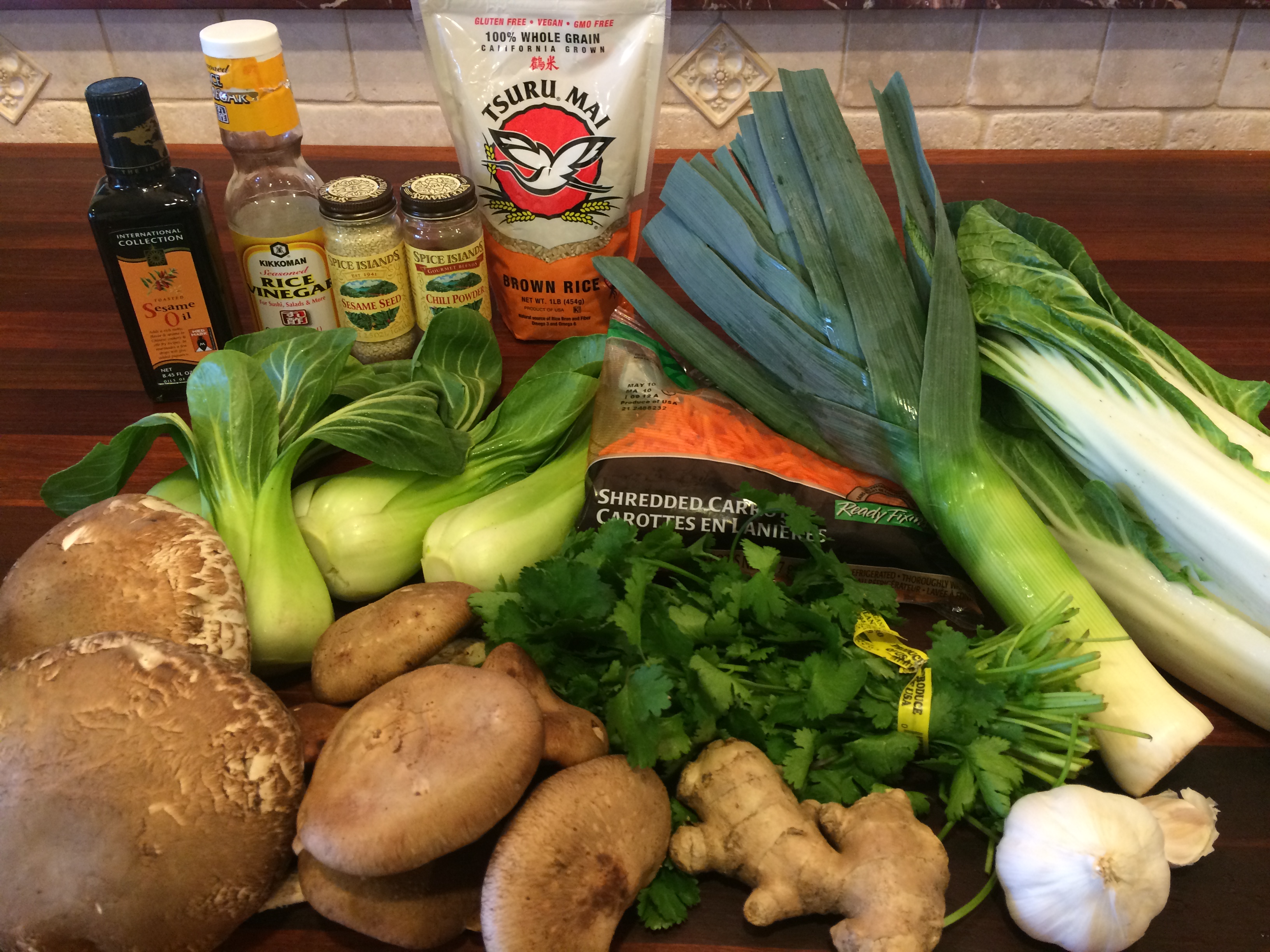 Hah! I always seem to forget to include one ingredient or another in the photo. Here I forgot the key ingredient: the ahi! Opps.