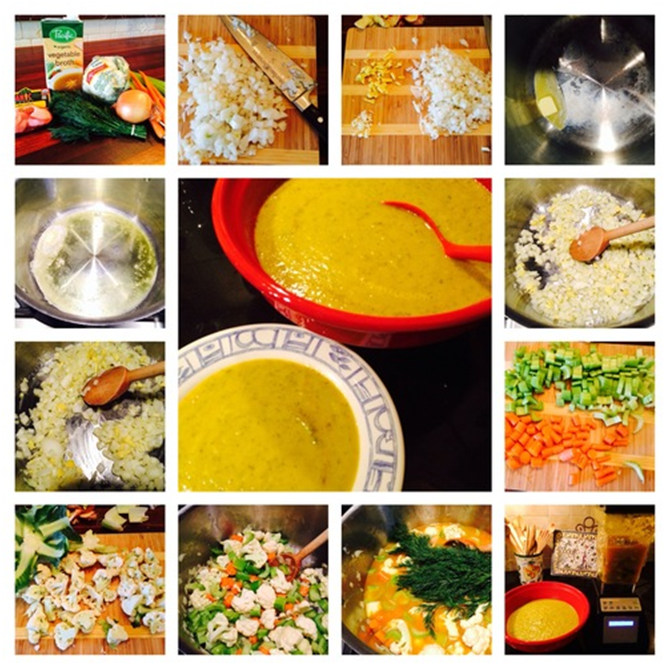 When my friend Iris told me that she was bringing over cauliflower soup and salad for lunch, I wasn't that excited. Cauliflower has never held a great appeal for me, but this soup has changed that! My version is somewhat different from hers…but in both, it is the fresh ginger and dill that make this cauliflower soup so delectable.
1T. organic butter
2 T. olive oil
2-3 cloves garlic, minced
1 3-inch piece fresh ginger, peeled and minced
5 ribs celery, sliced
5 small carrots, sliced
1 bunch fresh dill
1 head cauliflower
4-7 cups organic vegetable broth
sea salt and fresh ground pepper to taste
In a large stock pot, melt 1 T. butter and heat the olive oil. Add onion, garlic and ginger; sauté over medium heat for 5 minutes, stirring occasionally. Add celery, carrots and cauliflower; sauté 5 more minutes, continuing to stir. Add 4 cups broth. Twist the bottom stems off the dill and add the entire bunch; submerge the dill into the soup. Add more broth as needed to cover the veggies ( I added 3 cups more). Bring to a soft boil; cover, reduce heat and simmer for 30 minutes. Remove from heat and let sit, covered, for 15 minutes.
Add salt and pepper to taste. Blend soup in two batches and serve immediately. Yum!
The second photo collage shows more of the cooking process…
Also, missing from the ingredients photo is the butter, olive oil, salt and pepper.