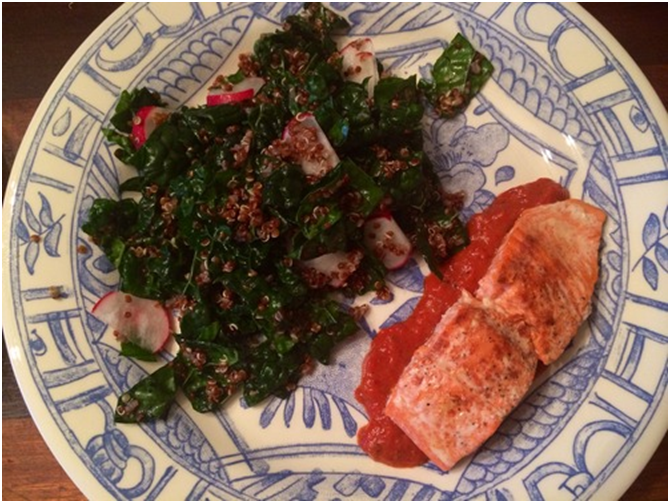 Wild Salmon over Kale and Red Quinoa with Red Pepper Coulis
Inspired by the Patina dinner menu for box seats at the Hollywood Bowl, this is a delicious make ahead meal that is perfect for an elegant picnic or an evening at home. Bringing together three of my favorite foods, wild salmon, raw kale and red quinoa, this is a great summer meal—the show stealer in this dish is the flavorful red pepper coulis.
1 cup uncooked red quinoa
1 1/2 cups plus 1 cup organic vegetable broth
4 4-6 oz filets of wild sockeye salmon
1 bunch organic lacinato kale, stemmed and chopped
8 organic radishes, sliced thin
1/8 cup extra virgin olive oil
1 T. plus 1 t. lemon juice
paprika
kosher sea salt and fresh ground pepper to taste

For the Red Pepper Coulis:

2 red bell peppers.roasted, peeled and de-seeded
1 T. extra virgin olive oil
1/8 t. each cumin, tumeric, oregano, paprika
kosher sea salt and fresh ground pepper, to taste
Bring 1 1/2 cups vegetable broth to a boil and add 1 cup red quiona, cover, reduce flame to low and cook for 15 minutes. Remove from heat and let sit covered for 5 minutes. Remove lid and fluff to stir. Let cool in pan.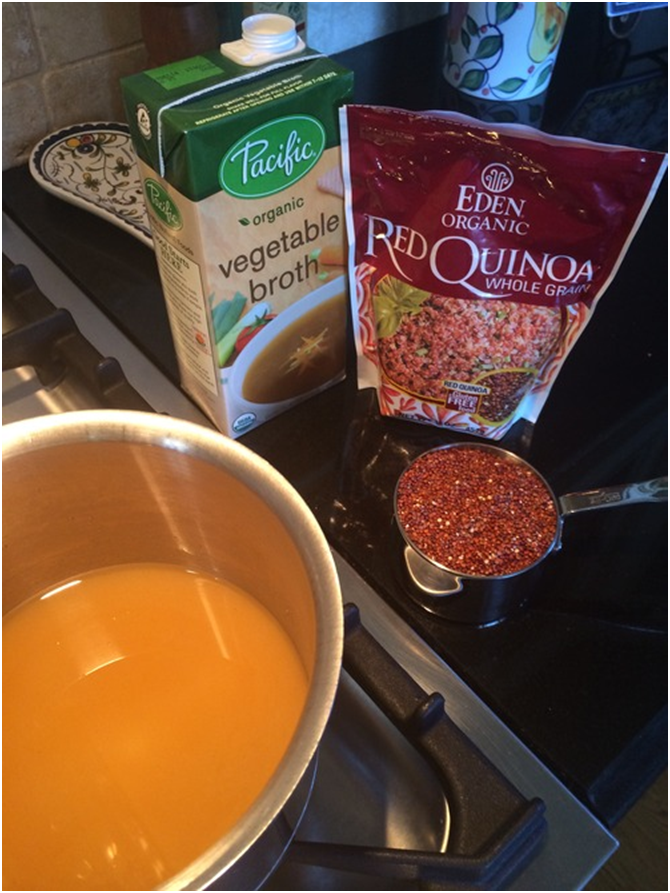 Preheat oven to 375. Place salmon filets in a cooking dish. Pour 1 cup vegetable broth over the fish and sprinkle each piece with paprika, fresh ground pepper and coarse sea salt. Bake for 10-15 minutes until desired doneness. Remove from oven and cover with foil. Let sit. (Here I used less salmon, 12 ounces, as I was only serving two.)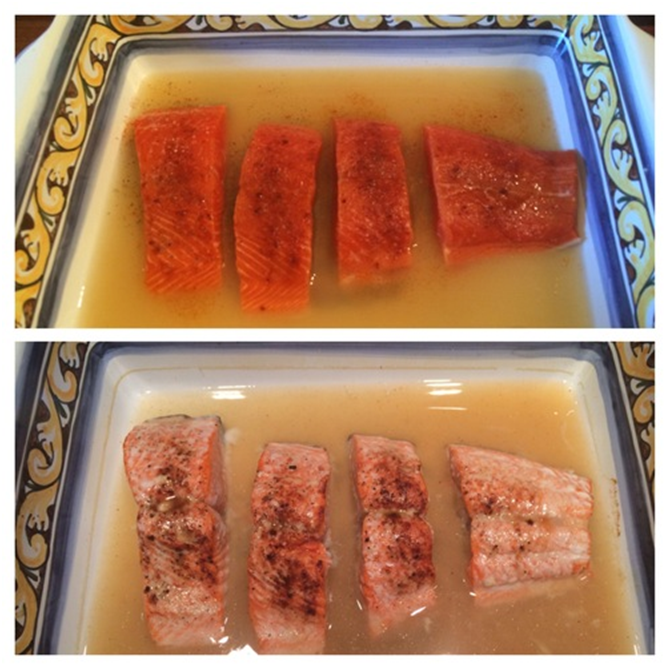 Meanwhile, stem and chop the kale. In a medium size mixing bowl, whisk together 1/8 cup olive oil, juice of 1/2 lemon (approx. 1 T. plus 1 t.), 1 t. apple cider vinegar, and about 1/8 t. each coarse sea salt & fresh ground pepper; when emulsified if will have a yellowish color. Add the kale and, using your hands, mix the dressing into the kale, massaging the kale while combining it with the dressing. Add 1 1/2 cups (or whatever amount you like) of the cooked red quinoa and toss with salad tongs to combine. Add radishes and toss again. Set aside.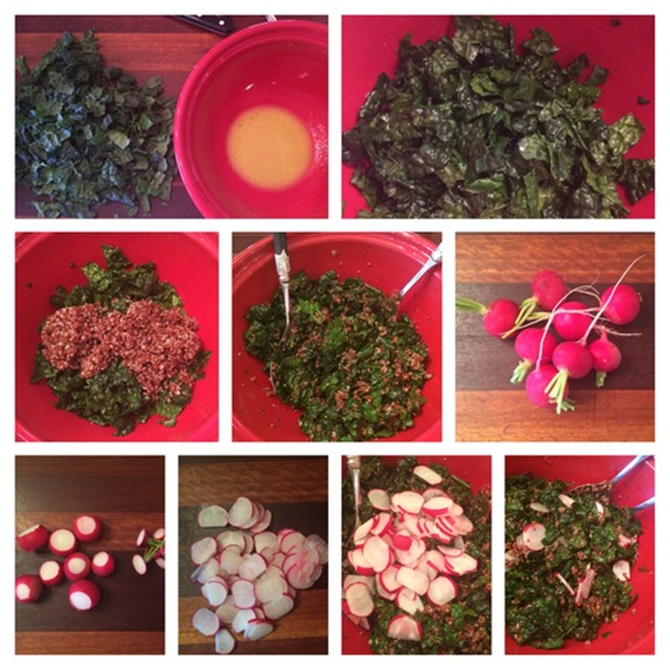 For the Red Pepper Coulis: Place the peppers on a piece of heavy-duty tin foil and roast for 5 minutes on each side either in an oven set to broil or on a BBQ at a high temperature with the lid closed. Once charred and soft, let cool on a plate. When cooled, the charred skin will easily peel off. Carefully de-seed the pepper one segment at a time. Place the cooked and de-seeded red pepper into a food processor with a scant one T. of olive oil and 1/8 t. each of cumin, tumeric, oregano, paprika, salt and pepper. Puree until well combined. The coulis will be thick like a chutney (not thin or runny).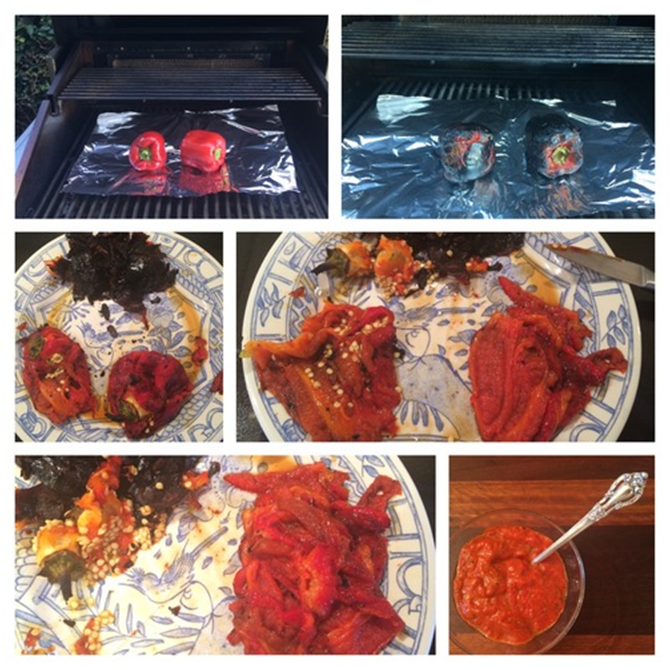 Hint: Prior to plating this dish, remove the skin and gray colored part of the salmon. My husband is astckler for this! He doesn't understand why more restaurants do not do this prior to serving. It does remove an unpleasant fishy taste and contributes to an overall better flavor.
To serve: mound the kale and quinoa mixture in the center of the plate, top with salmon. Place dots of the red pepper coulis around the plate and place a dollop atop the salmon. Yum!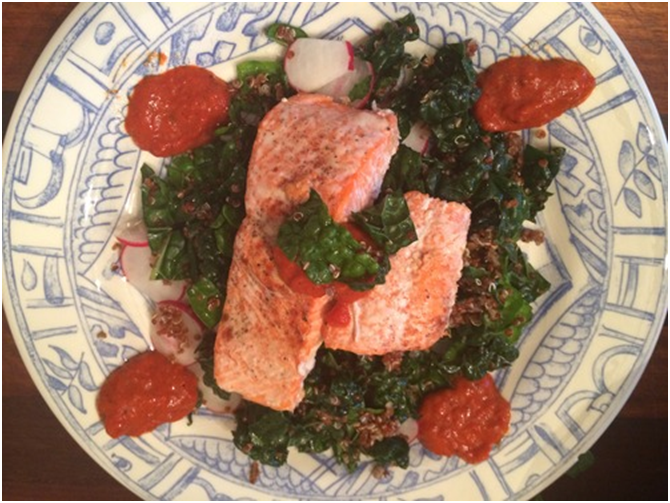 The hungry man's portion, above, and mine below…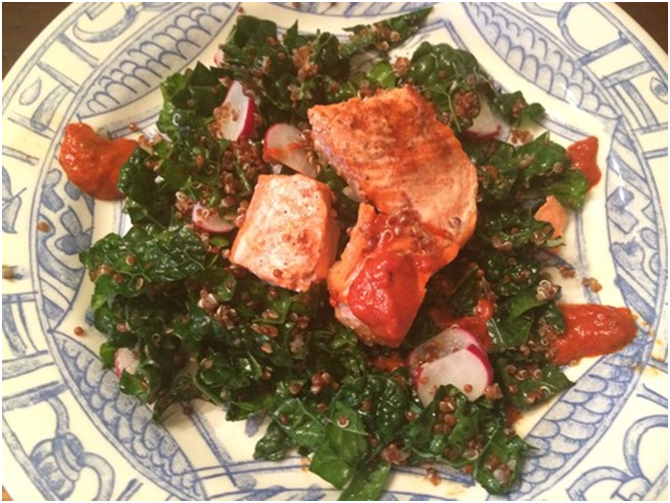 To make the serving more hearty, mound some of the extra quinoa as a base, then add the kale/quinoa/radish mixture, salmon and red pepper coulis.
Neither of these plated versions are especially beautiful. I tried another option, below, placing the salmon on a bed of the red pepper coulis next to the kale and quinoa, however it too lacks the artistic beauty that this delicious dish deserves…I'll try again next time!