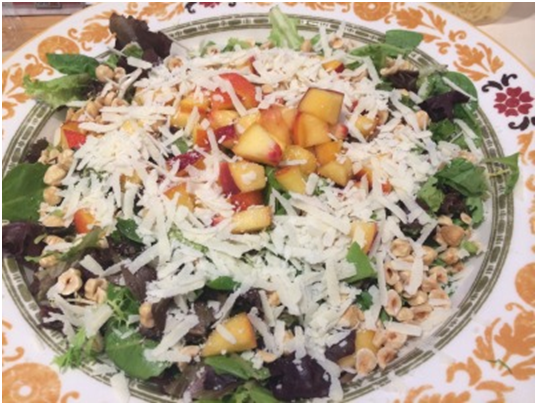 Mixed baby greens with nectarines, toasted hazelnuts, Pecorino Romano and balsamic vinaigrette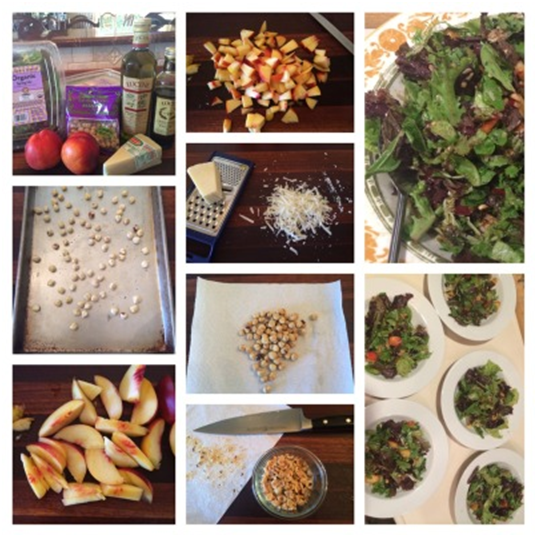 There still are sweet local organic nectarines available so enjoy them while you can! This salad is refreshing and tasty, combining sweet ripe nectarines and crunchy hazelnuts with salty sheep's milk cheese for an overall savory combination. Yum!
10 oz mixed baby greens, torn into bite size pieces
2 nectarines
1/4 cup hazelnuts
1/2 cup coarsely shredded Pecorino Romano cheese
4 T. Extra Virgin olive oil
3 T. Aged balsamic vinegar
1 t. Honey
Preheat oven to 350. Arrange hazelnuts in a single layer on a rimmed baking sheet. Toast on top shelf of oven for 5-8 minutes, then let cool. Meanwhile, slice and dice the nectaries and shred the cheese. Once hazelnuts have cooled, chop coarsely.
Place all ingredients in a large salad bowl. Combine the olive oil, balsamic and honey in an airtight container and shake vigorously to emulsify. Right before serving, pour dressing over salad and toss well. Serves 8. Enjoy!