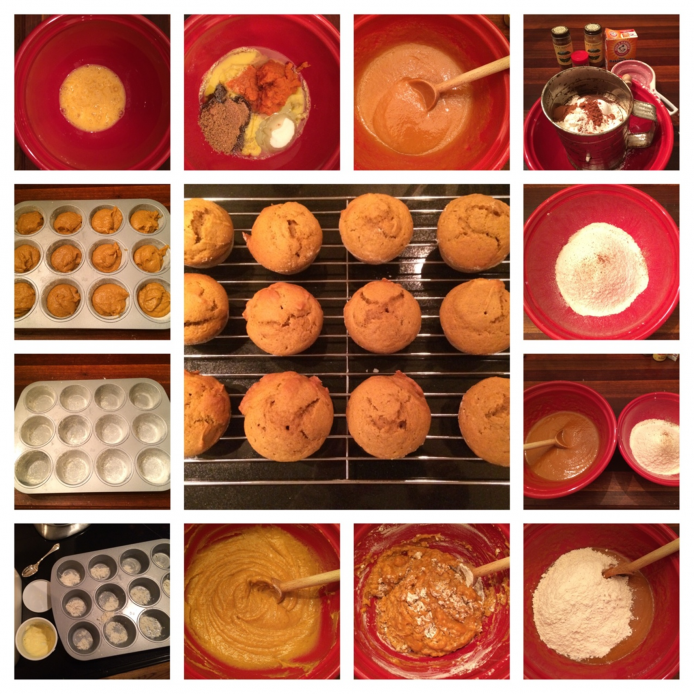 I started making these delicious muffins with my kids when they were in preschool, and now that they're both in college, these muffins are still a fall favorite! While this is definitely a "treat," perhaps more appropriately called a cupcake, I do consider it to be somewhat nutritious thanks to the 2 eggs, healthy oil, and the pumpkin. Enjoy in moderation!
2 eggs
1/2 cup grapeseed or canola oil
1 1/4 cup fresh or canned pumpkin
1/2 cup brown sugar
1/2 cup white sugar
2 cups unbleached flour, sifted
1 tsp. baking soda
1/2 tsp. cinnamon
1/2 tsp. nutmeg
1/2 tsp. allspice
To line the cupcake tin:
Paper sleeves
Or
3 Tbsp. butter
6 Tbsp. unbleached flour
Preheat oven to 350. In a large mixing bowl, beat 2 eggs. Add oil, pumpkin and sugars; stir well to combine. In a medium mixing bowl, place sifter in bowl and place the flour, baking soda, cinnamon, nutmeg and allspice into the sifter. Sift these dry ingredients together into the bowl. Add the dry ingredients to the pumpkin mixture and stir well to combine. Use a small amount of butter to coat each cupcake mold, then add a little flour to each and shake around to evenly distribute the flour to coat bottom and sides of each mold. Using an ice cream scooper, fill each cupcake mold 2/3 full. Place in oven. Bake at 350 for 20 minutes, test with toothpick for doneness; toothpick should come out clean. Let cool in pan 10 minutes then transfer to wire rack. Once fully cooled, store in airtight container.
Optional frosting:
8 oz. cream cheese
2 tsp. vanilla extract
2 – 2 1/2 cups powdered sugar, sifted
Beat together adding the powdered sugar by the cupful until desired consistency is reached.