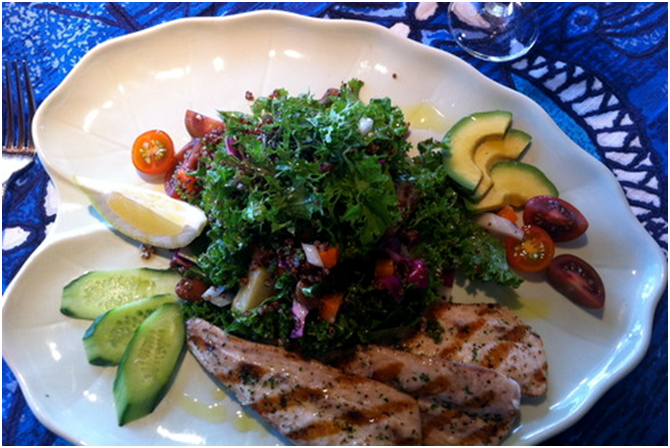 Mama's Fish House Kale Salad with Grilled Fish
This fabulously delicious salad was on Maui's Mama's Fish House menu in July of 2013. While I have not yet perfected the dressing, what follows is the closest I have come to reproducing the flavors. Note that the potato was still slightly warm when served, and though I am not usually a fan of potatoes, I found it a tasty surprise when I bit into it…yum!
2 cups chopped kale, stems removed (i like to used the pre-washed and cut organic kale salad from Harvest Sensations that includes red cabbage and shredded carrot—this is a real time saver)
1/3 cup heirloom beans (pinto and/or white), fully drained
3 baby white potatoes, roasted and quartered (can sub purple potato)
1/2 cup cooked red quinoa
1/4 cup lightly steamed or blanched green beans, sliced
1/4 c. olive oil
2 T. fresh lemon juice
1 t. Dijon mustard
1-2 T. honey
salt and pepper to taste
8 baby heirloom tomatoes, halved
1/4-1/2 avocado, sllced
1 hard boiled egg, quartered
6 slices english cucumber
4 2 oz. filets mahimahi other white fish, seared
In a large bowl, whisk together olive oi, lemon juice, honey, mustard, salt and pepper. When well combined, add kale, heirloom beans, purple potato, red quinoa and green beans and toss well to coat all ingedients. Divide the salad onto two plates and garnish with baby heirloom tomatoes, avocado, egg, cucumber and two filets of seared fish per plate. Serves 2.
This dish was complemented by the gorgeous view and the awesome company of my precious son, Ryan. So rare to get him all to myself!