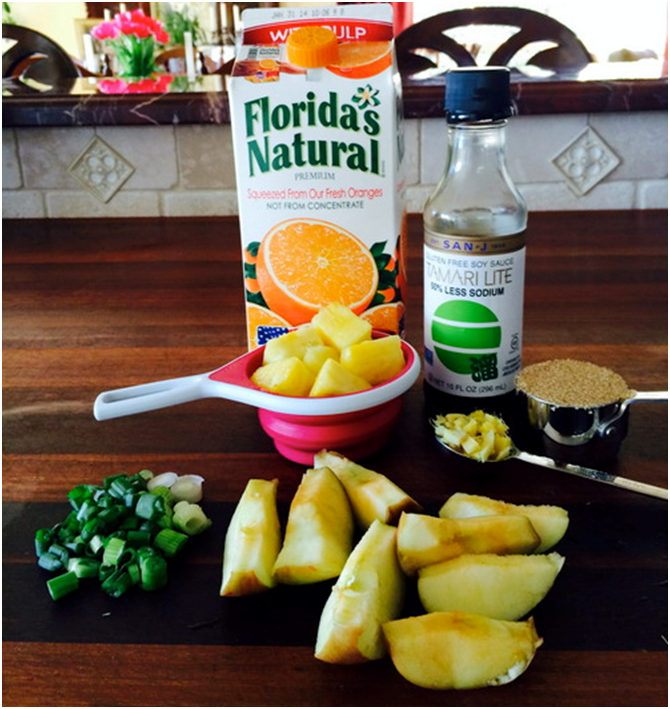 Chicken Teriyaki Stir-Fry
If you make the sauce a day or two before, this is a dinner than you can prepare all during the time that the rice is cooking, but you will be busy for the full 50 minutes. The stir-fry requires your constant attention so plan accordingly.
For the Sauce:
1 cup fresh pineapple, cubed
1 fuji apple, cored and cut in wedges
1 T. ginger, minced
1 green onion, sliced
1/3 cup orange juice
1/3 cup soy sauce
1/3 cup brown sugar
Place all ingredients in saucepan over medium heat; bring to a boil. Reduce heat and simmer uncovered for 25 minutes, stirring occasionally, until fruit is soft. Let cool at least 20 minutes. Transfer to blender and mix on low speed for 10-15 seconds. Then, purée until smooth. Use as instructed below or keep in fridge for use within the next three days.
For the Stir-fry:
Brown rice
1+ lb. organic chicken, cut in 2" slices (sometimes it is hard to find a package of chicken that is exactly
1 lb.— feel free to use up to 1.25 lbs and simply add more veggies accordingly. Can substitute Firm Tofu.)
1/4 onion, sliced
1/2 T. fresh grated ginger
2 cups broccoli florets**, bite size
1 cup sugar snap peas, trimmed on ends
1 1/2 cups shredded carrot
2 T. toasted sesame oil, divided
*You can also add or substitute red bell pepper, mushrooms, bokchoy—any vegetable that you like or have on hand!
**To speed up cooking time, I sometimes use broccoli that I have already partially cooked by blanching or steaming ahead of time.
Cook brown rice according to instructions on package (I do it the simple way with water only). Prep all ingredients. Thirty minutes before brown rice will be done, start cooking the stir fry. Over medium high heat, heat 1 T. sesame oil in wok shaped pan and add garlic, stir 10-15 seconds. Add ginger and onions. Stir 1-2 minutes. Add chicken and stir continuously for about 8 minutes. Once chicken is cooked through (the edge of wooden spoon should be able to cut through the chicken), turn off heat and remove chicken mixture; place in a bowl and cover with foil. Heat second 1T. of sesame oil over medium high heat and add broccoli. Cook 4-10 minutes, stirring constantly; add 1/4 of the teriyaki sauce (about 1/2 cup) and continue to stir. Then add snap peas and 1/4 more teriyaki sauce, stirring to combine. Continue stirring constantly 2-4 minutes. Add the shredded carrot; continue stirring 1-2 minutes. Add the chicken mixture back to the wok and the remainder of the teriyaki sauce; stir constantly to combine thoroughly. Remove from heat and cover to keep warm until read to serve. Serve the delicious stir-fry over brown rice. Serves 4. Yum!
While I prefer to use fresh squeezed orange juice, here I use it from the carton because I forgot to get oranges at the store…