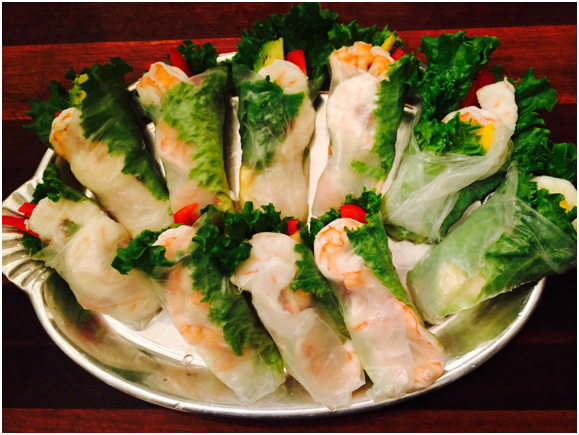 10 sheets rice paper
.80 lb. fresh cooked wild caught shrimp
5 leaves green leaf lettuce
1/2 mango, sliced in thin strips
1 red bell pepper, sliced in thin strips
1/2 avocado, sliced
Sweet chili sauce
Tear lettuce leaves in half. Cut shrimp in half lengthwise, down middle of the back. Prep mango, red pepper and avocado; plan for approximately 20 slices mango, 30 slices red pepper and 20 slices of avocado. Place warm water in a large bowl or skillet; dip one piece of rice paper into the warm water, flip it over and soak it for about 10 seconds. Remove wet rice paper to a large plate and place one piece of lettuce in the top center area of the rice paper. Layer on top of the lettuce: 3 slices red pepper, 2 slices mango, 3 slices shrimp and 2 slices avocado. Fold up bottom half of rice paper and then gently pull the left side of the rice paper up and over to the right, tucking it in on the right side of the filling. Then, lift it off the plate and gently wrap the right side up around and over the front (to the left), pressing the rice paper together to seal. Repeat for remaining 9 rolls. Place on a platter and serve with sweet chili sauce on the side. Yum!
And here it is in pictures: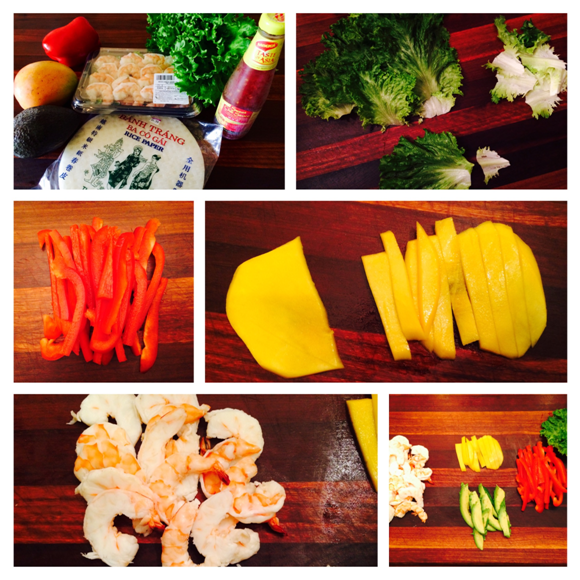 If you soak the rice paper for too long it will become unmanageable. Luckily it comes in a large packet and you have plenty of pieces to work with; just use a gently touch and you'll get the hang of it after a few tries!