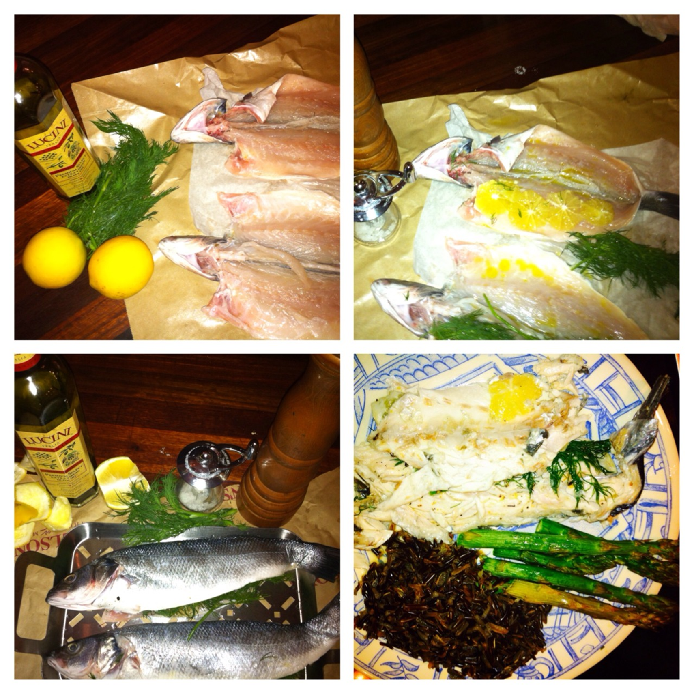 Branzino is a delicious Mediterranean sea bass widely served during the summer in Italy and Greece. After dining on branzino frequently last summer while vacationing in these beautiful countries, I came home and recreated the simple preparation I enjoyed the most. If branzino is unavailable, you might substitute trout. The recipe below serves 2.
2 whole branzino, cleaned and deboned
2 lemons
8 sprigs fresh dill
1-2 T. olive oil
Fresh ground sea salt and black pepper
Preheat grill. Open the two cleaned and deboned fish. Cut the skin off one lemon then cut it into thin slices. Place the thin lemon slices in a row on one side of each fish. Drizzle olive oil on both sides, season lightly with salt and pepper, top each row of lemon slices with about 4 sprigs of dill and close the fish back up. Place the fish on a greased grilling tray to prevent sticking.* Grill over medium high heat for 3 minutes on each side, using tongs to turn carefully. Cut remaining lemon into wedges. Serve with wild rice** and roasted asparagus, garnish with lemon wedges.
*if you forget to do this, do not try to flip the fish—it will be a mess! I speak from experience. I forgot to spray the grill dish and so the fish got pretty destroyed when I tried to flip it over; luckily the flavors were still delicious!
**Start the wild rice before you heat the grill; cook according to box instructions (I use chicken broth instead of water), usually about 45 minutes.